Malta Poker Festival Grand Event Day 1d Recap (& the PokerDeals Hostesses!)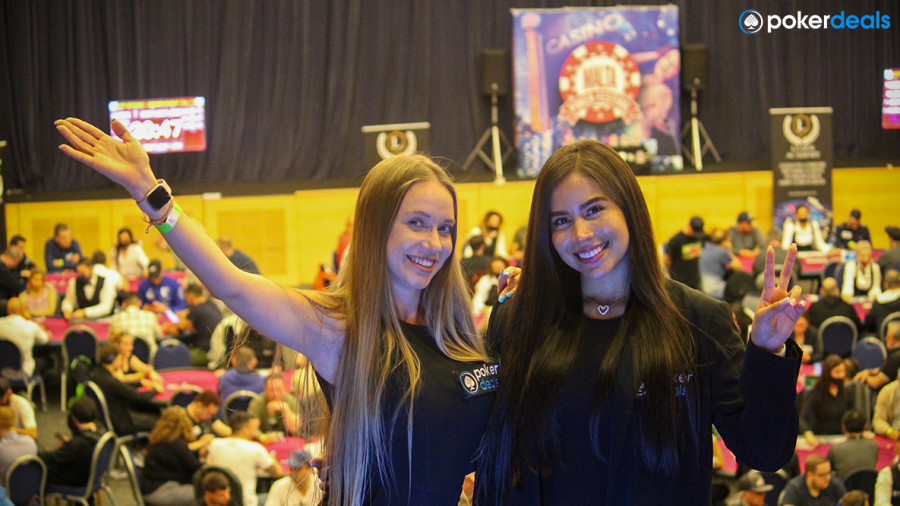 The Malta Poker Festival Grand Event just keeps powering up as it heads into the weekend and has reached a huge number of entrants per day now at 252 total for today. Out of these 65 survived to face the action on Sunday's Day 2, with the rest having an option to jump in either of the two remaining flights which will both run today. It looks set to be a huge Day 2 on Sunday, that's for sure!
We also had the wonderful PokerDeals hostesses Anna and Daniela out in the arena signing players up to the our free promotion the PokerDeals Last Longer today, and they did an incredible job! We think the players enjoyed speaking with them too. Who wouldn't?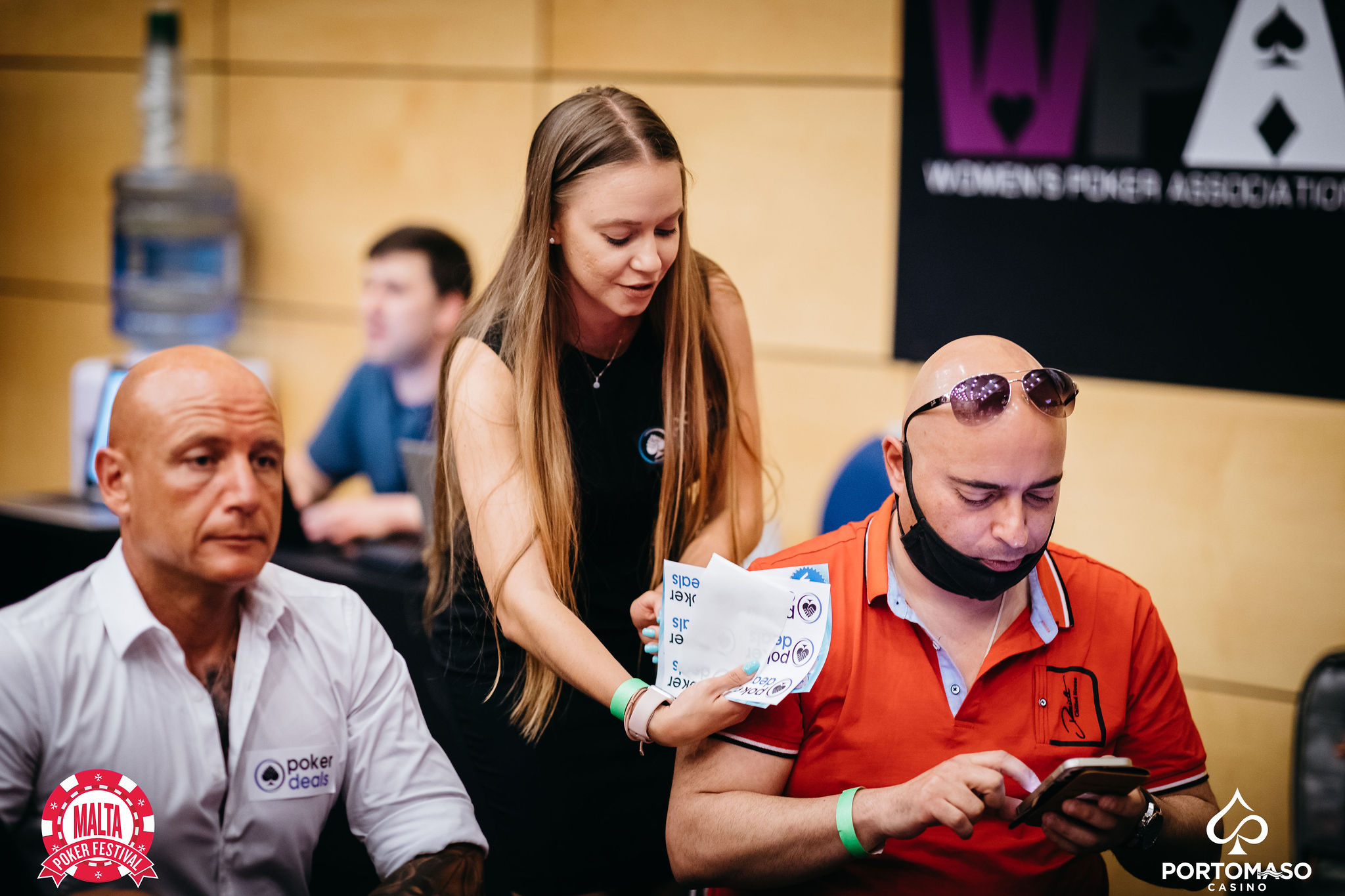 Now let's get down to some late-stage action. 
There was one player in Day 1d who finished head and shoulders above the rest, and that was Italian Luigi D'Alterio. We caught up with the Italian player in a combative pot with Romanian player Cosmin-Ionut Nica. D'Alterio opened the pot for 6k and Nica called the Button. The flop was T♣T♠J♥ and both players checked their options. The 2♠ fell on the turn and at this point D'Alterio woke up. He fired out a bet of 7.5k. Nica made the call, and the river was dealt, the 7♦. At this D'Alterio checked, and Nica counted out a bet of some 20k. Here comes the twist, D'Alterio with a large and aggressive raise, asking his opponent the ultimate question. This time the answer was no, Nica folded and both players mucked.
We also saw Paul Strangeways take on D'Alterio, putting in his last 43k in an open shove from UTG, good for around 14bbs at the time. It's never fun when you shove UTG and the next guy comes straight in after you, but that's what D'Alterio did here UTG+1 and showed his A♥A♠ to face-off Strangeways K♥Q♥, with no improvement for the Brit as the board ran out a very safe 3♦8♥5♣ J♣ 2♣.
Paul Strangeways
PokerDeals patch-wearer Simon Ye tangled for superiority over his name with fellow player Simon Cohen in an interesting hand, with Ye opening in the Cutoff and Cohen defending his Big Blind versus the 7.5k open. The board came down 9♣6♠7♣ and Cohen checked. Ye continued for a further 7.5k and Cohen called. With the turn bringing the A♣, Cohen was quick to check his option and Ye pondered, soon reaching for chips and splashing another 21k onto the felt. Cohen once again called. The river was the Q♥ and Cohen checked for a third time. This time Ye checked back, but Cohen didn't immediately table his hand, instead asking if the last aggressor should show first. The dealer confirming this to be so, Ye tabled his hand - 3♦4♦ for a busted gutterball. Cohen quickly showed Q♣Q♠ for a rivered set, he'd been trying to trap but this time, there was no bite, and no third bullet. 
Simon Ye
We also saw PokerDeals Last Longer Participant Vlantouts Kourka in a fiendish pot - getting it in on the 6♥A♦3♥ flop with his A♠6♦ against Salvino Salvatore's 3♣3♠, this looked like a cooler from the start, but there was more in store. The turn was to bring the 6♣, putting Kourka ahead, only for the river to come crashing down with, you guessed it, the one-outer that could still destroy him, the 3♦ to bring the deadly quads for Salvatore, bringing Kourka's Day 1d to an end.
Salvino Salvatore
Kourka cheerily confirmed he'd be back in the mix tomorrow however, with a simple "It happens!" and left with his head held high. When all the threes in the deck gang up on you, there's really nothing else you can do.
Vlantouts Kourka
We're looking forward to a huge Day 1 today as action continues at 2pm, so check out PokerDeals Live Reporting for more coverage of this great event, and if you'd like more entertainment and images from the Grand Event, head over to the PokerDeals Facebook Page.
Hostess images courtesy of Malta Poker Festival
Malta Poker Festival Grand Event Day 2 Recap
Sunday 1st May saw an epic day of poker action at the Malta Poker Festival Grand Event as 273 became just 18 after a mammoth day of play here at the Portomaso Casino. A strong cohort of 73 PokerDeals patched players competing in the PokerDeals Last Longer made it to Day 2 . These have surprisingly been cut down to just two players standing , vying for who will win the free ticket to the next Malta Poker Festival Grand Event: Robert Lim & Federico Pizzazz They are also of course, more importantly, competing for some serious payouts, at the top of the pile is the glory prize itself, 1st place , rewarding €71,000 and of course, the Malta Poker Festival trophy ! Pawel Zawadowicz is the man to catch right now, leading by over 2 million chips with his stack of 7,820,000 in chips. Let's check in on how our PokerDeals Last Longer players and others were doing in the late-night action. We dropped in on the final six tables as they were rapidly slashed back to just three, across the late hours of Day 2 , and it didn't take long for us to witness some serious brutality. In fact we counted at least 17 eliminations across less than 90 minutes of play, in the final field of 45 players. That's pretty rapid, even for a Texas Hold'em tournament. Some of these spots were simply unavoidable of course, just your classic coolers. For a case in point we could look at the elimination of Cosimo de Gennaro at the hands of Jasper Van Moorsel . A simple matter of TT running into AA preflop, Big Blind vs. Button . Nothing to be done about it, and when the board ran out 9♠8 ♥ 3 ♥ 7♠ K ♦ there was no shame in this Italian's walk from the arena. Cosimo de Gennaro Another all-in hand we bore witness to featured the Daniel Lakerveid being despatched by PokerDeals Last Longer competitor Federico Cirillo , when Lakerveid's BB hand K ♥ 6 ♥ failed to get there all-in against Cirillo's K♠J♣ from the Button . Federico Cirillo Another all-in shove from a short stack was Nicolaj D'Antoni's K ♦ 7 ♦ getting it in against the A♠4♠ of the seemingly indestructible Pawel Zawadowicz , the board running out a hopeless 9♣J ♥ Q ♥ 6 ♦ 9 ♥ to secure Zawadowicz the win with just Ace high. Pawel Zawadowicz But there was worse to come, at least for PokerDeals patched player Paul Morris , who had the spot players live (and die) for, A ♥ A♣ in the Big Blind facing action when short-stacked. Who knows, he might have flatted against one, but when Jordan Dumas opens Cutoff and James Clarke decides to come along from the Small Blind , and you're sitting on well under 15bbs , a jam seems very acceptable, and that's just what Morris did. Paul Morris After consideration Dumas decided to stick around with Q♣J♣ , Clarke got out the way and the flop thundered down around Morris' head, 8 ♥ J♠J ♦ . The turn and river had nothing more to offer Morris as they fell an irrelevant 5 and 7 of ♠s . It's rough when you've grinded for days to get there, but it's all part of this game we love, and this is why we are in it for the long run! One other hand of note came from canny players Jason Shellum and Mantas Petrauskas as they negotiated a 3 ♥ 4♣6♠ 3 ♦ Q ♦ board. Petrauskas had bet all the way, and he didn't let up on the river, putting Shellum to a major question with his river bet of 600k . Shellum went deep into the tank. He was down there a while, he may have had an oxygen mask on. Eventually someone at the table called time on Shellum , and it was during that final minute of decision-making that he found the call, with, wait for it… AJ offsuit . And he was good, Petrauskas quickly mucking. "A hero call!" someone nearby remarked to him. "A hero read!" was his quick reply. We literally couldn't be more excited for Day 3 , the final day of this Grand Event today kicking off at 2pm, and a fascinating end to this highly competitive Grand Event . We'll have more coverage of the day coming out this evening on our PokerDeals Live Reporting page. Also if you'd like to see even more videos, photos and social interaction covering the event, please do join us on our PokerDeals Facebook Page !
18 Remain In the Malta Poker Festival Grand Event: Day 3 Chip Counts
Just 18 players remain standing at the end of this long Day 2 in the Malta Poker Festival Grand Event , playing out 12 levels across the day and seeing numerous poker pros and recreational players alike bite the dust. The largest stack leading the field for going into Day 3 is Polish player Pawel Zawadowicz who by the end of the night had put together an impressive stack of 7,820,000 , over 2 million ahead of the next player in the leaderboard. Only two contenders for the PokerDeals Last Longer promotion now remain standing out of the remaining 18, and these are Robert Lim from the United Kingdom, working a stack of 2,020,000 chips, and Italian Federico Petruzzelli , sitting on 2,385,000 . With blinds ending for Day 2 at an eye-watering 40k/80k with an 80k BB ante , a mere 4.5bbs currently separate these players. Who will capture the free ticket for the next Malta Poker Festival Grand Event , and who will be left winning the runner-up prize of an awesome PokerDeals hoodie? Only Day 3 will tell, and we'll also find out who will win the first prize in this Grand Event, an awesome €71,000 ! Here is the full seat draw for Day 2 of the Malta Poker Festival Grand Event: Malta Poker Festival Grand Event Day 3 Chipcount Entries: 1.014 Players left: 18 PLAYER CHIPCOUNT 1 ZAWADOWICZ PAWEL 7,820,000 2 KANE STEPHEN OLIVER 5,365,000 3 DA SILVA CHRISTOPHER 4,865,000 4 NINIS GEORGIOS 4,360,000 5 CLARKE JAMES MICHAEL 3,190,000 6 VAN MOORSEL JASPER ARTHUR 3,155,000 7 LAKERVEID DANIEL M 2,855,000 8 PETRAUSKAS MANTAS 2,425,000 9 PETRUZZELLI FEDERICO 2,385,000 10 LIM ROBERT JR CABRAL 2,020,000 11 FRENCH DOMINICK LEON 1,750,000 12 SIMON GYORGI 1,685,000 13 CHEUNG HO TIEN 1,670,000 14 TUCZYNSKI PIOTR 1,595,000 15 DUMAS JORDAN BERRAND MANUEL 1,510,000 16 IOSUB DRAGOS-GABRIEL 1,400,000 17 LANGFIELDT NICOLAY 1,370,000 18 MUSACCHIA MARIO 1,350,000 PokerDeals Live Reporting will be covering the latest as we head into the Final Day of this Grand Event . We also put up a ton more photos and videos of the event, over on our PokerDeals Facebook Page !
Malta Poker Festival Grand Event Day 2 Updates
273 players returned to Day 2 of the Malta Poker Festival Grand Event today, all aimed at that final table, but all also aware of the bubble, with 151 players to be paid in this one. The event has seen a record 1,019 entrants, building a prize pool of over €480k, with a first prize of €71,000 to play for. Nemo Israel returns with the biggest stack, with no-one else across the six Day 1 flights able to amass the monster stack of 667k which he built on Day 1b. PokerDeals Last Longer participants were out in force, with 76 of the remaining players on Day 2 sporting PokerDeals patches. Blinds recommenced at 2,500/5,000 with a 5,000 BB ante , as the game kicked off at 2pm today. We took a tour of the poker room as the all-important bubble approached, with key hands going down left, right and centre. With just a handful of players left to be eliminated before the minimum cash of €1,100 kicked in, no-one wanted to go home now. Nonetheless, stacks were getting short, tempers arguably shorter, and the all-ins were coming thick and fast. After all, sometimes you just have to get it in! Heading into a short break one table remained running long into the 15-minute break. At it sat two players, side by side, seats two and three, alone with their thoughts, their chips and their dealer. These two had come into the pot as UTG and UTG+1 , in a 3bet pot. Now the whole board was out there, 4♠T♠4 ♦ , T ♥ , 2 ♥ , PokerDeals patch-wearer Stavros Tsakas had bet 70k and Gregory Luttke-Grech was deep in the tank. After several minutes he put his opponent all in. Now it was Tsakas' turn to tank, which he did for what felt like an age, before finally and clearly reluctantly folding. Leaping up to take the last minutes of his short break, Luttke-Grech gleefully tabled K ♦ Q ♥ for a stone-cold bluff. Stavros Tsakas Robert Lim, who came into Day 2 as the PokerDeals Last Longer participant with the biggest stack, was busy getting it in good against his opponents when we passed by. This time it really helped the whole field, as he casually eliminated Romain Nardin with his A ♥ K ♦ against Nardin's A ♦ Q♠, remarking, "I'm running good at the moment, lots of big hands!". Robert Lim Whilst another all-in went the way of the short stack, with Andras Halasi doubling with his A♣Q♠ against Yohann Girondin's K♣K ♥ when an Ace spiked the turn, over on an adjacent table an even more eye-popping hand was taking place, albeit not all-in. In a 550k pot with the board reading 3♠K ♦ 7♠ K♣ 2 ♦ , Paul Morris moved all-in on the river, for his last 220k . The Button, none other than Luttke-Grech once again, was deep in the tank. With dozens of staff, media and spectators who had drifted over during hand-for-hand observing, he talked himself into the call. The bad news came fast - Morris tabled A ♥ A♠ . Luttke-Grech mucked, but not before flashing his cards. Some swear he held A8o , but this reporter saw A3o , a Hero call either way! Paul Morris Minutes later there was much more drama at the same table. This time it was Stavros Tsakas again but up against Soner Vanelderen. The players got it in preflop, with things looking tame enough, with both tabling AK suited, Tsakas with diamonds, Vanelderen in spades. The flop brought both players a straight with T♠Q ♥ J ♦ , but the turn and river were to prove cruel , bringing as they did the 3♠ and then the killer for Tsakas , the 4♠ , eliciting a collective gasp from the room. A brutal way to exit indeed, and with just one more left to go out before the money. Soner Vanelderen The final hand was not far off, either. On a board of 5 ♥ 3♣8♠ Terje Bremseth, a well-known, affable and friendly member of the live poker scene, was all-in in the Cutoff , and he was called, by Ridvan Kilincaslan . Ridvan Kilincaslan Terje Bremseth tabled A♣K♠ , Kilincaslan replied by turning over 6♠6♣ and the T♣, 3♠ runout was no help to Bremseth who exited this one as the bubble boy. We're sure we'll see him smiling in many another live poker event, however! Terje Bremseth We'll be putting out a recap tomorrow at PokerDeals Live Reporting covering all the late-game action in this huge Day 2 . Also be sure to hit up the PokerDeals Facebook page for more coverage, video footage, and lots more photos of the day's action! Some images courtesy of MaltaPokerFestival.com
Pokerstars Deposit Bonus
$ 600
- OFFER -
Partypoker First Deposit Bonus
$ 600
- OFFER -
Red Star Deposit Bonus!
$ 2,000
- OFFER -
Subscribe to Pokerdeals.comPoker Deals
Join the PokerDeals community and take advantage of exclusive content and giveaways!