Very soft action vs. players from all over the world especially Asia
User-friendly interface which is regularly updated
Poker client available for smartphone and PC
Social functions such as player forum and table throwables
Dedicated anti-collusion and anti-bot team ensuring fair play
Other formats whilst available are less common in most clubs (MTTs / spins)
You need to select the most reliable and best clubs
Max 5 tables per device
Should You Go Mobile With PPPoker?
PPPoker is the market leader for mobile poker gaming and has a simply huge amount of cash game action available for No Limit Hold'em and Pot Limit Omaha. Let's take a closer look in our PPPoker review.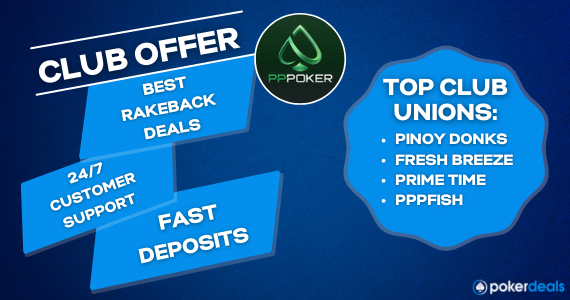 The ring games on PPPoker are well-known for being action-packed and full of fun players. PPPoker has focused on creating a snappy, user-friendly interface packed with game formats and fun features like their in-app player forum. All this is what has kept them ahead of the competition.
The PPPoker app offers anyone the chance to open their own private club, and there are numerous clubs at which you can play. Each club offers its own perks, rakeback and spread of available games, so it's crucial to know which ones are the best for you as a player. That's where PokerDeals comes in. 
Contact us at PokerDeals for full details and to quickly get set up and started playing on PPPoker. We can assist you in getting started with the most reliable clubs, the best games and of course get you set up with the best possible rakeback deal.
What games are available on PPPoker?
Ring games are mostly what's happening at on PPPoker, and there's no shortage. Games run off all different stakes depending on the club in question. There are other formats available beyond NLHE and PLO, but less commonly. 
No Limit Hold'em ring games

Pot Limit Omaha ring games 

Other games running include Omaha Hi/Lo, Stud, Razz and Draw games

Spins

MTTs 

NL 6+, and the newly launched PLO 6+ is also now available

New format NL 3-1, where players start with 3 hole cards and must discard one preflop
What promotions are available on PPPoker?
Some clubs run MTT series from time to time which tend to be very soft, and many clubs run Bad Beat Jackpots. The app itself also runs a Global Tournament section full of freerolls with real prizes such as iPhones.
Can I see my opponents' statistics on PPPoker?
HUDs are not permitted on PPPoker, however, there is a built-in function within the app known as VIP cards, which allow you as a player to access various functions including a detailed statistical breakdown of your opponents' tendencies in-game. This can be purchased via PokerDeals directly, so please ask us about this when you get in touch. 
How can I find out more about PPPoker?
We're ready and waiting here at PokerDeals to quickly get you set up with the best clubs for PPPoker, just get in touch and we'll be glad to assist. 
Is PPPoker more focused on mobile poker or PC desktop poker?
PPPoker is currently one of the largest and most popular online social gaming platforms, and functions primarily as a mobile gaming experience, but there is also a PC version available. Both pieces of software are very reliable and with user-friendly platforms.
What poker formats are available at PPPoker?
PPPoker provides a really rich range of poker variants for play, namely No Limit Hold'em (NLHE), Pot Limit Omaha (PLO), 5 card Pot Limit Omaha (PLO5) and the quite crazy and popular Open Face Chinese (OFC). As you can surely imagine, the action can be fast and loose across all of these game types, in roughly increasing order as you work your way through the list! 
PPPoker also has PLO Hi/Lo running, and they spread a format rising in popularity, especially in Asia, NLH 6+. In this game certain cards (2-5) are removed from the deck entirely, making flushes superior to full houses! 
More recently PPPoker have launched their NLHE 3-1 variety, in which players are dealt three hole cards preflop but have to discard one preflop within a 7-second clock count. 
Finally they have just launched an entirely new format, PLO 6+.
As well as the main selection of cash games, you can also find MTTs, SNGs and even SpinUps on PPPoker. 
How do I get access to the best PPPoker clubs and to the best ring game action on PPPoker?
PPPoker offers anyone registered with the PPPoker app the chance to create their own poker clubs and run private poker games. 
This means a ton of clubs, a ton of action, and more massive pots than you can shake a stick at!
PokerDeals is well-established in the poker world and fortunate to have contact with the best and most reliable clubs for ring game action on PPPoker. Get in touch on any of our social media platforms including Facebook, Twitter and Instagram.
Simply get in touch with us to get started with the best possible entry into the club games on the PPPoker app. We can also provide the best rakeback deals available anywhere.  
How do the club games work on PPPoker?
You might think of PPPoker as a decentralized poker app. The action mostly takes place within private clubs that are able to invite, ban, distribute chips for play, and keep reports on their membership of players as they run their club through the app itself. 
Some of the bigger clubs join together into large unions in order to share player pools, and just like any poker app running with a club system, to get the most out of playing there you must select the best clubs with the best games running. This is where PokerDeals can help - we have access to the most reliable and juiciest clubs in existence!
It is generally best to join clubs which are well-established and trusted in the poker community, with big active player pools. Clubs run all over the world, and unions sometimes span whole geographic areas, with games taking place in many different stakes and formats. Some PPPoker clubs also run tournaments and spins. 
Does PPPoker offer any promotions or bonuses?
Most clubs offer rakeback at various levels, and some clubs also run Bad Beat Jackpots. At PokerDeals we can get you the best rakeback deals available for PPPoker.
How do I play on the PC version of PPPoker?
You can simply download the PC version for PPPoker. The PC version is in portrait mode, just like the mobile app version. 
PPPoker for Windows allows for play of up to five poker tables simultaneously.
How is the user interface of PPPoker's mobile app?
PPPoker's mobile app is really quite something. The team at PPPoker have obviously put a huge amount of work into refining it, and it is truly market-leading. Their poker app has been optimized for both iOS and Android so can be readily played on almost any smartphone. 
The PPPoker app is very smooth in its functionality, with a host of features. Everything takes place in portrait view, and the learning curve in using the PPPoker app is very gentle, it's extremely user-friendly even for poker beginners.
Players have access to a wide range of personal data on their own play, and can view the last 100 hands played in detail, as well as overall player career progression. 
Games can be filtered according to a range of criteria, and the play at the tables themselves is pretty fast and furious, with social options built in such as throwables for fun at the tables.
Gallery
Does PPPoker have any other innovative in-game functions?
Yes, they do! It's worth noting however that all of these functions can be turned on or off for specific tables by club owners, so not every club or table will have each of these.
The calltime function is a bit of a PPPoker signature feature. It is a nice feature designed to prevent hit-and-run play where a player wins a big pot from an opponent and immediately leaves the table before he can recover his chips. The calltime function means that you must sit for at least fifteen minutes after gaining an advantage on your starting stack at the table. 
PPPoker offers the option to purchase insurance, as well as the chance to run hands multiple times, so if cutting back variance appeals to you, there are multiple ways to go about this on PPPoker. 
PPPoker also provides the option to post a straddle, which is awesome when everyone follows suit on a loose table. This can lead to some pretty wild tables, and it's nice to see this in online play. The straddle is typically something you see more of in live cash games. 
What other social elements does PPPoker have?
PPPoker, to its credit, has worked hard at promoting the social side of the game. Not only do they run regular promotions, but they are very active on social media across multiple platforms such as Facebook, Instagram and others as well as encouraging players to chat and to engage and share hands online. 
There is an in-app forum for poker discussion and hand sharing, which really is an awesome feature. This also gives you a peek into the hands going on across a huge range of different poker clubs.
PPPoker also has prizes daily in their app-wide Global Tournaments such as iPhones, and they regularly run social media campaigns with free in-game currency as prizes. 
Is playing on PPPoker safe?
In terms of game fairness, PPPoker employs a dedicated team to tackle any in-game cheating or collusion issues whenever observed and reported at the tables. The RNG has been issued a 3rd party certificate of integrity from Gaming Laboratories International, ensuring that it qualifies as truly random. PPPoker also ensures that players using the same IP address or playing from the same GPS location are disallowed from sitting at the same tables.
With regard to joining clubs, it is always the best policy to select clubs to join based on recommendations from trusted parties who know how to identify the best and most reliable clubs and club owners. That's what we are here for at PokerDeals! 
We'll always ensure that you have access to the busiest, best value and most active poker games and communities. Usually longstanding and larger clubs are part of unions which makes them that much more well-developed a poker ecosystem. Whether you're seeking player pools large or small, we have you covered.
Can anyone create their own poker club on PPPoker?
Yes! Once you're a registered player, you can become a club host yourself and you can start inviting your friends to play in your club. It's a super easy process, and all the controls needed to serve your players and open up tables are there in front of you within the app. You can even run MTTs if you have enough members.
How large is PPPoker and how fast has it grown?
PPPoker's motto is "For Poker Lovers By Poker Lovers" and they've certainly come a long way since their 2015 launch in bringing a new mode of poker play to the world. PPPoker is now hugely popular across a wide range of countries, in particular, large parts of Asia and also Brazil.
How can I find out more about PPPoker?
Contact us if you'd like more information, we are ready to help here at PokerDeals! We can get you set up and playing in the best and most reliable clubs within minutes.