Good traffic for NLHE and PLO ring games
Very soft games with a high proportion of players from Asia
Good app functioning for both iPhone and Android
Player protection and anti-bot functions
Games run up to high stakes in some clubs
Mostly just ring game action and some SNGs
Smaller player pool than some competitors
Should You Go Mobile With UPoker?

UPoker is a pretty new player in the mobile poker gaming sector, and that's all the more reason to join as the games are still super soft.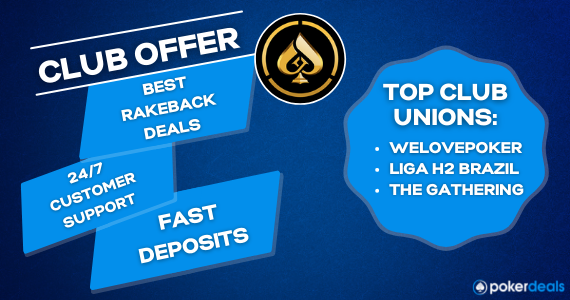 The Upoker player pool is seeing great growth, with many new clubs running No Limit Hold'em and Pot Limit Omaha ring games. There's no better time than the present to get involved, the action is hot right now on UPoker. 
UPoker uses the club-based gaming model seen with other apps such as X-Poker, and you've got PokerDeals in your corner to help you find the best clubs to join.
We know that you're looking for the best games, but also the most reliable and trusted clubs to join. We only deal with the best in the industry at PokerDeals. Contact us to get all the info, and quickly get started playing poker on UPoker. 
What games are available on UPoker?
UPoker ring game action is principally NLHE and PLO, with the following being the full list:
No Limit Hold'em ring games

Pot Limit Omaha ring games 

NL 6+ short deck

Open-face Chinese

SNGs and some MTTs
What promotions are available at UPoker?
At PokerDeals we have a range of exclusive deals with our pick of the best UPoker clubs so we can get you connected with the best rakeback deals out there. Furthermore, some clubs run a Bad Beat Jackpot to spice up the ring game action some more!
Can I see my opponents' statistics on UPoker?
UPoker offers VIP cards, allowing you to view your opponents' recent in-game stats such as VPIP (voluntarily put into pot) and PFR (preflop raise). We can provide you with VIP cards at PokerDeals directly, so please ask us about this during the setup process.
How can I find out more about UPoker?
At PokerDeals we are here to help anytime, so drop us a line and we'll get you started on your UPoker grind. You can also get in touch on any of our social media platforms including Facebook, Twitter and Instagram.
How do I get access to the best UPoker clubs and to the best ring game action on UPoker?
There is quite a range of clubs available on the UPoker app, and we are here PokerDeals specifically in order to help you navigate your options. The good news is that the site is young enough that there are not so many regulars in many of the clubs, and there is loads of soft money at the tables!
Of course, selecting a club isn't only about the softness of the games on offer, but the rakeback on offer, and crucially the trustworthiness and reputation of that club. This is something we are experts in here at PokerDeals, so just ask and we'll get you ready to go with the best options
You won't find rakeback higher than we can get it for you at the UPoker clubs, so drop us a line at PokerDeals to get started today. 
How do the club games work on UPoker?
UPoker works after the PPPoker model, where different clubs have their own player pools, and each club owner is responsible for choosing who joins each club, imposing any bans on rule-breakers, loading players up with chips and tracking activity in the club. They will also post announcements with any changes, special events coming up and so on.
The larger clubs tend to knit together into unions in order to enhance game liquidity, meaning even more action. Still, there are smaller clubs worth joining too, as the action in those tends to be even better!
If a player wishes to, they may join several clubs on UPoker, in order to access a wider range of games at any one time. 
Does UPoker offer any promotions or bonuses?
At PokerDeals our reason for being here is to bring you the best possible deals to start you on your journey on some new poker sites, and we have market-leading deals for new players joining UPoker. Just ask us, and we'll set you up with the highest rakeback achievable anywhere to start your grind on UPoker. 
How is the user interface of UPoker's mobile app?
The UPoker interface for smartphones is neatly designed, easy to use and beginner-friendly. The lobby displays all available games neatly and clearly, with filters for your specific game type or buy-in. 
The UPoker tables are pretty customizable and they allow for multi-tabling of up to four tables at once, so you can get plenty of action on the go. You are also able to view various stats for your opponents, including their win/loss for the session. 
Gallery
Can I play on UPoker via PC or Mac?
Yes! You can play UPoker on PC, although not currently on Mac. There is a dedicated Windows client for UPoker, on which you can also play up to 4 tables at a time. 
Is playing on UPoker safe?
UPoker have taken some strong steps towards maintaining the safety and security of their games, including obtaining third party verification from Gaming Laboratories International for their RNG, and working actively to prevent bots and collusion in their games via a complaints procedure. They also prevent players who are using the same IP address or GPS location from playing on the same tables.
Can anyone create their own poker club on UPoker?
Any registered member of UPoker can click a few buttons and be the proud owner of a new poker club. You can invite your friends or even grow your club into an empire over time, with perhaps enough players to run MTTs as well as ring games. The app makes all of this an easy process, and you can monitor your players' stats in the UPoker app directly as well.
How large is UPoker and how fast has it grown?
UPoker only launched back in 2019, so it is still building its database of players, but the numbers are on the rise, and the action is surely some of the best available online. Why not jump in today? 
How can I find out more about UPoker?
Here at PokerDeals we are all about getting you off to the best start with your new poker ventures, whichever site you choose. We'll have you jumping in the best action UPoker has to offer within minutes, and with an exclusive rakeback offer which we promise you won't find matched elsewhere. Check out UPoker today!