Extremely soft games in PLO
PLO5 and NLHE
A good user-friendly mobile poker app for Android & iPhone
A good random number generator ensuring fair play
Mostly just ring games
Limited traffic for higher stakes
Should You Go Mobile With XPoker?
X-Poker is a new addition to the mobile poker app market and is growing its traffic - on the plus side, this means the games that do run are very good. Let's dive deeper into what to expect from the app in our X-Poker review.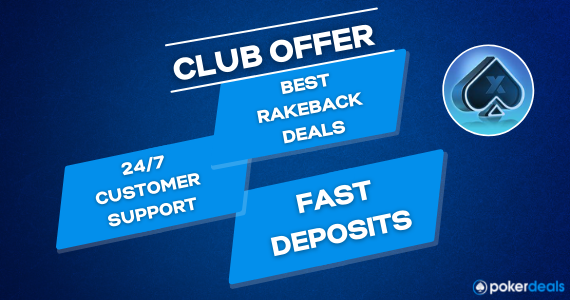 This app is for the discerning poker player looking for the softest games available - they run more frequently at lower stakes, and at peak times higher stakes will run.
X-Poker has a range of private clubs running games, just like UPoker and other apps, and PokerDeals has access to all the best deals to get you running well right out of the gate.
What we can provide at PokerDeals is access to the best and most trusted clubs. We only deal with the best in the industry. Contact us to get all the info, and quickly get started playing poker on X-Poker. 
What games are available on X-Poker?
It's all about the ring games at X-Poker, here's what they're spreading:
No Limit Hold'em 

Pot Limit Omaha 

PLO5

NL 6+ short deck

Open-face Chinese
What promotions are available at X-Poker?
We can get you the best exclusive rakeback deals currently available for X-Poker over here at PokerDeals.
Can I see my opponents' statistics on X-Poker?
X-Poker provides in-game VIP cards, with which you can keep an eye on your opponents' tendencies in gameplay. We can set you up with VIP cards at PokerDeals directly, so please ask us about this during the setup process. 
How can I find out more about X-Poker?
At PokerDeals we are here to help anytime, so get in touch and we'll get you started on your X-Poker grind today.
How do I get access to the best X-Poker clubs and to the best ring game action on X-Poker?
Just like when you go to a fairground and don't know which ride to go on first, the action on X-Poker can be confusing - which club should you join first? Should it be No Limit Hold'em, or Pot Limit Omaha? 
We're here at PokerDeals to help you choose the best clubs to join, and we can get you exclusive rakeback deals you won't find elsewhere. You can get in touch on any of our social media platforms including Facebook, Twitter and Instagram.
At PokerDeals we have access to the best info on all the poker apps, and X-Poker is no exception. We promise to get you off to a flying start, with rakeback to power you through your next sessions of play! 
How do the club games work on X-Poker?
X-Poker works just like the other mobile gaming apps, and like PPPoker, it generates numerous small pools of action by enabling anyone to open a club and start running private games.
Some of these clubs join together as they get large enough, and form unions, which pool player liquidity to keep game volume high. At PokerDeals we can advise the best clubs to join for your games of choice - both large and small.
We understand the importance of game integrity and trustworthiness when it comes to playing on poker apps for mobile such as X-Poker, and we're here to offer all the guidance you need as you venture into these awesome games.
Does X-Poker offer any promotions or bonuses?
We can get you a great rakeback deal for all the best X-Poker clubs right here at PokerDeals. Some clubs also have their own promotions such as Bad Beat Jackpots or High Hand Jackpots which can add to the excitement of the ring games on offer, and to the looseness of the tables!
How is the user interface of X-Poker's mobile app?
The X-Poker app for smartphones is secure, well-designed and graphically very appealing, and as with its competitors, X-Poker opts for a portrait mode for both lobby and play at the tables. This makes for smooth gameplay which is even easy to play one-handed, and very convenient when on the move. 
With a fun array of emojis for use in-game, customizable card decks and table skins, and a user interface which is regularly updated, X-Poker offers a compelling solution for those seeking great mobile poker gaming. 
Gallery
Can I play on X-Poker via PC or Mac?
There is not an actual poker client software for X-Poker for desktop computers, but you can play using an emulator for PC or Mac. You can also use an HUD on X-Poker, or rely on their in-game VIP cards, which we can obtain for your directly here at PokerDeals, with which you can view various opponent stats online, including their main tendencies preflop such as PFP (preflop raise).
Does X-Poker have any other innovative in-game functions?
X-Poker does have some nice features which assist both player and club owner in using the app. In-game there are various table customizations available such as deck colour options, as well as fun avatars which stand out from the felt. 
Club owners can choose to set tables as "Ratholes" meaning that players cannot rathole, that is, they cannot leave and then return to the table with a smaller stack. They must return with the same number of chips they left with, if this setting is enabled. This ensures a fairer gaming experience for all players. 
While tables don't pop automatically to the front on the X-Poker app, there is a nice feature in a display across the top where hands on other tables are shown, along with a coloured yellow timer which reduces in size as your time bank runs down on another table. This feature helps a lot with multi-tabling on X-Poker. 
Is playing on X-Poker safe?
X-Poker has taken the important step of having their RNG verified by a third party, Gaming Laboratories International. They have also begun to employ a team of experts to oversee the games for any signs of bot use or collusion. Beyond this, they have also banned all players sharing an IP or a GPS location from participating in the same games at the same time. These steps combine to enhance security for players on the site, but the best step of all is joining trusted clubs, which we can help with here at PokerDeals.
Can anyone create their own poker club on X-Poker?
You too can create your own X-Poker club if you wish, and start inviting people to play there. You set the rake, you choose what games to run and when, and whether to run MTTs as well as ring games. If you grow large enough you might even be able to join a union! Why not check it out, the X-Poker app has a dedicated club owner section which makes the whole process very straightforward.
How large is X-Poker and how fast has it grown?
X-Poker is still at the start of its own poker journey, having launched back in 2019. Despite this there are some clubs which are really starting to grow in numbers now, and action across more and more stakes and formats. The timing is good to get involved with X-Poker, as the action is still exceptionally good.
How can I find out more about X-Poker?
We're ready to get you signed up with the best possible rakeback deals at a number of choice X-Poker clubs where you can doubtless find the games you're seeking. 
At PokerDeals we have a comprehensive list of the absolutely best clubs for X-Poker, which we'll be more than happy to share with you. Let's get started.
Subscribe to Pokerdeals.comPoker Deals
Join the PokerDeals community and take advantage of exclusive content and giveaways!