If you're one of the thousands of people travelling to Vegas to take part in what could be the largest WSOP Main Event in history, you'll want to give yourself every opportunity to make a deep run and potentially take down the legendary bracelet. While we've got plenty of great strategy advice on our site, we thought who better to give you Main Event advice than the previous Main Event Champs!
We've collected advice from some of the past Main Event Champs that we think will help you crush the competition and give you the best chance of writing your name into the history books.
2021 Champ Koray Aldemir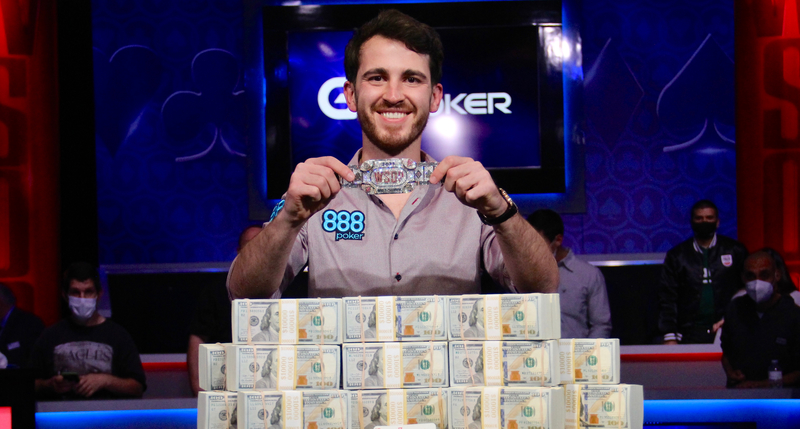 Our first piece of advice comes from 2021 Champ Koray Aldemir; widely described as the best player to win the Main Event in its modern iteration. Let's see what he has to say.


"I would say you should focus on just playing well. So many players are focused on building up a monster stack during day 1. While that would be nice, let the game come to you.

In 2021, I had a pretty bad day 1 and even almost got knocked out. I ended the day with around 35,000 (starting stack is 60,000), but I was actually happy after the day because I felt like I played well.

The WSOP main event is such a marathon. You will have bad days. You have to survive those days so you can hope to have a great run to build up your chip stack."
That's great advice from the 2021 Champ; so many people go into the Main Event thinking that they have to play hyper aggressively to build a stack or drastically alter their game to be able to compete, but that's simply not true! If you play your own game and play it well, eventually the chips will come your way.
2019 Champ Hossein Ensan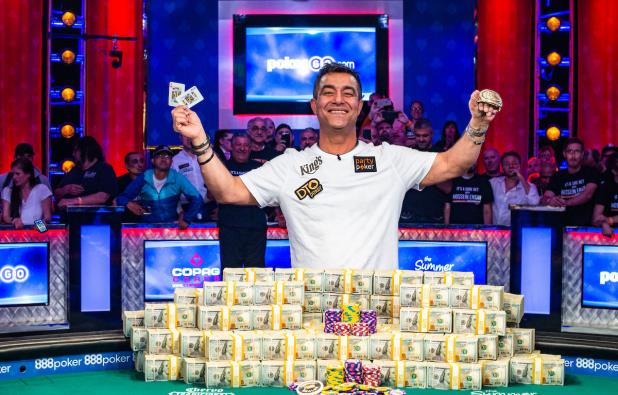 As the oldest Main Event Champ since 1999, Hossein Ensan has proved that poker is not just a young person's game. Many people believe that youth is more of an advantage than experience in the Main Event, as the long days of poker can be draining. However, Hossein believes that stamina isn't the most important factor in Main Event success.


"I will never say poker is only good for young people, no. I would say the most important thing is a good memory. You need to remember every hand and situation you've played before if you want to improve. Poker is absolutely about experience. If you can remember how you played a hand five years ago, you're building your experience and your skills."

While it's tempting to think that just because you're young, you'll have an advantage, players like Hossein, Phil Hellmuth, and Daniel Negreanu all prove that theory wrong. If you've got experience and have a great memory for hands, you'll find yourself having to do a lot less active thinking, which allows you to stay sharper for longer.
2018 Champ John Cynn
John Cynn is no stranger to the latter stages of the WSOP Main Event, finishing 11th just two years before his win. As someone who's made two deep runs, John knows just how different each Main Event can be; sometimes the cards are with you and you're riding high, and sometimes you're fighting and scrapping for every last chip.


"I think the thing you learn the most is how to stay focused for a longer period of time, over days. In 2016, it seemed like I was short stacked almost the whole way.

In 2018, I ran unbelievably well. I definitely had some of the luckiest days of my life playing poker where I could do no wrong. Because of that, I almost always had a lot of chips, and when I would get short I would find a spot to double up and get a stack to work with again. I definitely opened up my game quite a bit, perhaps it was because I had a stack, but I definitely played way more hands in 2018 than I did in 2016."

One thing that you'll have to accept when you play the Main Event is that it will somewhat be dictated by the cards you're dealt. Sometimes you'll be hit in the face with the deck and you'll be able to play a lot more hands, like John in 2018, and sometimes you'll be forced to nurse a short-stack for the entirety of the tournament.
Accepting that and trying to play your best poker regardless of the cards you're dealt is the best way to maximise your time in the Main Event.
2017 Champ Scott Blumstein
If this is your first time playing in the Main Event, you might want to channel some of that "beginner's luck" like the 2017 Main Event Champ Scott Blumstein. 2017 was the first year he ever played the Main Event, and he managed to go all the way and win the whole thing! Let's have a look at what he has to say.


"The number one thing for me was getting rid of the nerves early. After a level of playing, I told myself that it is just poker. I told myself to take a deep breath and just play my game."

At the end of the day, the Main Event is just a poker tournament; once you get the million-dollar prizes out of your mind and just focus on the poker, you'll find yourself performing a lot better.
It's hard to ignore the majesty of playing in the Main Event, as thousands of players from all over flock to Vegas to become poker's ultimate champion, and for a first-timer, it can be quite intimidating. However, if you can block all of that out and focus on playing your game, you'll perform a lot better.
Have Fun!
We've heard a lot of great advice from our previous Main Event Champs, but the most important advice of all is to have fun! Not everyone gets to play the Main Event in their lifetime, so if you get the opportunity to enter the world's best poker tournament, make sure you enjoy it. Hopefully, if you take the advice of the Main Event Champs, you'll enjoy it all the way to the bank!