A Quick Guide to Poker Formats (part 1)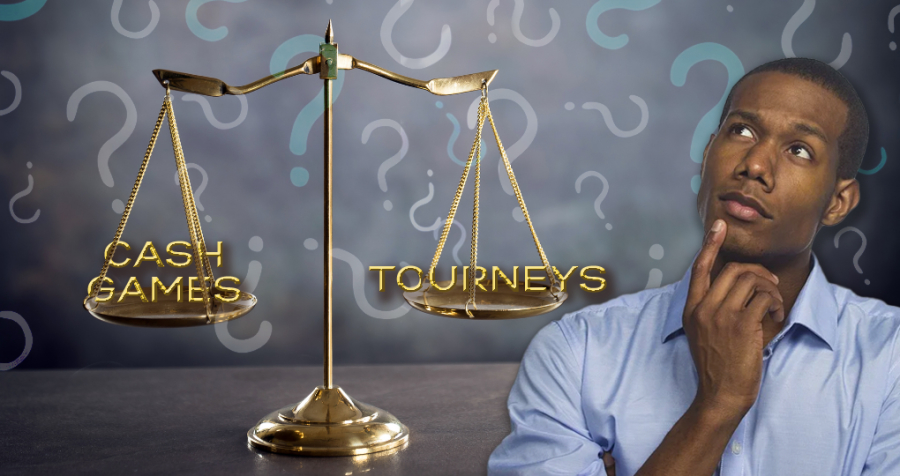 Ever feel overwhelmed by choice? The modern online poker player really does suffer from an embarrassment of riches when it comes to game choice in the online scene, and we're here to help you narrow down your options (as well as your opponent's range). 
In this instalment in the guide series we'll walk you through all of the most popular forms of poker being played today, and indicate which of these are available across multiple types of poker beyond No Limit Hold'em. We'll also dip into some variants within each format, where applicable. 
Our aim in this piece is to give you the very best start in choosing which formats to settle on for your own grind, so in each case we'll try to give you a thorough sense of the pros and cons of each one for your average grinder. 
Cash Game Poker
Let's start as simple as it comes with cash games. These are the original deal, games where you can sit down and stand up as you wish, there's a minimum and maximum buy-in, blinds are fixed and chips is chips, what you sit down with is what you play with. 
Typically players will sit with 100bbs, so for a $1/$2 blinds cash game, you'd usually sit with $200. This is the max at many cash game tables. 
The minimum buy-in for cash tables tends to range from 20-50bbs, and short stackers are often frowned upon as they will often "hit and run" a table by doubling up and then leaving. 
Deepstack cash game (200bb+) is the most complex form of poker out there, and is available on some sites, as are capped tables where only short-stacks may play. 
A popular format within cash is zoom, or fast-fold poker, in which players are entered into pools and reseated on a new table with players from that pool as soon as they've folded their hand. This makes for much faster play and many more hands per hour. 
Zoom tables are often capped at 4 maximum, but grinders of regular speed cash tables have been known to play anywhere between 6-24 cash games at a time.
Rake is an important consideration in cash game poker, and rakeback is a big component of regulars' income at the tougher games (rake is also generally higher in the lowest stakes). See our poker sites review page for more info on how we can help secure the best rakeback deals.
Six-max is now surely the most popular form of cash game online, although you will also find games running Heads-up (2-handed), 8-handed, and 9-handed. 
Cash games available online span a huge range of buy-ins, from $0.01/$0.02 games where you would sit with $2 for 100bbs, up to $5/$10 where you'd sit with $1,000 for 100bbs and even higher stakes running at times on certain sites.
Cash games are available on certain sites in almost any format including 8-game, but the most popular by far is NLHE, followed by PLO. You can also find various variants, in particular Omaha Hi-Lo and NL 6+ are somewhat popular on certain sites.
Another twist you might find on certain apps is a straddle, which is a third blind (twice the size of the big blind), or certain games running with antes of different sizes. This tends to boost the aggression of the action in-game, since there's more to be won in the middle. 
Cash game play is well-suited to anyone who likes to study the intricacies of postflop poker, who wants to work with a bankroll of around 50 buy-ins, who likes the prospect of putting in hundreds of thousands of hands of play as they progress up the stakes, who wants to play against tougher opponents as they progress and who prefers to play poker in instalments of a few hours at a time. 
The main benefits of cash game poker are the low variance relative to other formats, the significance of rakeback for your bottom line, and the convenience of the flexible hours it offers. The main downside is that it is relatively tough compared to some other formats, and that some players find it less engaging due to always playing at the same stack depth.
Tournament Poker
Tournament poker subdivides into several formats, but first a word about the overall grouping. Tournaments are essentially any game into which you enter with a fixed buy-in amount for which you receive chips, and then cannot exchange these chips for real money again until you place in the tournament. The blinds go up in fixed increments at fixed time intervals, forcing players to elimination as stacks become shorter in big blinds. 
outs usually go to roughly the top 12-18% of finishers, or up to 30% in the case of small sit and go tournaments (SNGs) of 6-9 players. In big field multi-table tournaments (MTTs), the lion's share of the payouts goes to the top three finishers, making for a game format with extremely high variance but potentially life-changing reward.
Multi-table Tournaments (MTTs)
Because of the huge prize money on offer tournament poker, particularly big field MTTs, have remained one of the softest poker formats in existence online, and will likely be the softest remaining format in the future, aside from new formats which may emerge which no-one yet knows how to play or study. 
ICM is a model used to estimate the relative value of different stack sizes in terms of their potential to cash for different amounts in the payout structure. 
Multi-table tournament (MTT) poker is well-suited to anyone who loves the thrill of a deep run and attempting to come out on top despite the long odds, who is interested in studying different ranges needed for different stack depths, is interested in how the payouts affect ranges, who is prepared to play for long sessions of 8-10 hours or more and who is able to stand the psychological pressure of huge variance and big down and up swings. 
The main benefits of MTT poker are the softness of the games, the interest value of the dynamic nature, with stack depths changing often, and the sheer fun of taking a big title in a headline event. Naturally the big payouts on offer for the top spots are a major draw as well. 
The main downsides of MTT poker are the crushing swings possible in a format with very high variance, and the sheer time outlay required.
MTTs tend to run for NLHE and PLO, but rarely for other formats except during major series. 
Some MTTs are freezeouts, meaning you cannot re-enter if you bust out. Some are re-entry, and allow either a fixed or unlimited number of re-entries within the late registration period. Others are rebuys, meaning usually that you can buy in for multiple stacks at the start, and at several points during the late registration period, as well as adding on chips at the end of that period, for an additional fee. 
Now you're well equipped to play almost anything, what will you choose? Let us know over at our PokerDeals Discord!
by Lucky Luke
Marcelo Simoes Mesqueu Becomes First Brazilian to Ship an EPT Main Event in Monte Carlo!
Simoes has done it, closing out an immense run to top a field of 1,073 runners and taking down the prestigious €5,300 EPT Monte Carlo Main Event ! In doing so he also becomes the first Brazilian to ever ship an EPT Main , winning the trophy along with a sick €939,840 in prize money. Marcelo Simoes is a big player in Brazil, where his previous best score was $109k for 1st in a $900 BSOP Main Event back in 2017. With this result being almost 10x bigger, he must be walking on air after his trip to Monaco. The Brazilian player was the only representative of South America featured on the Final Table, busting out players from across Europe and the United States to secure the win, including Spanish PokerStars Pro Ramon Colillas . During six-handed play Simoes really shone, building a huge chip lead thanks to consistently aggressive play. Across a hectic half hour's play, German Erkan Soenmez , French Hugo Pingray , US player Jaime Cervantes and Dragos Trofimov from Moldova were all eliminated, leaving just Simoes and Danish player Morten Hvam to fight it out heads-up. The heads-up itself was also a short one, lasting under an hour. In the final hand Hvam opened to 500k at 125k/250k (250k bb ante) blinds and faced a 3bet from Simoes to 1.3 million which he called. The flop came down 9 ♦ 7 ♦ 6♠ and Simoes continuation bet a further 1 million . Hvam considered briefly before shoving all-in, a total of 3.4 million chips, with Simoes snap-calling him. Simoes tabled K ♥ K ♦ for the overpair, and all Hvam had to show was the K♣T ♦ for a gutshot with overs. When the board ran out 5♠, J ♦ the Dane was eliminated, and Simoes crowned EPT Monte Carlo Main Event Champion for 2022. It had been a long, hard battle for the Brazilian over five days of intense poker action, and a well-deserved win for this passionate poker player. We are sure that his family and friends back home will be celebrating his win for Brazil for a long time to come. Well played sir. by Lucky Luke Image courtesy of Pokerstars
Daniel Lakerveld Ships Malta Poker Festival Grand Event for €71,000
He's had a wild ride to get here, and besting a field of 1,014 entrants Daniel Lakerveld has done it, he has gone on to take it down in first place after eliminating Simon Gyorgy heads-up. The end game was surprisingly fast and brutal in this one, with players busting out almost ceaselessly late on Sunday evening as they played down to 18 . Our PokerDeals Last Longer winner was finally crowned, as Robert Lim was eliminated in 17th place when his K ♦ T ♦ couldn't hold up against James Clarke's Q♠J♠ . This made Federico Petruzzelli the winner of a free entry to the very next Malta Poker Festival Grand Event (as well as a PokerDeals hoodie of course!). Petruzzelli himself was also sadly eliminated in 13th place when his A♠6♠ could not catch up with Chris da Silva's 9♣9 ♥ . Federico Petruzzelli - PokerDeals Last Longer Winner! One by one today across those first hours of play the field fell away until it teetered on the very brink of the final table - just one player left to go out for the final table of nine to be formed. It was James Clarke's fate to be that man, although you might argue he made that fate himself. In a limped pot good for 480k , Clarke checked back the 5♣2 ♦ with composure but then on the T ♥ T♠5 ♦ flop the Brit opted to rip almost 4x the pot with his remaining stack, giving Silva, who held T♣7 ♦ , a very easy chip-up with his hand. The 8 ♦ , 4 ♦ runout did absolutely nothing for him, and Clarke walked out as the Final Table bubble, 10th for €5,500 . James Clarke When Polish player Piotr Tuczynski got dealt QcJc in the Big Blind early on in the final table of nine he had two options, facing a 400k min-bet from Chris da Silva . He could flat or he could jam, with his 17bbs . Both fine options. He chose the latter, and he might have regretted it shortly thereafter as he ran straight into da Silva's A ♥ Q ♥ . The Q♠8♣6 ♦ 4 ♥ 6♣ runout could not help him, and he went home in ninth with €6,500 for his troubles. Piotr Tuczynski Nicolay Langfeldt from Norway had just got short. Like really short. With no time to waste, he put his last 425k , less than 2bbs at time time, into the pot with K ♦ J ♦ , met Georgios Ninis' A♠9♠ in the middle, and could not win the standoff, losing as he did on an A ♥ 8 ♦ T ♦ T ♥ 5 ♥ board and exiting in eighth with a €7,500 payday. Nicolay Langfeldt In a similar story UK player Stephen Kane got his last 4 bigs in facing a min-open from da Silva on the Button and sitting in the Big Blind. He was met with an ace under ace situation - his A♣6 ♦ against da Silva's much prettier A♠T♠ , and the T♣6♣7 ♦ J♠ Q♠ runout was nothing more than a tease. Kane busted in seventh with €9,000 to mop up his tears. Stephen Kane Polish Pawel Zawadowicz was powering through at the end of Day 2, as Chip Leader coming into today, but he had to put his last chips in the middle sometime, and this was the moment, as he looked down at A ♥ K ♥ . A shove, he decided, with just south of 12bbs in his 3.5 million chip stack . He was in the Cutoff , it might certainly look weaker than an open to some players. Lakerveld had too good a hand to think twice, with 8 ♥ 8♠ on the Button. The two players flipped it out, and Lakerveld landed on his feet, with a T ♦ 6♠2♠ flop making him a firm favourite. The turn and river brought nothing but a Jack and a five of ♠ s for the Pole, and the pain of elimination, and he walked out in sixth, taking home €11,000 with him. Pawel Zawadowicz Greek Georgios Ninis had been playing a solid game. He got it in on this final table in an excellent spot, A ♦ 5 ♦ on a 9 ♥ 2♣5♣ 5♠ board against a worse five, exactly what you want. Gyorgi Simon was the other involved, stuck in there with just T ♥ 5 ♥ . Then a miracle - the T♠ ! With very even stacks Ninis was struck out in fifth in a huge near 9 million chip pot. Ninis took away €14,000 in winnings from this one. Georgios Ninis Dutch player Jasper van Moorsel got it in in very fine shape with his J♣J♠ blind vs. blind against Simon Gyorgy's Q♣7 ♥ , but it was his turn to run bad as a Q ♥ in the window followed by a 5♣2 ♥ K♠ K♣ spelled the end for van Moorsel and had him out in fourth, cashing for €18,000 . Jasper van Moorsel When Simon Gyorgy put his 10 million stack in the middle from the Button and it folded to British player Chris da Silva's Big Blind , da Silva decided this was the spot to take a stand, and called it off with A ♥ 3♠ . Gyorgy showed down 4♣4♠ for the best hand preflop, and just to make the point, boated up on a Q♣8♣4 ♦ 8 ♦ 6 ♦ board runout. Da Silva, a live Pokerstars Pro, has to settle for third place this time, and €25,000 . Chris da Silva There had been some talk of a deal at three, and at two players remaining, but in the end no deal was struck, and Hungarian Simon Gyorgy would square up against Dutch player Daniel Lakerveld heads-up, playing for the trophy and a final pay-jump of €28,000 . The heads-up was, like the final table itself, to be relatively short-lived and dramatic, with the two players entering level 34 with roughly even stacks at 25-26 million apiece. With blinds at 300k/600k Lakerveld min-opened and Gyorgy called to see a T♠5 ♦ 3 ♥ flop, on which Lakerveld continuation bet 600k and Gyorgy called. The 8♣ turn was checked by both players, but on the 5♠ river something overtook both players. First of all Gyorgy checked, and Lakerveld overbet, 3.5 million. Then Gyorgy after the tiniest of hesitations jammed it in, to be immediately called. Gyorgy revealed K♠5 ♥ for trips, but Lakerveld had the best trips of all, holding A ♥ 5♣ . Simon Gyorgy - runner up Thus this incredible Grand Event was brought to its conclusion in fitting style with an epic cooler, Gyorgy departed €43,000 richer as runner up, and Daniel Lakerveld shipped the trophy, the €71,000 and the glory! Daniel Lakerveld - Malta Poker Festival Grand Event Champion 2022! We have thoroughly enjoyed our time here in the lovely land of Malta covering this series for you, and the vibe has been excellent throughout. Good weather, good people, and oh such good games! We'll be back to do it all again soon, and we hope you will too. In the meantime, if you'd like to touch base or hang out, do please connect with us over on the PokerDeals Discord channel. May the poker gods shine on you, and best of luck. by Lucky Luke
Malta Poker Festival Grand Event Day 2 Recap
Sunday 1st May saw an epic day of poker action at the Malta Poker Festival Grand Event as 273 became just 18 after a mammoth day of play here at the Portomaso Casino. A strong cohort of 73 PokerDeals patched players competing in the PokerDeals Last Longer made it to Day 2 . These have surprisingly been cut down to just two players standing , vying for who will win the free ticket to the next Malta Poker Festival Grand Event: Robert Lim & Federico Pizzazz They are also of course, more importantly, competing for some serious payouts, at the top of the pile is the glory prize itself, 1st place , rewarding €71,000 and of course, the Malta Poker Festival trophy ! Pawel Zawadowicz is the man to catch right now, leading by over 2 million chips with his stack of 7,820,000 in chips. Let's check in on how our PokerDeals Last Longer players and others were doing in the late-night action. We dropped in on the final six tables as they were rapidly slashed back to just three, across the late hours of Day 2 , and it didn't take long for us to witness some serious brutality. In fact we counted at least 17 eliminations across less than 90 minutes of play, in the final field of 45 players. That's pretty rapid, even for a Texas Hold'em tournament. Some of these spots were simply unavoidable of course, just your classic coolers. For a case in point we could look at the elimination of Cosimo de Gennaro at the hands of Jasper Van Moorsel . A simple matter of TT running into AA preflop, Big Blind vs. Button . Nothing to be done about it, and when the board ran out 9♠8 ♥ 3 ♥ 7♠ K ♦ there was no shame in this Italian's walk from the arena. Cosimo de Gennaro Another all-in hand we bore witness to featured the Daniel Lakerveid being despatched by PokerDeals Last Longer competitor Federico Cirillo , when Lakerveid's BB hand K ♥ 6 ♥ failed to get there all-in against Cirillo's K♠J♣ from the Button . Federico Cirillo Another all-in shove from a short stack was Nicolaj D'Antoni's K ♦ 7 ♦ getting it in against the A♠4♠ of the seemingly indestructible Pawel Zawadowicz , the board running out a hopeless 9♣J ♥ Q ♥ 6 ♦ 9 ♥ to secure Zawadowicz the win with just Ace high. Pawel Zawadowicz But there was worse to come, at least for PokerDeals patched player Paul Morris , who had the spot players live (and die) for, A ♥ A♣ in the Big Blind facing action when short-stacked. Who knows, he might have flatted against one, but when Jordan Dumas opens Cutoff and James Clarke decides to come along from the Small Blind , and you're sitting on well under 15bbs , a jam seems very acceptable, and that's just what Morris did. Paul Morris After consideration Dumas decided to stick around with Q♣J♣ , Clarke got out the way and the flop thundered down around Morris' head, 8 ♥ J♠J ♦ . The turn and river had nothing more to offer Morris as they fell an irrelevant 5 and 7 of ♠s . It's rough when you've grinded for days to get there, but it's all part of this game we love, and this is why we are in it for the long run! One other hand of note came from canny players Jason Shellum and Mantas Petrauskas as they negotiated a 3 ♥ 4♣6♠ 3 ♦ Q ♦ board. Petrauskas had bet all the way, and he didn't let up on the river, putting Shellum to a major question with his river bet of 600k . Shellum went deep into the tank. He was down there a while, he may have had an oxygen mask on. Eventually someone at the table called time on Shellum , and it was during that final minute of decision-making that he found the call, with, wait for it… AJ offsuit . And he was good, Petrauskas quickly mucking. "A hero call!" someone nearby remarked to him. "A hero read!" was his quick reply. We literally couldn't be more excited for Day 3 , the final day of this Grand Event today kicking off at 2pm, and a fascinating end to this highly competitive Grand Event . We'll have more coverage of the day coming out this evening on our PokerDeals Live Reporting page. Also if you'd like to see even more videos, photos and social interaction covering the event, please do join us on our PokerDeals Facebook Page !
Pokerstars Deposit Bonus
$ 600
- OFFER -
Partypoker First Deposit Bonus
$ 600
- OFFER -
Red Star Deposit Bonus!
$ 2,000
- OFFER -
Subscribe to Pokerdeals.comPoker Deals
Join the PokerDeals community and take advantage of exclusive content and giveaways!