A Quick Guide to Poker Formats (part 1)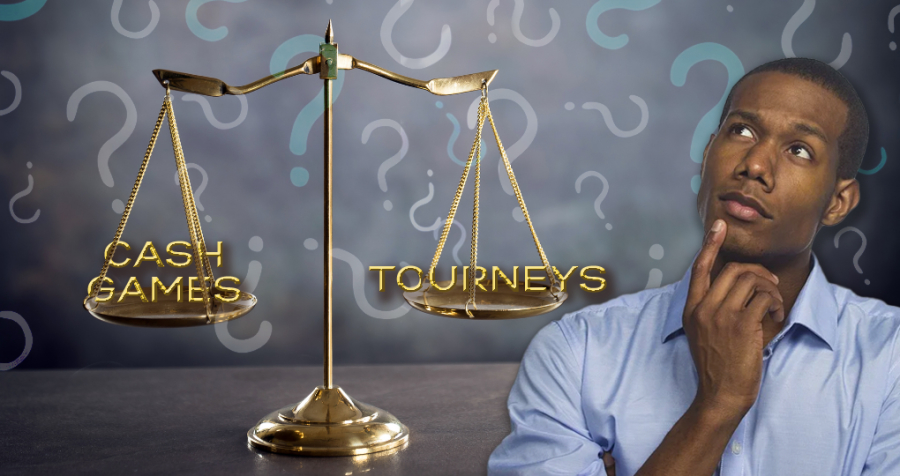 Ever feel overwhelmed by choice? The modern online poker player really does suffer from an embarrassment of riches when it comes to game choice in the online scene, and we're here to help you narrow down your options (as well as your opponent's range). 
In this instalment in the guide series we'll walk you through all of the most popular forms of poker being played today, and indicate which of these are available across multiple types of poker beyond No Limit Hold'em. We'll also dip into some variants within each format, where applicable. 
Our aim in this piece is to give you the very best start in choosing which formats to settle on for your own grind, so in each case we'll try to give you a thorough sense of the pros and cons of each one for your average grinder. 
Cash Game Poker
Let's start as simple as it comes with cash games. These are the original deal, games where you can sit down and stand up as you wish, there's a minimum and maximum buy-in, blinds are fixed and chips is chips, what you sit down with is what you play with. 
Typically players will sit with 100bbs, so for a $1/$2 blinds cash game, you'd usually sit with $200. This is the max at many cash game tables. 
The minimum buy-in for cash tables tends to range from 20-50bbs, and short stackers are often frowned upon as they will often "hit and run" a table by doubling up and then leaving. 
Deepstack cash game (200bb+) is the most complex form of poker out there, and is available on some sites, as are capped tables where only short-stacks may play. 
A popular format within cash is zoom, or fast-fold poker, in which players are entered into pools and reseated on a new table with players from that pool as soon as they've folded their hand. This makes for much faster play and many more hands per hour. 
Zoom tables are often capped at 4 maximum, but grinders of regular speed cash tables have been known to play anywhere between 6-24 cash games at a time.
Rake is an important consideration in cash game poker, and rakeback is a big component of regulars' income at the tougher games (rake is also generally higher in the lowest stakes). See our poker sites review page for more info on how we can help secure the best rakeback deals.
Six-max is now surely the most popular form of cash game online, although you will also find games running Heads-up (2-handed), 8-handed, and 9-handed. 
Cash games available online span a huge range of buy-ins, from $0.01/$0.02 games where you would sit with $2 for 100bbs, up to $5/$10 where you'd sit with $1,000 for 100bbs and even higher stakes running at times on certain sites.
Cash games are available on certain sites in almost any format including 8-game, but the most popular by far is NLHE, followed by PLO. You can also find various variants, in particular Omaha Hi-Lo and NL 6+ are somewhat popular on certain sites.
Another twist you might find on certain apps is a straddle, which is a third blind (twice the size of the big blind), or certain games running with antes of different sizes. This tends to boost the aggression of the action in-game, since there's more to be won in the middle. 
Cash game play is well-suited to anyone who likes to study the intricacies of postflop poker, who wants to work with a bankroll of around 50 buy-ins, who likes the prospect of putting in hundreds of thousands of hands of play as they progress up the stakes, who wants to play against tougher opponents as they progress and who prefers to play poker in instalments of a few hours at a time. 
The main benefits of cash game poker are the low variance relative to other formats, the significance of rakeback for your bottom line, and the convenience of the flexible hours it offers. The main downside is that it is relatively tough compared to some other formats, and that some players find it less engaging due to always playing at the same stack depth.
Tournament Poker
Tournament poker subdivides into several formats, but first a word about the overall grouping. Tournaments are essentially any game into which you enter with a fixed buy-in amount for which you receive chips, and then cannot exchange these chips for real money again until you place in the tournament. The blinds go up in fixed increments at fixed time intervals, forcing players to elimination as stacks become shorter in big blinds. 
outs usually go to roughly the top 12-18% of finishers, or up to 30% in the case of small sit and go tournaments (SNGs) of 6-9 players. In big field multi-table tournaments (MTTs), the lion's share of the payouts goes to the top three finishers, making for a game format with extremely high variance but potentially life-changing reward.
Multi-table Tournaments (MTTs)
Because of the huge prize money on offer tournament poker, particularly big field MTTs, have remained one of the softest poker formats in existence online, and will likely be the softest remaining format in the future, aside from new formats which may emerge which no-one yet knows how to play or study. 
ICM is a model used to estimate the relative value of different stack sizes in terms of their potential to cash for different amounts in the payout structure. 
Multi-table tournament (MTT) poker is well-suited to anyone who loves the thrill of a deep run and attempting to come out on top despite the long odds, who is interested in studying different ranges needed for different stack depths, is interested in how the payouts affect ranges, who is prepared to play for long sessions of 8-10 hours or more and who is able to stand the psychological pressure of huge variance and big down and up swings. 
The main benefits of MTT poker are the softness of the games, the interest value of the dynamic nature, with stack depths changing often, and the sheer fun of taking a big title in a headline event. Naturally the big payouts on offer for the top spots are a major draw as well. 
The main downsides of MTT poker are the crushing swings possible in a format with very high variance, and the sheer time outlay required.
MTTs tend to run for NLHE and PLO, but rarely for other formats except during major series. 
Some MTTs are freezeouts, meaning you cannot re-enter if you bust out. Some are re-entry, and allow either a fixed or unlimited number of re-entries within the late registration period. Others are rebuys, meaning usually that you can buy in for multiple stacks at the start, and at several points during the late registration period, as well as adding on chips at the end of that period, for an additional fee. 
Now you're well equipped to play almost anything, what will you choose? Let us know over at our PokerDeals Discord!
Win a Month's Free Poker Training Software by Deepsolver
It's time to up your game, and an excellent way to do that is by learning from one of the market's most powerful and intuitive poker solvers. Deepsolver will help you master GTO faster than ever, and give you a solid baseline to catapult your poker career from. Better yet, we're giving away a full month's access to this brilliant software, absolutely free. It takes five seconds to enter for a lifetime of knowledge. What are you waiting for? Enter the Deepsolver Giveaway There are only two simple steps! For Facebook : Follow PokerDeals Like 👍 the competition post For Instagram : Follow PokerDeals Like 👍 the competition post Winners will be announced on the 23rd of September at 12 pm (CET). Make sure you're on the list! What Does Deepsolver Actually Do? Deepsolver is a fantastic poker solver that can generate GTO (Game Theory Optimal) strategies in seconds. With their state-of-the-art software comes a user-friendly experience that both teaches the newbies, and supports the pros. The best strategy for approaching poker is a hot topic among players. GTO, exploitative, or a mixture of the two are all viable options, and each has its benefits. Deepsolver has the added bonus that you can not only learn GTO and the strategies you should adopt, but you can apply opponent profiles for counter-strategies in order to consider exploitative options. So you're getting the best of all worlds. No matter what level you play at, a tool like this will boost your game significantly and give you in-depth information within seconds. Have a look at this short video to get a better understanding of this amazing product. Enter the PokerDeals September Giveaway Now! Jump onto Facebook or Instagram and get liking 👍 to make sure your name is entered into our September draw. This is a prize that will send any player on the path to poker dominance, so make sure you're in the race. If you have any questions about the software or the competition, give us a shout on any of our social media platforms.
Win Your Seat to the Unibet Open in Malta
This September, the Unibet Open Malta Festival is returning to the island in what promises to be a thrilling event. The five-day festival will showcase tournaments including a ladies' event, various bounty events, an Omaha tourney, and, of course, the main event with a buy in of €1,100. The main event has over 70 online qualifiers already registered, with another 20 or so expected to join them through online satellites by mid-September. Sign up to Unibet and make sure you get it in good! Win one of a GTD 5 seats this weekend On Sunday, September 4 at 20:00 (CET), you will get the chance to win your way to Malta in one of the many Unibet Poker online satellites. The tourney will see at least 5 places winning a €2000 package to the Unibet Open in Malta. The first-place packages will include the following : €1,1000 buy in (€,000 + €100) 4 nights' accommodation at the 5-star Intercontinental Hotel €250 travel/spending money The buy in to the satellite is €250, however, you can find qualifiers every day for as little as €0.40. So really, what's stopping you? There are also €2 hyper-qualifiers with 3-5 mins blinds for those that enjoy a crapshoot. If you think that's still too much to spend on winning your ticket, there are also freerolls ! With 20 qualifier tickets up for grabs in each freeroll, you can actually win your seat to the Unibet Open, for free . Malta is calling… Unibet Open Malta Festival Even if you don't win your seat, you can still visit Malta and enjoy the various events at the festival. The Unibet Open will run from Wednesday, September 28 th , and finish on Sunday, October 2 nd . If you didn't know, the Maltese weather is at its finest at that time of year... The main event will commence with two day 1s, one on Thursday and one on Friday. The #QUEENRULES ladies' event takes place on Friday, with a buy in of €80. The PLO tourney starts at 13:00 on Saturday with a buy in of 200. Among the other events, you will also find a mystery bounty event , a couple of PKOs , and a flipout tourney for the more adventurous players. So there'll be something for everyone to enjoy. Previous Unibet Open Malta Winners Year Winner Country Prize Entries Prize Pool 2011 Mateusz Moolhuizen Netherlands €117,000 293 €417,525 2016 Martin Soukup Czech Republic €65,000 292 €292,000 2018 Daniel Jacobsen Denmark €60,090 273 €273,000 2019 Alan Carr UK €53,400 327 €327,000 How do I Win my Seat to the Unibet Open in Malta? It's simple. Head over to Unibet Poker and create an account (if you don't have one already). From there, you will find loads of Satellites into the main event. Just search for UO (Unibet Open) and you're on your way! For more current poker tournament info and news, check out our Facebook and Instagram pages where you can keep your poker knowledge a step above the rest.
PokerKing OSS Schedule with Colossal Prize Pools
PokerKing has had an explosive month in August, offering players a monstrous $25,000,000 GTD in prize money. The PokerKing Online Super Series is halfway through, but there is still some big action remaining in the last two weeks. Offering loads of satellites, PokerKing is giving everyone a chance to cash in on huge prizes . Let's break it down and see what's in store for players in one of the biggest online poker series to date, the PokerKing OSS. PokerKing Online Super Series Schedule On the below table, you can see the details of the bigger tournaments in the PokerKing OSS. These are broken up by smaller tourneys that you can also play. You can find their details on the PokerKing website or on the tournament page . Tournament Guaranteed Final Date and Time Buy In Flight OSS #101 $1,000,000 22 August 20:05 $600 + $30 Day 1a, Day 1b (20, 21 August) BOSS #45 $1,000,000 29 August 20:05 $2,500 + $150 Day 1 (28 August) BOSS #57 $250,000 29 August 19:30 $20 + $2 Daily BOSS #56 PKO $1,500,000 29 August 19:30 $200.00 + $20 Daily BOSS #55 $2,500,000 29 August 19:30 $600 + $30 Daily OSS #101 - $1M GTD The OSS flagship tournament has a prize pool of $1,000,000. There will be two day 1s and the 12% of players who make it into day 2 are guaranteed a prize of at least $1,200 . Date : Day 1a – 20 August 19:05 Day 1b – 21 August 19:05 Day 2 – 22 August 20:05 Buy in : $600 + $30 Satellites for this tournament will run daily , starting at $50. There is also a $79 SnG available giving away one seat plus money-back second place. This tournament is bound to rack up a bigger prize pool than guaranteed, with plenty of seats up for grabs through loads of satellites . BOSS #45 – Main Event $1M GTD Another $1,000,000 GTD tournament for the high rollers , offering a bigger buy-in and taking 15% of the playing field through to day two. The same applies – players who make it through to the second day will double their buy in and take home at least $5,000. Date : Day 1 – 28 August 19:05 Day 2 – 29 August 20:05 Buy in: $2,500 + $150 On 22 August at 00:05, there is a Beast & SnC event with a buy in of $90. Here, 20 seats can be won into day 1 of this tournament. BOSS #57 - $250,000 GTD This is one for everyone to get involved in. With a guaranteed first prize of just under $35K , and with satellites starting at only $1.30, it's a no-brainer. Date: Flights (Day 1) every day at 21:05 Day 2 – 29 August 19:30 Buy in : $20 + $2 Two 16-seater all-in or fold SnGs are available throughout the satellite rounds from $1.50. There are also a number of satellites giving away seats on a daily basis. Once you have qualified for day 2, you will not be able to enter another flight. Players who go into day 2 will automatically be paid out double their buy in. BOSS #56 PKO - $1,500,000 GTD Mixing it up a bit, you'll also get the chance to play in the progressive knockout tourney and get a shot at a bounty pool of almost $300,00K. Dates: Flights (Day 1) every day between 9:05 and 11:30 Day 2 – 29 August 19:30 Buy in : $200.00 + $20 Satellites between $5 and $20 are running every day. Remember, with PKO tournaments, the more players you knock out, the more your bounty will be worth. So it's a mad rush at the end with huge potential to make more than the regular prizes. In this tournament, 50% of the bounty is awarded, and 50% is added to the winner's bounty . BOSS #55 – 2,500,000 GTD The biggest prize pool of the lot comes with a reasonable buy in, and satellites starting at only $50 . With a first-place guarantee of $425k , players get the chance to walk away with one of the biggest prizes in online poker. Date: Flights (Day 1) every day at 21:05 Day 2 – 29 August 19:30 Buy in: $600 + $30 Keep your eyes open for the daily satellites and the 9-player SnG (with second place paid) to win your seat into a monstrous prize pool. Good luck! How to Play the PokerKing Super Series With such big prize pools, it's no wonder everyone wants a piece of the action. All you need to do is download the PokerKing software and create an account. Simple as that. Once you've created your account, you can contact one of our friendly support staff to point you in the right direction of any tournament you'd like to play. Just pop us a message and we're here to help! For more current poker tournament info and news, check out our Facebook and Instagram pages where you can keep your poker knowledge a step above the rest. *Note: All times given are in CET (GMT+2)
Pokerstars Deposit Bonus
$ 600
- OFFER -
Partypoker First Deposit Bonus
$ 600
- OFFER -
Red Star Deposit Bonus!
$ 2,000
- OFFER -
Subscribe to Pokerdeals.comPoker Deals
Join the PokerDeals community and take advantage of exclusive content and giveaways!