A Quick Guide to Poker Formats (part 2)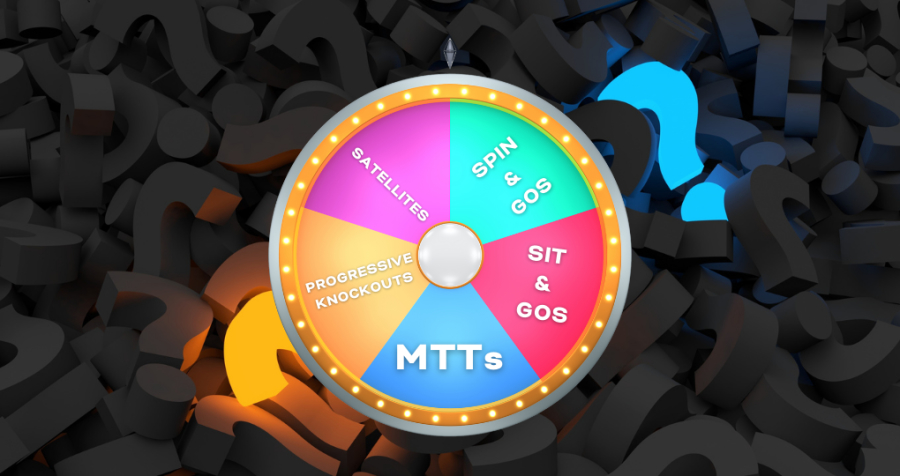 Progressive Knockouts
Progressive Knockouts are a relatively new and very popular twist on normal MTTs, in which each player has a portion of their buy-in placed not into the overall prize pool but onto their own head as a bounty. When another player eliminates this player, they gain half of the bounty immediately to their bankroll, and the other half is added to their own bounty. The final winner of a Progressive Knockout (PKO) MTT will keep their own bounty as well as the 2nd place finisher's bounty, making for a big difference in payout. 
PKOs limit your overall potential ROI as they spread funds out more widely across the player pool, as a result they also lower variance somewhat (as you can cash before getting in the money (ITM)). They are not worth registering after about 20% of the field has busted, since there is too much money already missing from the prize pool and bounties combined. If you're still buying in for a lot of bbs, the playability of your stack may offset this rule slightly. 
PKOs are highly popular, and very common in today's game.
PKOs require special focus in study, as the bounties at risk in a given hand will distort the range you need to play with, and that range will need further adjustment based on your awareness of how your opponent understands PKO effects in-game. There is quite a lot of nuance to this, but overall it makes for a more aggressive game where players are willing (and sometimes justified) in stacking off much lighter than they would in a normal tournament. 
Sit and Gos (SNGs)
Sit and Gos are smaller tournaments, where the tournament begins not at a fixed start time, but when the required number of players are registered. These tend to run between 2 (Heads-up SNGs) and 9 players for single table tournaments (STTs) and between 18 and 360 players for larger SNGs. 
SNGs have got somewhat tougher over the years, especially the single table format. They are still beatable for a small ROI but tend to be reg-infested above about $11 level on some of the larger sites. They are still pretty soft on some lesser known sites. Some variants exist such as double-or-nothing, which has a really weird ICM structure similar to satellites, and jackpot SNGs which offer some kind of prize for certain randomly drawn tables. 
Some popular forms of SNG include 6-max turbo STTs, 18-man turbo SNGs, 180-man turbo SNGs, and heads-up hyper-turbos. 
SNGs are a good choice for anyone who is concerned to keep their grind time down to increments of a few hours and that wants to intensively study ICM and payjump effects on ranges, and who is comfortable playing at a wide range of stack depths especially very short-stacked. They are a great preparation for getting better at ICM for MTTs as well. 
Spin and Gos
Spins and Gos are a newer cousin to Sit and Gos, offering action which is usually three-handed and very short-stacked. Depending on the site you might sit with between 10bbs and 25bbs to start, with a fast blind structure. The strategy required involves detailed study of ranges for a variety of short-stacked lines, including limp/calling, limp/shoving, min/folding, min/shoving etc. 
Spin and Gos are unique in offering huge randomly selected jackpots for certain table draws, and commonly paying out less than the total buy-ins combined to more frequently drawn tables. This means that you must play high volume to hit multipliers in order to book your profit, since many of the more regular tables you play will offer, for example, $20 for 1st place where three players bought in for $10 each.
Spin and Gos are great for anyone who loves playing short-stacked, having a ton of all-ins, grinding it out 'til you hit your bigger multipliers and getting into the thrill of those bigger, more rare payouts, and for anyone who is very limited on time, as a single one of these might take under 10 minutes. What's not so great about them is the potential stress on players when they do hit that big jackpot table, and the tedium of grinding out smaller payout tables without tilting or misplaying in some way. 
Satellites
We can't close out this article without giving some guidance on satellites, as these do present an awesome way to get into bigger events without spending a ton. Satellites allow you to register a small event with the hope of winning not a cash prize but a tournament ticket to a larger event, and these are sometimes stacked so that one can enter in steps or ladders, for example, a $1 event yielding tickets to a $10 event which yields tickets to a $100 event which yields tickets to a major $1k event with a normal guaranteed prize pool. Players can fire multiple efforts at the $1 ticket (or any other) level and try to bink that big seat for cheap. 
Satellites have very extreme ICM effects since the bubble is all that stands between winning nothing and winning the same as all the other winners. Therefore there is no incentive to build a big stack, and many weird spots come up when relatively safe for a ticket, such as opportunities to correctly fold pocket aces preflop, which never come up in most poker formats. 
One really nice feature of some of the bigger sites such as Pokerstars, Partypoker, 888 and sites on the Winning Network is that they offer players the chance to win entry via satellite to big live events, including European Poker Tour Main Events and even the World Series Main Event itself, for a very modest investment, if they can only run good enough to bink a ticket! In some cases the prize won includes an entry to the main event as well as hotel and travel / incidental expenses. That's really a prize worth battling for!
We hope you've enjoyed this PokerDeals round-up of the most popular poker formats online today. Good luck out there!
Now you're spoilt for choice, what will you go for? Be sure to tell us over at our PokerDeals Discord!
Win a Month's Free Poker Training Software by Deepsolver
It's time to up your game, and an excellent way to do that is by learning from one of the market's most powerful and intuitive poker solvers. Deepsolver will help you master GTO faster than ever, and give you a solid baseline to catapult your poker career from. Better yet, we're giving away a full month's access to this brilliant software, absolutely free. It takes five seconds to enter for a lifetime of knowledge. What are you waiting for? Enter the Deepsolver Giveaway There are only two simple steps! For Facebook : Follow PokerDeals Like 👍 the competition post For Instagram : Follow PokerDeals Like 👍 the competition post Winners will be announced on the 23rd of September at 12 pm (CET). Make sure you're on the list! What Does Deepsolver Actually Do? Deepsolver is a fantastic poker solver that can generate GTO (Game Theory Optimal) strategies in seconds. With their state-of-the-art software comes a user-friendly experience that both teaches the newbies, and supports the pros. The best strategy for approaching poker is a hot topic among players. GTO, exploitative, or a mixture of the two are all viable options, and each has its benefits. Deepsolver has the added bonus that you can not only learn GTO and the strategies you should adopt, but you can apply opponent profiles for counter-strategies in order to consider exploitative options. So you're getting the best of all worlds. No matter what level you play at, a tool like this will boost your game significantly and give you in-depth information within seconds. Have a look at this short video to get a better understanding of this amazing product. Enter the PokerDeals September Giveaway Now! Jump onto Facebook or Instagram and get liking 👍 to make sure your name is entered into our September draw. This is a prize that will send any player on the path to poker dominance, so make sure you're in the race. If you have any questions about the software or the competition, give us a shout on any of our social media platforms.
Win Your Seat to the Unibet Open in Malta
This September, the Unibet Open Malta Festival is returning to the island in what promises to be a thrilling event. The five-day festival will showcase tournaments including a ladies' event, various bounty events, an Omaha tourney, and, of course, the main event with a buy in of €1,100. The main event has over 70 online qualifiers already registered, with another 20 or so expected to join them through online satellites by mid-September. Sign up to Unibet and make sure you get it in good! Win one of a GTD 5 seats this weekend On Sunday, September 4 at 20:00 (CET), you will get the chance to win your way to Malta in one of the many Unibet Poker online satellites. The tourney will see at least 5 places winning a €2000 package to the Unibet Open in Malta. The first-place packages will include the following : €1,1000 buy in (€,000 + €100) 4 nights' accommodation at the 5-star Intercontinental Hotel €250 travel/spending money The buy in to the satellite is €250, however, you can find qualifiers every day for as little as €0.40. So really, what's stopping you? There are also €2 hyper-qualifiers with 3-5 mins blinds for those that enjoy a crapshoot. If you think that's still too much to spend on winning your ticket, there are also freerolls ! With 20 qualifier tickets up for grabs in each freeroll, you can actually win your seat to the Unibet Open, for free . Malta is calling… Unibet Open Malta Festival Even if you don't win your seat, you can still visit Malta and enjoy the various events at the festival. The Unibet Open will run from Wednesday, September 28 th , and finish on Sunday, October 2 nd . If you didn't know, the Maltese weather is at its finest at that time of year... The main event will commence with two day 1s, one on Thursday and one on Friday. The #QUEENRULES ladies' event takes place on Friday, with a buy in of €80. The PLO tourney starts at 13:00 on Saturday with a buy in of 200. Among the other events, you will also find a mystery bounty event , a couple of PKOs , and a flipout tourney for the more adventurous players. So there'll be something for everyone to enjoy. Previous Unibet Open Malta Winners Year Winner Country Prize Entries Prize Pool 2011 Mateusz Moolhuizen Netherlands €117,000 293 €417,525 2016 Martin Soukup Czech Republic €65,000 292 €292,000 2018 Daniel Jacobsen Denmark €60,090 273 €273,000 2019 Alan Carr UK €53,400 327 €327,000 How do I Win my Seat to the Unibet Open in Malta? It's simple. Head over to Unibet Poker and create an account (if you don't have one already). From there, you will find loads of Satellites into the main event. Just search for UO (Unibet Open) and you're on your way! For more current poker tournament info and news, check out our Facebook and Instagram pages where you can keep your poker knowledge a step above the rest.
PokerKing OSS Schedule with Colossal Prize Pools
PokerKing has had an explosive month in August, offering players a monstrous $25,000,000 GTD in prize money. The PokerKing Online Super Series is halfway through, but there is still some big action remaining in the last two weeks. Offering loads of satellites, PokerKing is giving everyone a chance to cash in on huge prizes . Let's break it down and see what's in store for players in one of the biggest online poker series to date, the PokerKing OSS. PokerKing Online Super Series Schedule On the below table, you can see the details of the bigger tournaments in the PokerKing OSS. These are broken up by smaller tourneys that you can also play. You can find their details on the PokerKing website or on the tournament page . Tournament Guaranteed Final Date and Time Buy In Flight OSS #101 $1,000,000 22 August 20:05 $600 + $30 Day 1a, Day 1b (20, 21 August) BOSS #45 $1,000,000 29 August 20:05 $2,500 + $150 Day 1 (28 August) BOSS #57 $250,000 29 August 19:30 $20 + $2 Daily BOSS #56 PKO $1,500,000 29 August 19:30 $200.00 + $20 Daily BOSS #55 $2,500,000 29 August 19:30 $600 + $30 Daily OSS #101 - $1M GTD The OSS flagship tournament has a prize pool of $1,000,000. There will be two day 1s and the 12% of players who make it into day 2 are guaranteed a prize of at least $1,200 . Date : Day 1a – 20 August 19:05 Day 1b – 21 August 19:05 Day 2 – 22 August 20:05 Buy in : $600 + $30 Satellites for this tournament will run daily , starting at $50. There is also a $79 SnG available giving away one seat plus money-back second place. This tournament is bound to rack up a bigger prize pool than guaranteed, with plenty of seats up for grabs through loads of satellites . BOSS #45 – Main Event $1M GTD Another $1,000,000 GTD tournament for the high rollers , offering a bigger buy-in and taking 15% of the playing field through to day two. The same applies – players who make it through to the second day will double their buy in and take home at least $5,000. Date : Day 1 – 28 August 19:05 Day 2 – 29 August 20:05 Buy in: $2,500 + $150 On 22 August at 00:05, there is a Beast & SnC event with a buy in of $90. Here, 20 seats can be won into day 1 of this tournament. BOSS #57 - $250,000 GTD This is one for everyone to get involved in. With a guaranteed first prize of just under $35K , and with satellites starting at only $1.30, it's a no-brainer. Date: Flights (Day 1) every day at 21:05 Day 2 – 29 August 19:30 Buy in : $20 + $2 Two 16-seater all-in or fold SnGs are available throughout the satellite rounds from $1.50. There are also a number of satellites giving away seats on a daily basis. Once you have qualified for day 2, you will not be able to enter another flight. Players who go into day 2 will automatically be paid out double their buy in. BOSS #56 PKO - $1,500,000 GTD Mixing it up a bit, you'll also get the chance to play in the progressive knockout tourney and get a shot at a bounty pool of almost $300,00K. Dates: Flights (Day 1) every day between 9:05 and 11:30 Day 2 – 29 August 19:30 Buy in : $200.00 + $20 Satellites between $5 and $20 are running every day. Remember, with PKO tournaments, the more players you knock out, the more your bounty will be worth. So it's a mad rush at the end with huge potential to make more than the regular prizes. In this tournament, 50% of the bounty is awarded, and 50% is added to the winner's bounty . BOSS #55 – 2,500,000 GTD The biggest prize pool of the lot comes with a reasonable buy in, and satellites starting at only $50 . With a first-place guarantee of $425k , players get the chance to walk away with one of the biggest prizes in online poker. Date: Flights (Day 1) every day at 21:05 Day 2 – 29 August 19:30 Buy in: $600 + $30 Keep your eyes open for the daily satellites and the 9-player SnG (with second place paid) to win your seat into a monstrous prize pool. Good luck! How to Play the PokerKing Super Series With such big prize pools, it's no wonder everyone wants a piece of the action. All you need to do is download the PokerKing software and create an account. Simple as that. Once you've created your account, you can contact one of our friendly support staff to point you in the right direction of any tournament you'd like to play. Just pop us a message and we're here to help! For more current poker tournament info and news, check out our Facebook and Instagram pages where you can keep your poker knowledge a step above the rest. *Note: All times given are in CET (GMT+2)
Pokerstars Deposit Bonus
$ 600
- OFFER -
Partypoker First Deposit Bonus
$ 600
- OFFER -
Red Star Deposit Bonus!
$ 2,000
- OFFER -
Subscribe to Pokerdeals.comPoker Deals
Join the PokerDeals community and take advantage of exclusive content and giveaways!