If you've railed some of the $800/400 PLO cash games running on GGPoker, it's very likely you've seen Eelis Pärssinen once the game is running (usually with a huge stack).
Who is Eelis and how did he accomplish the following?
Freeroll tournaments to the very top of the high-stakes PLO

Winning +$1,000,000 from tournaments alone on GG 

Winning several millions more in cash games and tournaments combined in the last few years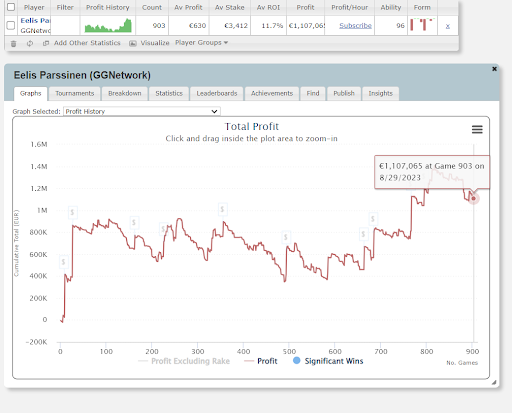 In this exclusive article, we will take a look behind the scenes at the making of Eelis, one of the most talented PLO players the world has seen.
Before we take a look at how Eelis has climbed to the top of PLO, here's what other high-stakes professionals have said about Eelis:
"Probably the most talented PLO player I've come across from modern players is Eelis Pärssinen. He has a very professional attitude towards poker, plays a lot, and he might have more hands played than any other high-stakes professional."

- Sami 'LarsLuzak' Kelopuro

"I've played a fair bit of 6-max with Eelis and just a little bit of heads-up. He didn't feel like a high-pressure kind of player, but I also didn't catch him making mistakes. I didn't catch him slipping up."

- Phil 'MrSweets28' Galfond

"One clear strength Eelis has is the ability to play his A-game a significantly bigger percentage of time compared to poker players on average."

- Joni Jouhkimainen

 
The Early Days
Eelis started playing home games with his friends during high school at age 16. Finnish TV channels started showing WPT tournament episodes where players were competing for big money in a game that combined skill with luck, you could see their hole cards and what kind of strategies they would use to win. Obviously, youngsters like Eelis were immediately hooked.
Eelis started studying the game by reading the Harrington on Hold 'em book series and Gus Hansen's Every Hand Revealed, a book that covers all hands Gus played on his way to winning Aussie Millions in 2007. By realising that you could win some pocket money playing poker, Eelis started putting in more and more hours, playing both freerolls online and home games with friends.
After high school, Eelis moved to NL100 and NL200. He used tracking software to track his EV and put in a lot of volume, which resulted in steady winning months as good rakeback deals were the norm at most poker rooms during those years. 
He played those stakes while working at a job in a warehouse. Although the decision to make the move to a full-time poker pro wasn't initially approved by people close to him, Eelis saw that by playing poker he made much more money month after month than working at his job. It was time for him to see how far poker would take him.
Transition from NLHE to PLO
While Eelis was crushing his regular hold 'em stakes, he noticed training materials started to become more common and most players were simply much better at hold 'em than Omaha. Omaha was more attractive to players who were looking to play for fun, and you could achieve a high win rate. After considering the future of both these game formats and estimating there would be more value in PLO in the long run, Eelis started his transition from NLHE to PLO.
The power of community
Although poker is not a team sport, it doesn't mean one can't study together to improve their game. Eelis has logged in many nights at a poker office rented together with fellow players belonging to the Beasts of Poker collective, including Joni Jouhkimainen, Samuli Sipilä and many others. By studying the game together, all the players in the community took leaps in their game that they might not have been able to take alone.
Besides playing poker at the office, Eelis has gone through countless hand histories with other Finnish high-stakes pros to discuss different betting lines and strategies. Having a 'mastermind group' like this is really important for players who want to make it to the top.
"I believe a big factor explaining how good we (Finnish PLO players) are, is that the Finnish poker scene is tightly knit as everyone knows each other and is on good terms with each other."
Eelis as a World-Class Player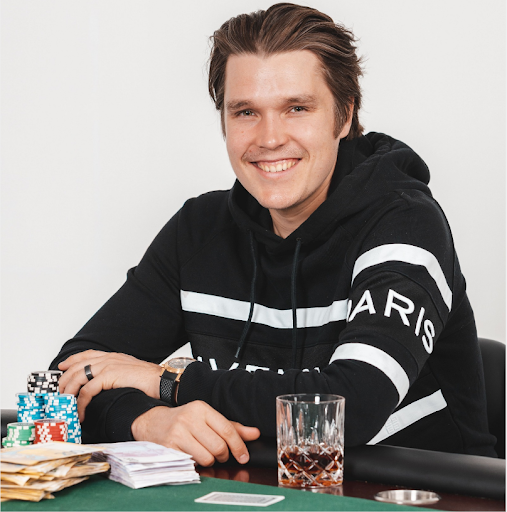 When you analyze the track record of Eelis, there are some aspects that stand out from other poker professionals. Even though they're quite simple, masters in any competitive endeavour are brilliant in the fundamentals.
There is no substitute for experience
Eelis has played an insane amount of hands during his poker career. He has seen the same spots over and over and played through them countless times.
"I believe I have a strong intuition because I have played between 15-20 million hands of poker during my life."
How Eelis approaches winning and losing big
The size of pots in regular cash games played by Eelis can quickly escalate to large 6-figures. Handling emotions when such large sums of money are at stake is a challenge to almost anyone.
"If I lose, it's ok for me to feel bad and sort of fight against myself to keep control. When I win, I want it to feel good. The hardest part during downswings for me has been controlling my emotions - but I've always enjoyed getting back on a winning streak."

"Money hasn't really changed me as a person, although it has allowed me to do many different things like travelling. Sometimes it has been hard for my wife as I've been away from home, playing poker many nights in a row, but it has all been worth it in the end."
Beyond reaching the pinnacle of online cash games
Eelis has battled the best in 6-max and reached the top of online Omaha cash games, and there are no more specific goals for him in that aspect of the game. However, Eelis has started to play more and more big live tournaments and wants to be successful in those - his competitiveness hasn't gone anywhere, it has just changed its form. 
He's already won a WSOP bracelet event in Vegas and played some big final tables in PLO tournaments - it will be interesting to see what he will accomplish on that side!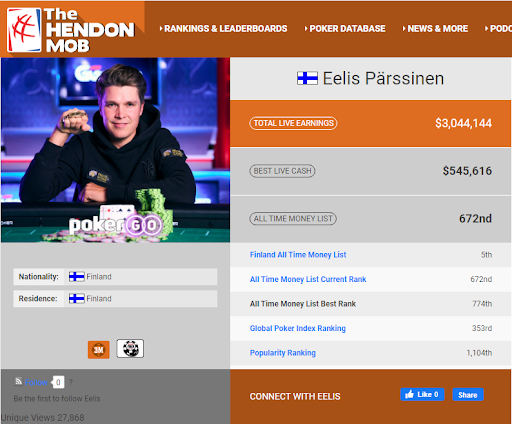 Check out more articles from Beasts of Poker, and as always, stay tuned for more poker news and strategy by following PokerDeals on Facebook and Instagram.