Enter the Poker Athlete Giveaway with Adam Carmichael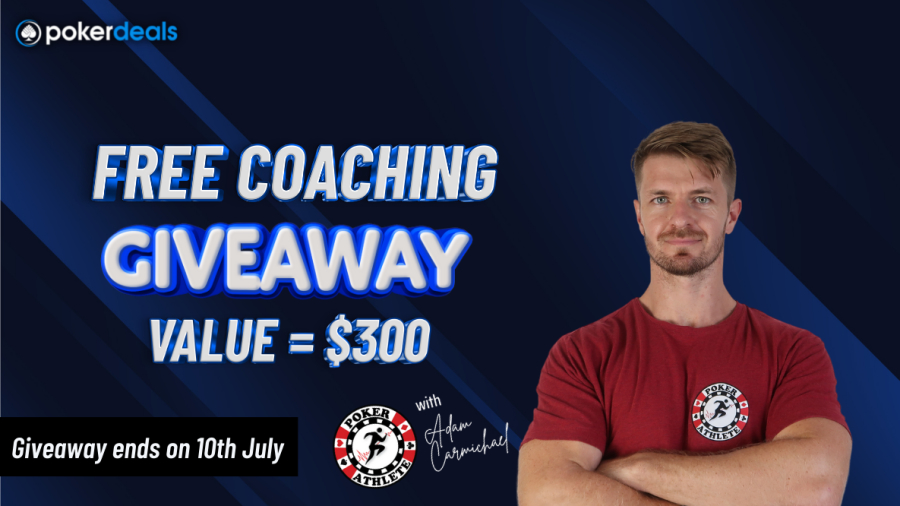 As poker players, we often find ourselves second-guessing every step we take in our poker journey. Was that the right call? Should I have done it another way? Am I going to be able to compete with top players? Well, poker performance coach Adam Carmichael has trained countless players over the past four years to progress in their poker careers through the Poker Athlete Program. And the good news? We're giving away a 45-minute 1-on-1 session with Adam worth $300. 

How to Enter the Poker Athlete Giveaway
It's pretty simple.
Head over to the PokerDeals Facebook page or the PokerDeals Instagram Page and give us a like.
Remember to tag a friend that would benefit from this awesome giveaway.
You can also find our Facebook group, Pure Poker Content, where you can engage with other poker players of various skill types and test your knowledge with some fun poker scenarios. We keep players on their toes with interesting questions, hand rundowns, and challenges that will keep their poker brains finely tuned.


About Adam Carmichael
As a former high-stakes heads-up sit&go regular, Adam gained insight into what it was to hone his skills and perform to the best of his abilities. With that knowledge, he turned his sights on training other players to upgrade their skills and boost their performance drastically.
Over the last few years, he has worked with hundreds of players, helping to optimise their lives in order to achieve their poker goals. With a background in human psychology, exercise science and peak performance, his six years of grind give players a solid strategy to optimise their lives and crush their goals.
Find Out More 
Check out our PokerDeals Podcast where we interviewed Adam about his approach to coaching and how he helps his clients to reach their full poker potential. He discusses the Poker Athletes program and what it takes to up your game. 
Great poker players aren't born, they're trained
To find out more, or to join the discussion, check out our Discord server.
Remember: If you don't enter, you can't win! 
Win a Slick Set of Copag Cards in our August Giveaway
August is here! And we have another exciting giveaway in store for anyone who enjoys a good game of cards. Copag , official card provider to the WSOP, has been making exceptional playing cards for over 100 years. They are the Rolls Royce of playing cards, made from 100% plastic and perfected over time. The various designs ensure that your cards will be unlike anyone else, and you'll be proud to host your friends at your home game. Join our August Giveaway and win your own set of Copag cards for a superior playing experience. How to Enter It's pretty simple. Facebook: Answer the multiple choice question Follow Copag Follow PokerDeals Cross your fingers Instagram: Answer the easy question Follow Copag Follow PokerDeals Run good Seems easy enough, right? Don't forget to tag any friends who you think would love a new set of cards. You will find a ton of like-minded people when you explore these social media sites, so don't forget to stop and have a chat. Get the most out of Copag Cards If you love the look of Copag and their gorgeous card sets, you don't have to wait to win the competition to get your hands on them. Jump onto their site and you can get 10% of any products just by using the code POKERDEALS. You could be playing in style a lot sooner than you thought... About Copag Cards Copag started as an importer of playing cards all the way back in 1918. Back then it was called Companhia Paulista de Papéis e Artes Gráficas ("C.O.P.A.G."), if you were wondering why the odd name. Today, their decks can be found on five continents and in the biggest casinos in the world. They are also often found in prestigious card championships, whether it be bridge or poker. These cards will be a welcome addition to any household, and you will always be proud to pull out your set in front of friends.
Everyone gets a Chance in the $1 for $1Million Tournament at WPT Global
Have you ever wanted to play in the big online tourneys , but never had the bankroll for it? Well, your time has come! WPT Global has changed the usual big buy-in structure and is giving everyone a chance at a massive $1,000,000 guaranteed prize pool. With a buy-in of only $1, anyone can get involved. Each Wednesday and Sunday, you can choose from 14 different starting flights. Get in on the action in the WPT Global $1 for $1Million . Starting flight schedule Starting flights are taking place every Wednesday and Sunday , with the final flight on the 17 th of August. The top 13% of players will go through to Day 2 of the event. DATE TIME (UTC) EVENT BUY-IN GUARANTEED Wed 27 Jul 1:00 pm $1-1m Flight $1 $1,000,000 11:00 pm $1-1m Flight $1 $1,000,000 Sun 31 Jul 1:00 pm $1-1m Flight $1 $1,000,000 11:00 pm $1-1m Flight $1 $1,000,000 Wed 3 Aug 1:00 pm $1-1m Flight $1 $1,000,000 11:00 pm $1-1m Flight $1 $1,000,000 Sun 7 Aug 1:00 pm $1-1m Flight $1 $1,000,000 11:00 pm $1-1m Flight $1 $1,000,000 Wed 10 Aug 1:00 pm $1-1m Flight $1 $1,000,000 11:00 pm $1-1m Flight $1 $1,000,000 Sun 14 Aug 1:00 pm $1-1m Flight $1 $1,000,000 11:00 pm $1-1m Flight $1 $1,000,000 Wed 17 Aug 1:00 pm $1-1m Flight $1 $1,000,000 11:00 pm $1-1m Flight $1 $1,000,000 Sun 21 Aug 3:00 pm $1-1m Day 2 $1 $1,000,000 Mon 22 Aug 1:00 pm $1-1m Final Table $1 $1,000,000 How much is the payout in the $1 for $1Million Tournament? One of the best things about the tournament is that a whopping 550 places get paid . Places 501-550 will get a 0,04% share of the prize pool, starting at $400. Obviously, depending on the number of players and the final prize pool, this amount could go up. If the prize pool stays standard at $1,000,000, players can expect a final table payout that looks like this: PLACE PERCENTAGE PRIZE (for $1Mil pool) 1st 17.5% $175,000 2nd 9.8% $98,000 3rd 7.3% $73,000 4th 5.3% $53,000 5th 4.3% $43,000 6th 3.3% $33,000 7th 2.3% $23,000 8th 1.2% $12,000 9th 0.9% $9,000 All this for $1 - what are you waiting for? Sign up to WPT Global now to get a piece of the pie. How many times can I buy in to the $1 for $1Mil Tournament? The tournament has a pretty unique structure in that players can take advantage of the ' best stack forward ' policy. This means that you can enter any and all flights , even if you have qualified for day 2. If you qualify for day 2 more than once, you will carry your biggest stack into day 2 with your other stacks effectively being discarded. This gives you ample opportunity to make it into day 2 with the best chance at the $1Mil. Each flight has late registration for 15 levels, with each level being 10 mins. Your starting stack is 10,000 and you will have a max of 3 rebuys per flight. Each flight is limited to a maximum of 5,000 entries, so make sure to enter to avoid disappointment. WPT Global Online tournaments WPT has a fantastic array of online tournaments, constantly changing and improving. The $1 for $1Million goes to show that they are leaders in not only live tournaments, but their online schedule takes some beating. Check out the WPT Global review and find out more about the online poker room. As always, we love hearing from you! Join our PokerDeals Discord , or connect with us on Facebook for some cool poker tips and fun interactive poker content.
Espen Jørstad wins the 2022 WSOP Main Event
What a tournament, and what a winner! Espen J ø rstad has claimed the most coveted title in poker, the WSOP Main Event, walking away with $10,000,000 and the gold bracelet to rule them all. Jørstad ploughed through a huge field of 8,663 players for the ultimate championship title after a gruelling 9 days of play. He is the first Norwegian ever to win the Main Event title. How the final day of play went down Three players went into the final day with Jørstad an overwhelming chip leader with 57% of the chips in play (298,000,000). Adrian Attenborough from Australia was in distant second on 149,800,000, and the Argentinian Michael Duek was short stacked with 72,100,000. On the tenth hand of the day, Attenborough went up against Duek in what would be the latter's final hand of the tournament. With blinds on 1.5M/3M, Attenborough found A♣J♣ on the dealer button and raised to 6m. Duek on the small blind looked down at K♥8 ♦ and re-popped to 23M. Jørstad folded his K8o from the big blind and Attenborough called. Both players checked the Q ♦ 5♥10♣ flop, only to see the party card K♠ on the turn. Duek bet 17M and Attenborough smooth called. The uneventful 3♠ river saw Duek all but shove his stack, leaving himself with a 5M chip behind to which Attenborough announced all in. Duek tossed in his final chip to be beaten by broadway and left the tournament in third with $4,000,000. The intense heads-up duel began with a hand that lasted almost 30 minutes, Attenborough tanking for his tournament life with bottom pair. He eventually found the fold, but lost over half his stack in the process. The final hand of the tournament saw a similar tank from Attenborough, but this time, he couldn't find a fold. Blinds on 2M/4M, both players on similar stacks, with Jørstad about 50M ahead. With no action preflop, both players went into the flop with mediocre hands: Attenborough with J♣4♠ and Jørstad with Q ♦ 2♠. The flop promised action, showing 2♥4♥2♣. Attenborough checked , and Jørstad put in a baby bet of 4M. Attenborough raised to 14M and Jørstad 3-bet to 32M. After a pretty quick call from Attenborough, the turn showed a nothing-card 8♠ to which Attenborough checked . Jørstad put in a bet of 62M and Attenborough called. The river filled Jørstad up with a Q♣ to which Attenborough again opened with a check . Jørstad took his time, eventually announcing all in . After a mammoth tank, Attenborough made the call, thinking he was being bluffed by Jørstad. He left the tournament second taking home $6,000,000. A formidable opponent, Jørstad happily accepted his bracelet and his monster first prize of $10,000,000. Who is Espen Jørstad? Having played most of the tournament barefoot and finding his 'chill' every time he was faced with an important decision, Espen Jørstad was the picture of level-headed throughout the WSOP Main Event. Primarily a cash player, Jørstad dabbles in tournaments every now and again, and he is quite well known online as Hymn2ninkasi on PokerStars , and COVFEFE-19 on GGPoker. He won his seat to the Main Event online at GGPoker in a $1,050 satellite and will continue onto the WSOP Europe Main Event after securing a seat simply by making the final table. He has mentioned that with his winnings, he's excited to start playing in more tournaments as his bankroll is now considerably bigger. He's looking forward to getting into the High Roller scene and playing more $25,000 tournaments. He has also mentioned, however, that he needs to get back to studying the poker basics to be sure that he's good enough. Humble much? The first thing he did when he won was phone his biggest fan: his mother. She was crying and had trouble speaking. She's my biggest fan, so it was kind of emotional. Currently living in London, Jørstad is a former Unibet Poker Ambassador and popular Twitch streamer . 2022 WSOP Main Event Final Table Results Place Player Country Prize 1st Espen Jørstad Norway $10,000,000 2nd Adrian Attenborough Australia $6,000,000 3rd Michael Duek Argentina $4,000,000 4th John Eames United Kingdom $3,000,000 5th Matija Dobric Croatia $2,250,000 6th Jeffrey Farnes United States $1,750,000 7th Aaron Duczak Canada $1,350,000 8th Philippe Souki United Kingdom $1,085,000 9th Matthew Su United States $850,675 10th Asher Conniff United States $675,000 Congratulations to Espen Jørstad on a very well-deserved win. Keep your eyes peeled for what we can only assume is the first of many wins to come. For more poker content and fun, be sure to check out our PokerDeals Discord , and join our FaceBook group . Images courtesy of PokerGO .
Pokerstars Deposit Bonus
$ 600
- OFFER -
Partypoker First Deposit Bonus
$ 600
- OFFER -
Red Star Deposit Bonus!
$ 2,000
- OFFER -
Subscribe to Pokerdeals.comPoker Deals
Join the PokerDeals community and take advantage of exclusive content and giveaways!