Jason Koon Crushes Hellmuth in High Stakes Duel For $1.6 million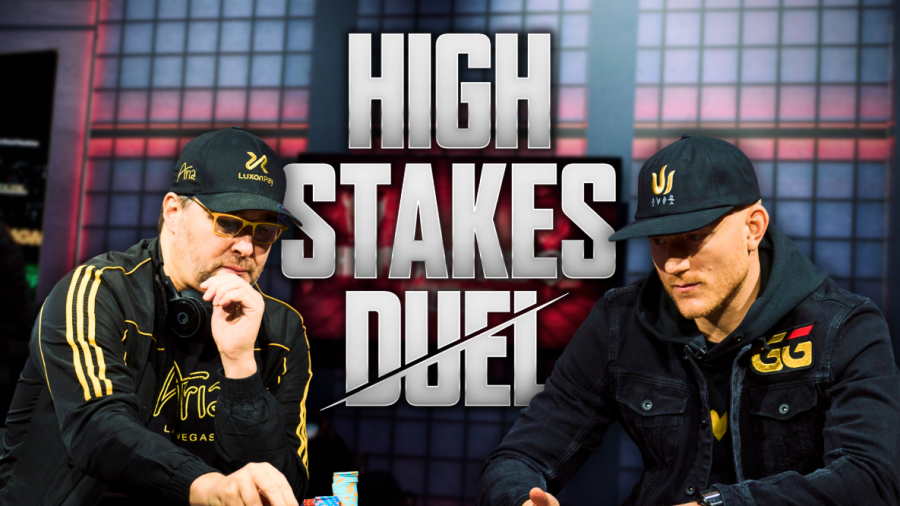 It was the biggest match in the history of High Stakes Duel; both players stumped up $800,000 in cash with the hopes of taking home a mammoth $1.6 million. But in the end, Jason Koon came out on top - and, in all honesty, he made it look effortless.
Many in the poker community have doubted Phil's ability to keep up with the brightest minds of this generation, but his 9-1 record in this event will tell you otherwise. Koon was respectful of Phil in the pre-match interview, talking up his achievements in the poker world, particularly in heads-up events.
This is a very different tactic to the other players we've seen, most of whom have declared their intention to "crush" Phil in a format that many people think he isn't suited to. It seems as though this was a conscious decision not to get caught up in the battle of egos that usually happens when Phil is at the table; Jason was content to sit tight and play his own game.
Jason wasn't the only one who came in with a different strategy than usual, as Phil started the match in a much more aggressive manner than we were used to seeing. Rather than limping every hand from the button, we actually saw Phil raise hands - something we're not used to seeing in these events!
Hellmuth Loses a Quarter of his Stack with Q6o
While his strategy of raising from the button didn't last long, we saw what many people consider to be Phil's fatal weakness in these games, and what Daniel Negreanu calls his "zoom zoom" mode. Phil is a feel player. He doesn't consider things like math or ranges when making his decisions; he goes off pure vibes.
Sometimes that can make you look like a genius, but sometimes it can make you look like a complete amateur. Contrary to what people may think of Phil, he's not scared to get in the streets and mix it up, and that's exactly what we saw early on with his Q6o hand. Phil limped Q6o on the button with blinds at 1.5K/2.5K, and Jason raised to 10.5K with black aces.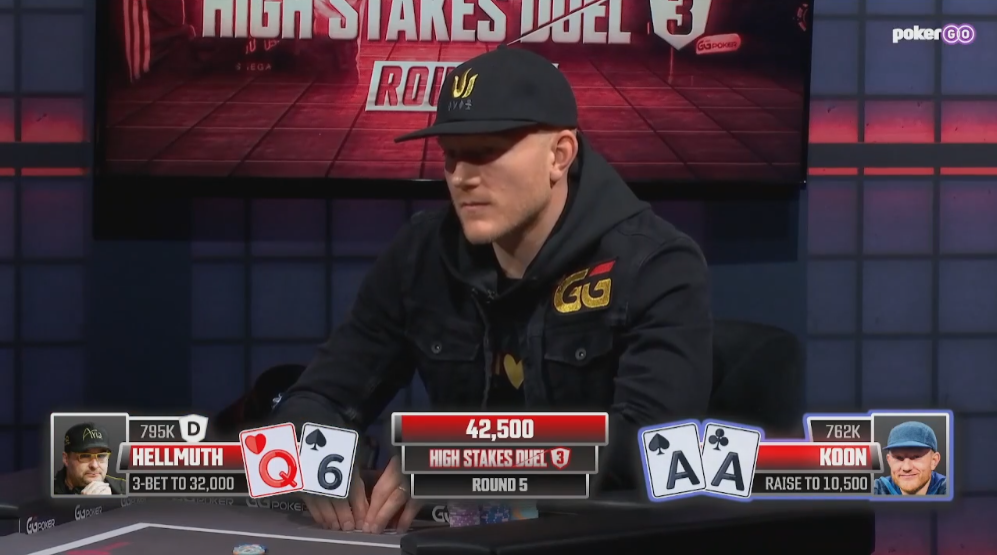 For many people, this would be the end of the hand, but Phil decided to get aggressive and 3bet to 32K. Jason put in the 4bet to 120K, as you would expect, and you're thinking that at this point, Phil is just gonna let it go - but no! He 5bets it to 260K! Jason obviously moves all-in, and Phil folds, losing over a quarter of his stack in a situation where all he should have lost was 2.5K.
Action Hands with Great Bluffs
While Phil would eventually get those chips back, this remained the theme of the night. That being said, don't think that Jason had the win handed to him on a silver platter; he was working for it and pulling off some great bluffs.
One of the best examples was in a limped pot, where Phil limped 82o, and Jason checked J9o in the big blind. The flop came AQTr, and Jason check-called a bet of 55% pot from Phil. The turn was the Jc, giving Jason a pair and Phil a straight draw. Both players checked, and the river was the 9s, giving Jason two pair and Phil a straight. However, it's important to note that any king would make a higher straight.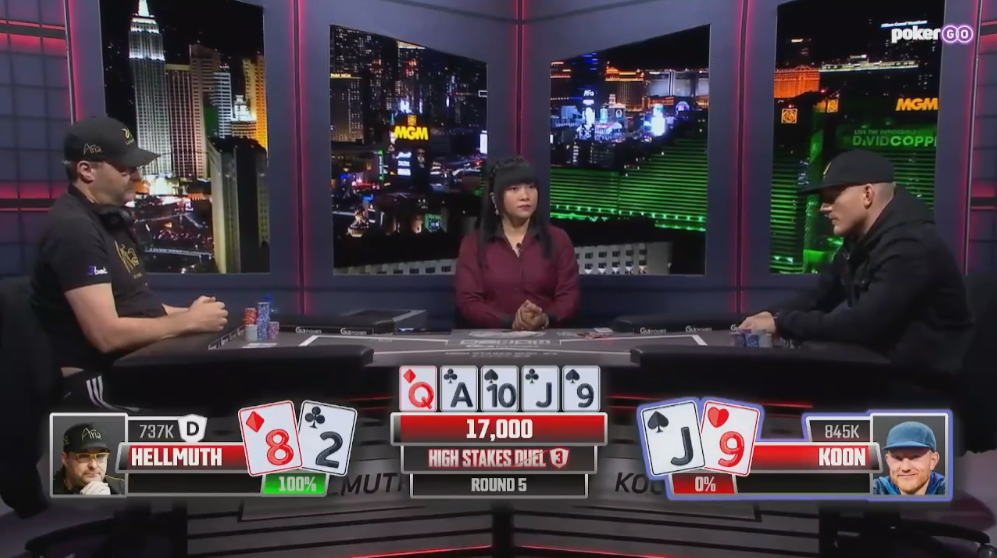 Jason led out for a min bet of 4K, Phil instantly bumped it up to 9.5K, and after a short consideration, Jason made it 30K, repping the king! Phil snap folded, giving Jason the pot and what was surely a great boost to his confidence.
It was clear at this point that Jason had the upper hand, and Phil had to do something to get back into the game. However, for reasons that only he will know, he decided that the best way to win back his chips was to start 3betting absolute garbage, knowing that he'd have to play out of position against one of the best in the game.
This was best exemplified when Jason opened JTo to 12K with blinds at 2.5K/5K, and Phil decided to 3bet 74o to 36K. You read that right; he 3bet 74o against Jason Koon! Jason called, and they saw a flop of Jd8d6c. Phil checked, and Jason played it tricky by checking back too.
The turn was the Tc, putting two flush draws on the board. It also gave Jason two pair, and Phil a double gutter. Phil bet 62K into 72K, and Jason again decided to play it slow and just call. The 7d brought four to a straight and three to a flush, but Phil couldn't pull the trigger on a bluff, and Jason happily checked back with his two pair to win a huge pot, along with a 3-1 chip advantage.
This loss had Phil talking to himself as he often does at the table, complaining about the quality of his opponent's hand - seemingly forgetting that he 3bet the hand with 74o. Certainly a case of pot meets kettle if there ever was one!
Jason Koon Runs Good When It Counts
To give Phil the benefit of the doubt, Jason did seem to have the run of the cards as the match progressed. He had strong hands in the majority of the big pots they played together, and some of those decisions would certainly have been harder if he had missed the flop.
That being said, there was an air of calmness and control that we haven't really seen from any of Phil's challengers in this format. Once Jason amassed his comfortable lead, he never looked like letting it go.
He just kept whittling down Phil's stack with every hand played, seemingly making all the right moves at all the right times. It wasn't long until he had an over 10-1 chip advantage, and you could sense that the end was near for the former Main Event champ.
An example of how well Jason ran in the big spots, the two played a hand where Phil limped the button with Kh2h at 3K/6K, Jason raised it to 24K with 6d4d, and Phil called. The flop came JJJ, Jason bet 60% pot and Phil snap-called. The turn was a queen, and both players checked before a four on the river gave Jason a full house. Jason bet around ⅓ pot on the river, Hellmuth called, and was disgusted when he saw he got rivered.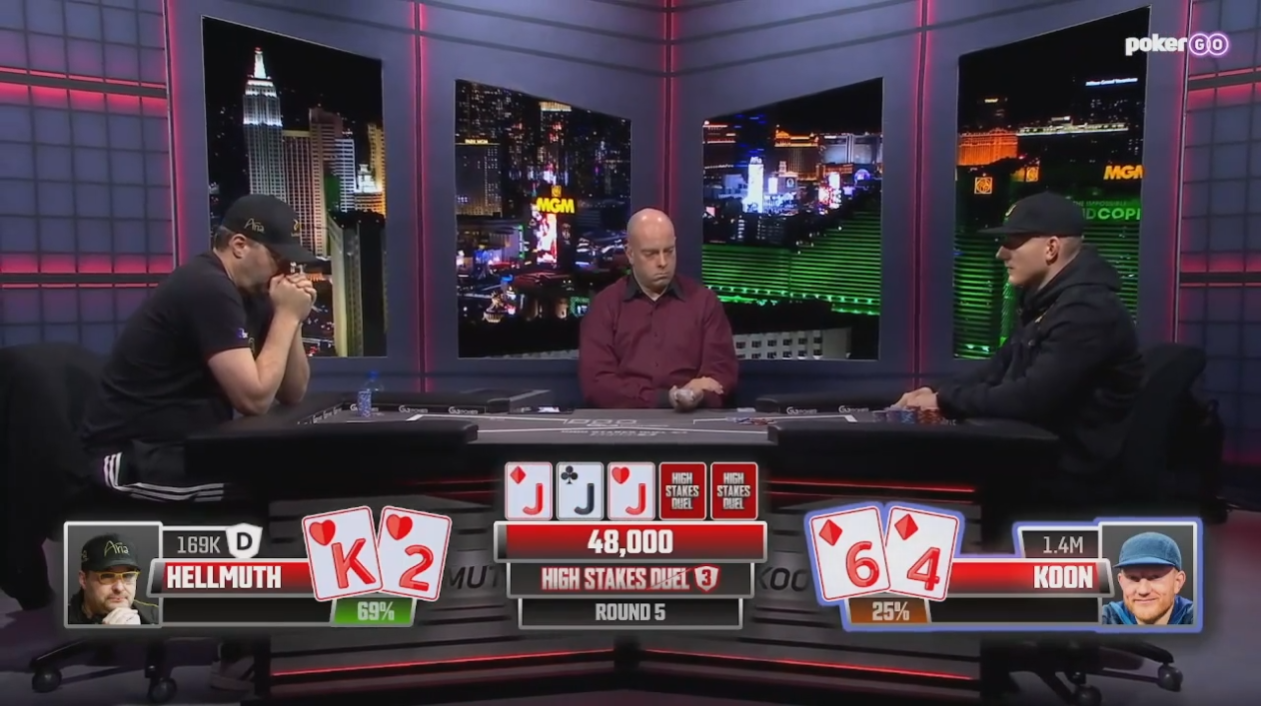 Final Hand Action
That turned out to be the penultimate hand, as the very next hand Jason raised from the button with Q8o, and Phil 3bet AKo off of 17bb effective. Jason thought about it for a few seconds before putting Phil all in. Phil obviously snapped him off, which meant Jason had a 33% chance of winning the $1.6 million right there and then.
The flop was queen-high, giving Jason top pair, but Phil also flopped a gutshot, giving him four more outs. However, unfortunately for him, both the turn and river were bricks, giving Jason Koon the victory and the $1.6 million in prize money.
High Stakes Duel Rematch
Time will tell whether or not Hellmuth will exercise his option for a rematch; as the last challenger, he has "first dibs" on playing Jason if he wishes, but after such a comprehensive beat down, there may be some doubt creeping into his mind. Having doubts is the last thing you'd want if you were to take the rematch, as according to High Stakes Duel rules, the stakes will be doubled, meaning that both players will have to pony up $1.6 million to play.
If Phil declines the rematch, players from around the world have 30 days to challenge Jason. If there is a challenger during that time, Jason must accept and play for a prize pool of $3.2 million; otherwise, he's free to take the money. There have been rumours that if Phil decides not to play, online crushers such as Linus Loeliger and Wictor Malinowski are waiting in the wings to see if their online heads-up success will carry over.
Either way, I'm sure that, like us, you're all hoping that someone challenges Jason - I mean, who doesn't want to see a heads-up match for $3.2 million? As soon as a potential challenger is confirmed, we'll be here to give you the lowdown on the biggest televised heads-up match.
Until then, if you want to keep up to date with the biggest and best tournament series from around the poker world, join our PokerDeals discord, or follow us on Facebook and Instagram.
Images courtesy of PokerGo
Make Your Week More Exciting With Unibet's 7 Days of Poker
Let's face it, as much as we all love playing poker, it can sometimes get a bit repetitive. Logging on day after day to play the same game against the same regs in the player pool, it's no wonder so many players end up on autopilot ! Luckily, Unibet is here to shake things up with their 7 Days of Poker promotion. Every day from Monday to Sunday , there will be a brand new promotion that will break the monotony and give you a reason to wake up and log on. There's something for everyone throughout the week, whether you like playing cash games, tournaments, or sit and gos. Let's take a closer look at what they're offering each day. Monday Between the hours of 16:00 – 00:00UTC every Monday, Unibet are running special $0.25/$0.50 PLO tables , with a minimum buy-in of 10bb and a maximum buy-in of 20bb! These short stacked tables are made to test your shallow PLO play and come with an additional challenge. The player who grinds their way to the biggest stack on one of these tables will earn the right to call themselves the short-stacked master and will be rewarded with an exclusive avatar and a €50 PLO cash games ticket ! Tuesday If you love playing tournaments but hate the long and drawn-out process of getting into the money, Unibet is speeding things up with their Bubble Buster tournaments. The structure is fast in the early stages and slows down considerably after the bubble has burst. These unique tournaments are scheduled for 19:00, 20:00, and 21:00UTC every Tuesday night, and there are three levels of buy-ins to enjoy: €1, €5, and €10. There are three tournaments of each buy-in level to play every night, and there's an added bonus if you manage to take down more than one. Win two tournaments of the same buy-in in one night, and you'll receive 100x the buy-in in bonus points, plus an exclusive avatar! If you manage to complete a full house and win all three tournaments of the same buy-in, you'll win 1000x the buy-in in cash , potentially giving you a €10,000 bonus! Wednesday The middle of the week has been rebranded to Wild Wednesday, as Unibet is hosting €1 and €2 rebuy tournaments, where the rebuy is ¼ of the buy-in ! That means if you enter the €1 tournament and lose all your chips, you can buy back in for just €0.25! These tournaments start from 20:05UTC every Wednesday, and you can expect plenty of action. Plus, if you're able to take down two Wild Wednesday tournaments of the same buy-in in the same night, you'll be rewarded with an exclusive avatar that tells your tablemates that you're not to be messed with. Thursday If you think deep-stacked cash games are just for live poker, think again! Every Thursday from 15:00UTC, there will be exclusive €0.05/€0.10 tables where the minimum buy-in is 500bb , and the maximum buy-in is 1000bb - they don't get much deeper than that! Just like the short-stacked tables, there is a special prize for the player who ends the night with the biggest stack. If you have the biggest stack by 23:59UTC, the table will be named after your alias the following week , and you'll receive a €100 cash game ticket as well as an exclusive avatar . Friday If you felt like the €20 Banzai tables weren't providing enough action in your life, you'll want to check out the Banzai Bonaza that Unibet runs every Friday. They're adding a €50 table into the mix, so you can play for some real money. In addition to the higher stakes table, Unibet is also running a points leaderboard from 16:00-23:59UTC every Friday, where players earn points for every flop they see playing Banzai. The points for each stake level are as follows: Banzai €1 - 1 point Banzai €5 - 1.5 points Banzai €20 - 3 points Banzai €50 - 3 points The top five players with the most points at the end of the night are given cash prizes, with the number one points scorer taking home an additional €100! Saturday Fans of the HexaPro jackpot sit-and-go format at Unibet will love Saturday's promotion, as Unibet are upgrading their HexaPro game to HexaPro Extreme. The 100x jackpot will receive a boost to 125x, and they'll appear 40x more often than they currently do! This is the perfect time to try and hit one of the major jackpots, and maybe you'll be lucky enough to walk away with the maximum 1000x prize . These games will run between 08:00-23:00UTC every Saturday, giving you plenty of time to log on and bag yourself a jackpot. Sunday Sunday is traditionally MTT day for every poker grinder, as the guarantees are the biggest, and the player pool is filled with fish 🐟. Unibet wants to make the Sunday tournament grind even more enticing with a Stellar Sunday schedule . These tournaments have fantastic guarantees and tournament structures, so you won't want to miss out. Check out the full schedule below for more details. Tournament Start Time Frequency Buy-in Gtd Prizepool Format Supernova 18:00 UTC Weekly €100 €20k NHLE, 1x re-entry Supernova Lightning 18:00 UTC Weekly €10 €1.5k NHLE, 1x re-entry Boba Bounty PKO 18:15 UTC Weekly €100 €2k NHLE, PKO, Freezeout Odyssey 19:00 UTC Weekly €50 €5k NHLE, rebuy Titan 20:00 UTC Weekly €25 €6k NHLE, rebuy The Supermoon 20:00 UTC 1st Sunday monthly €250 €40k NHLE, PKO, 1x re-entry Players can also compete for exclusive shiny avatars in the SuperNova, SuperNova Lightning, and Supermoon tournaments, so you can show off your tournament prowess to everyone you play against. Pick a Day, Any Day! With a new reason to log on each day and great prizes to win, this is a promotion you won't want to miss. If you don't already have an account with Unibet, sign up today to take advantage of this great offer. If you want to keep up to date with the biggest and best promotions from around the poker world, make sure tofollow us on Facebook and Instagram .
Warm Up This Winter With The $2.5 Million BetOnline Championship Series
If you're struggling to keep warm this winter, one thing that is sure to warm the heart is a $2.5 million guaranteed tournament series, and that's exactly what BetOnline is offering. Over the next two weeks, $2.5 million in guarantees will be on offer in one of the biggest online tournament series that BetOnline has hosted. There will be buy-ins from as low as $11 all the way up to $215, so no matter your bankroll, there's a tournament for you. There's a mix of tournament types to choose from, including PKOs, Marathon tournaments, Deep Stacked tournaments, and many more. You'll even find some mixed game events on offer, such as PLO5, PLO6, and a mix of NLHE and PLO. Guarantees for each individual tournament frequently hit five figures, culminating in the massive $300,000 Main Event, which starts at 13:30 ET on February 5th. Schedule If you want to plan out your schedule for the next couple of weeks, the full schedule is available on the BetOnline website, but we've decided to show you some of the highlights to get you in the mood. Date Time (ET) Event # Guaranteed Buy-In Game Type Monday, January 23rd, 2023 17:00 17 $20,000 $55.00 Hold'em NL Deep Stack - RE Tuesday, January 24th, 2023 19:30 34 $30,000 $55.00 Hold'em NL Daily Wednesday, January 25th, 2023 20:00 49 $4,000 $33.00 Omaha PL HL RE Thursday, January 26th, 2023 16:30 56 $7,000 $11.00 Hold'em NL PKO Friday, January 27th, 2023 15:00 68 $5,000 $22.00 Hold'em NL Big Ante Saturday, January 28th, 2023 17:00 83 $2,000 $11.00 Omaha PLO6 RE Sunday, January 29th, 2023 13:30 92 $200,000 $109.00 Hold'em NL Main Monday, January 30th, 2023 17:00 110 $15,000 $109.00 Hold'em NL PKO Tuesday, January 31st, 2023 15:00 120 $5,000 $11.00 Hold'em NL R/A Wednesday, February 1st, 2023 18:30 139 $7,500 $33.00 Hold'em NL PKO Thursday, February 2nd, 2023 19:00 152 $10,000 $22.00 Hold'em NL PKO Friday, February 3rd, 2023 20:00 169 $2,000 $22.00 Omaha PLO5 RE Saturday, February 4th, 2023 19:30 180 $40,000 $55.00 Hold'em NL Daily Sunday, February 5th, 2023 13:30 186 $300,000 $109.00 Hold'em NL Main Monday, February 6th, 2023 20:00 197 $2,000 $0.00 Hold'em NL Freeroll Satellites Satellites will be running throughout the event, with buy-ins starting from as low as $11 for the lowest buy-in events. There will also be daily all-in shootouts, where players who didn't finish ITM the previous day will be given a seat with the chance of winning a tournament ticket for an upcoming event or satellite. If that's not enough, BetOnline is running an end-of-series, Superbowl-themed freeroll with a $2000 guaranteed prize pool and added sports Freeplays! There's great value to be had across the whole series, so to take full advantage, sign up to BetOnline today and join in the fun! If you want to keep up to date with the biggest and best tournament series from around the poker world, follow us on Facebook and Instagram .
Accused Poker Cheater Mike Postle Spotted At Beau Rivage Final Table
That's right, the infamous Mike Postle is back in the poker world and has been spotted at the final table of the Million Dollar Heater Main Event in Beau Rivage. Mike was accused of cheating on the Stones Livestream back in 2019 and, after denying the allegations, has not been seen at a public poker event since. Who's Mike Postle? For those of you who aren't in the loop, Mike Postle was a regular player on the Stones Casino Livestream and was one of their biggest winners. In fact, he crushed the game, with fan-tracking accounts estimating that he had won around $250,000 playing on the stream in a couple of years. Mike was famous for getting into crazy spots and always making the right decision , whether it was hero calling with close to nothing or bluffing in the most ridiculous spots. In 2019, former Stones Casino commentator and player Veronica Brill accused Mike Postle of cheating on the live stream . This launched a deep dive from the poker community, including multiple 12-hour+ live streams from Chicago Joey, to see if these claims had any credibility. While the public consensus is that Mike cheated, likely by getting hole card information through his phone, Postle has vehemently denied the claims and has not been convicted of or charged with any crimes. In early 2020, a group of poker players filed a lawsuit against Mike Postle and Stones Casino , levying a number of charges, including fraud, negligent misrepresentation, negligence per se, fraud, unjust enrichment, and fraud again - amongst others. The damages in this suit would total $10 million , something that even the hottest win streak wouldn't cover! While Postle was accused of dodging court summons, he fired back with his own countersuit in March 2020, wanting $330 million from a number of parties who he considers to have committed libel with their cheating allegations. Neither lawsuit went very far, with the initial case being brought before a judge but only recouping paid rake, as California has banned the recovery of gambling losses, citing a law from the early 1800s, and the Postle case was withdrawn in April 2021 . Since then, the Postle story went cold, and everyone went about their lives without thinking about it. Sudden Reappearance That is, until recently. On Monday, 16th of January, 2023, Angela Jordison posted a photo and a text that she received from her friend, Maxwell Young, to her Twitter account. It said, "Unreal just played with Mike Postle he was using an alias floor confirmed it was him," [sic] and came with an accompanying picture of Postle at the table. Obviously, this went viral within the poker community as people scrambled to confirm whether or not this could really be him. Other people at the event confirmed that it was, in fact, Postle using his middle name as an alias so as not to be identified as easily. Many players were outraged , as they believed that enough evidence had come to light that Postle could be considered a cheater, and the fact that he is allowed to play in live events just rubs salt into the wounds of those he was accused of cheating. No matter what side of the debate you're on, the facts remain that Postle has never been found guilty of what he's been accused of , nor has he been found guilty in a court of law. However, given the almost unanimous agreement amongst the poker community that something fishy was going on (compared to something like the Robbie incident), Mike should expect to get a frosty reception wherever he decides to play from now on. What Happened? This story broke just before the final table of the Main Event was due to take place, with over $200,000 for first place and Mike sitting with around an average stack. It goes without saying that many people were rooting against Mike, hoping that he would bust as early as possible. While he didn't quite do that, many poker fans got the next best thing. Mike was eliminated in 7th place for around $32,000, but was slowrolled in his final hand by a player holding top set. Just to really stick it to Mike, the player in question said, " That's for all the cheating that you do ," as Mike left the table. There's even a video of the event, which has been posted to the Gulf Coast Poker Facebook page for anyone who wants to revel in the schadenfreude of the slowroll. However, the cherry on top of the cake is the fact that Mike may not be able to keep the $32,000 prize that he won from the event, and it stems back to the $330 million lawsuit he filed back in 2020. This is because Veronica Brill and Todd Witteles both initiated garnishment orders in an attempt to recoup legal fees that were spent defending themselves in that lawsuit. Veronica confirmed that the amount of money she was looking to recoup was $27,785, nearly all of Postle's winnings from the tournament. With Witteles filing a similar order, it's not a long shot to assume that Mike may not see any of those winnings . While it's rather poetic that Postle's greed in bringing the $330 million lawsuit would eventually lead to him losing a significant amount of money down the line, we've yet to receive confirmation that the winnings have been reappropriated. With all the twists and turns we've seen in the Postle story, who knows which way it will turn next? If you want to keep up to date with all the latest goings on in the poker world, make sure to subscribe to the PokerDeals YouTube channel , and follow us on Facebook and Instagram.
Betsson Poker Deposit Bonus
€ 600
- OFFER -
Guts Poker Bonus
€ 1,000
- OFFER -
Partypoker First Deposit Bonus
$ 600
- OFFER -
Red Star Deposit Bonus!
$ 2,000
- OFFER -
Subscribe to Pokerdeals.comPoker Deals
Join the PokerDeals community and take advantage of exclusive content and giveaways!