Phil Hellmuth's Q4o Call against Alex Foxen - Was it Wrong?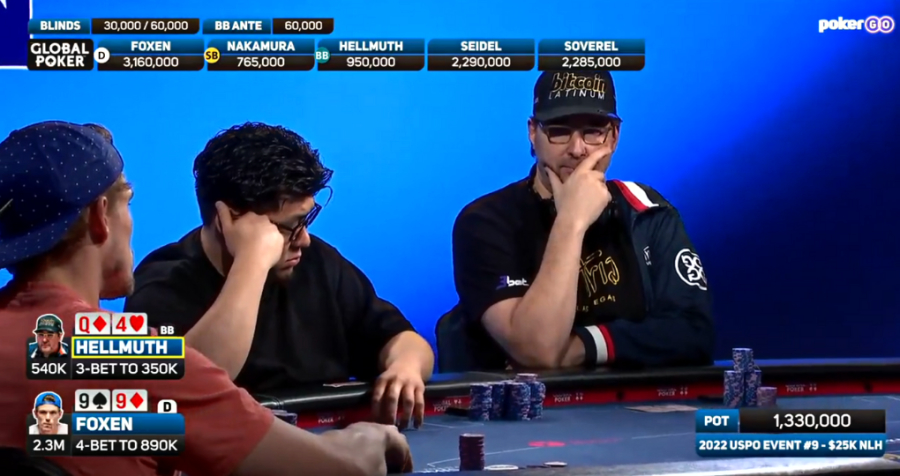 This was the Final Table of Event #9, the $25,000 buy-in. Phil 3bet for around a third of his stack with Q♦4♥ in the Big Blind against Foxen's Button open with 9♠9♦, then faced a 4bet for all of it and went into the tank, finally making the call. 
Numerous people are slamming Hellmuth for the play, as well as pointing out how wild he'd have been about it if the tables were turned! This is a fascinating spot since we have almost all the information we need to make a perfect assessment of it. So let's get into it.
We have the payouts, the exact number of players remaining, and the exact stacks at the time of the hand. Hellmuth started the hand with 950,000 chips, and with blinds of 30k / 60k with a bb ante of 60k, he 3bet from the BB to 350k over an open from Foxen. The commentator says "absolutely nobody is putting the rest of the money in" when Foxen comes over the top with a 4bet and Hellmuth has 540k left to call into a pot of 1,330,000. 
Now, in terms of pot odds, some commentators on Twitter have argued that Hellmuth's call is fine, given that he's potentially against quite a wide range and needs only just over 29% equity here to turn a small profit in terms of chip equity.
However, as we all know, in tournaments chip equity is not king, it's not even a thing, and even in the middle stages there are subtle effects involving the payouts (and the rake, near the start) which pull our calculations away from cEV (chip equity value).
So, if we run this one through an ICM solver, such as the eminent Holdem Resources Calculator which I'll be using today, we should be able to find out if there is any merit in Phil's call here with Q♦4♥ against Foxen's 4bet setting him in. It is obviously a spot with some ICM implications, being in the money and on a money jump, 5 players remaining. 
We should be able to get an idea of how wide Foxen's range would need to be, before Hellmuth's call becomes profitable, and go from there.
Another pretty relevant factor here for Phil is that whilst Foxen is the chip leader (and arguably playing more aggressively as a result), there is one smaller stack vs. Phil, Nakamura sitting on 765,000 chips. This means that Phil must be a little tighter in calling off than he would be otherwise, since he may be able to outlast Nakamura without the double-up.
Now, let's crunch it. We're not going to question Phil's initial move of 3betting such a raggy queen short-stacked here (though it is surely questionable), but just consider whether the final call-off was justified given the spot he'd got himself into by that point. 
Let's assume that Foxen is bullying here and opening very wide, say 63% of hands. That includes stuff as weak as 94s and 32s, Q8o and J8o. Let's further assume that Hellmuth is flatting sometimes with AA to trap, and KK, and that otherwise he will be flatting some suited hands not good enough to shove, and be pretty polarized in his sized 3-betting, since he can certainly shove quite a few mid-strength hands here from the Big Blind with just 15bbs himself in stack. 
I'm going to assume that Phil is using this sizing with just around 5% of hands, and mixing some monsters like Aces which he would otherwise flat, along with some bluffs with exactly this kind of hand, and perhaps hands weak in his suited flatting range such as T5s (these being the hands we might expect him to fold to a shove!).
Let's finally look at what Foxen should be shoving over this range. If we're right that Hellmuth, thinking Foxen is wide here, is mixing in extra bluffs and doing this with perhaps only 2% of value hands, Foxen could in fact shove incredibly wide here, up to 54%. Even then the call with Q4o would be losing money in ICM, though Hellmuth would be justified calling off some of his Kx bluffs as shown below.
Against a much more likely (but still very aggro) range of 42% shoves from Foxen, Hellmuth should really only call here with his value hands for the most part. Either way, Q4o is too weak.
In conclusion, even if he feels priced in, it's hard to construct ranges which will demonstrate that Hellmuth should make the call here. It's just not quite a good enough price to hero-call off with such a weak holding. 
This time around, it seems the great white wizard simply couldn't find that fold. He did manage to conjure up a Queen on the flop, however, so happy times!  Hellmuth wound up finishing in second place for $315k, losing to Erik Seidel who pocketed $472.5k for the victory. Foxen finished third, for $220.5k.
For more of the latest and best in poker, hit us up at the PokerDeals Discord!
Image courtesy of PokerGO.com
Start Your Christmas Off With A Bang in Coin Poker's Big Bang Series
We're coming up to that special time of year; you can feel it in the air, crowds are singing with hearts full of joy, and everyone is giddy with anticipation… What? No, not Christmas; it's the Coin Poker Big Bang Series , of course! The Big Bang Series is back and better than ever, with ₮34,000 in prizes guaranteed and buy-ins for all bankroll levels. Tournament Schedule The tournament series runs from the 5th of December to the 9th , with tournaments running every day at 7pm BST. There are four buy-in levels to choose from; the Baby Series, the Mini Series, the Mid Series, and the Special Series. These buy-ins range from ₮4 up to ₮150, with ₮4000 guaranteed in the biggest tournaments! If you want to hop into one of these great tournaments, check out the full schedule below. Date/Time (BST) Event Game Format Buy-in ₮ Prize GTD ₮ December 5, 7:00 PM Big Bang Baby Series #1 NLHE Rebuy 4 200 December 5, 7:00 PM Big Bang Mini Series #2 NLHE Rebuy 15 600 December 5, 7:00 PM Big Bang Mid Series #3 NLHE Rebuy 75 2000 December 5, 7:00 PM Big Bang Special Series #4 NLHE Rebuy 150 4000 December 6, 7:00 PM Big Bang Baby Series #5 NLHE Rebuy 4 200 December 6, 7:00 PM Big Bang Mini Series #6 NLHE Rebuy 15 600 December 6, 7:00 PM Big Bang Mid Series #7 NLHE Rebuy 75 2000 December 6, 7:00 PM Big Bang Special Series #8 NLHE Rebuy 150 4000 December 7, 7:00 PM Big Bang Baby Series #9 NLHE Rebuy 4 200 December 7, 7:00 PM Big Bang Mini Series #10 NLHE Rebuy 15 600 December 7, 7:00 PM Big Bang Mid Series #11 NLHE Rebuy 75 2000 December 7, 7:00 PM Big Bang Special Series #12 NLHE Rebuy 150 4000 December 8, 7:00 PM Big Bang Baby Series #13 NLHE Rebuy 4 200 December 8, 7:00 PM Big Bang Mini Series #14 NLHE Rebuy 15 600 December 8, 7:00 PM Big Bang Mid Series #15 NLHE Rebuy 75 2000 December 8, 7:00 PM Big Bang Special Series #16 NLHE Rebuy 150 4000 December 9, 7:00 PM Big Bang Baby Series #17 NLHE Rebuy 4 200 December 9, 7:00 PM Big Bang Mini Series #18 NLHE Rebuy 15 600 December 9, 7:00 PM Big Bang Mid Series #19 NLHE Rebuy 75 2000 December 9, 7:00 PM Big Bang Special Series #20 NLHE Rebuy 150 4000 As you can see, this one is for the No Limit purists amongst you, but we're sure that Coin Poker will cater to all you Omaha fans somewhere down the line. CSOP Giveaway If you thought an exciting tournament series with great guarantees was exciting enough, then you won't believe what else Coin Poker is doing. In every single Big Bang Series tournament, Coin Poker is giving away a free seat to an event in the Crypto Series of Online Poker ! That's right; you can win your way into the most prestigious crypto poker event of the year just by playing in one of these tournaments. The prizes range from ₮25 up to ₮200, depending on the tournament you're playing. Take a look at the full breakdown of prizes below. Baby Series - 1 x CSOP Event 10 (₮25) Mini Series - 1 x CSOP Event 11 (₮50) Mid Series - 1 x CSOP Event 20 (₮150) Special Series - 1 x CSOP Event 6 (₮200) These tickets are randomly given to a tournament participant once the tournament is finished. You don't need to worry about surviving until a certain point in the tournament; everyone who entered is eligible for a prize, even if you're the first one out. If you're lucky enough to win one of these tickets, you'll be automatically registered for the CSOP event your ticket is valid for, so there's no danger of forgetting to register! Can I Qualify For These Events? At the time of writing, we've not seen any satellites for these events, but we have it on good authority that satellites will be available once the tournament series begins. We'll keep a close eye on the Coin Poker client in the build-up to the event, so if any satellites start running, you'll be the first to know about it. What Is A Rebuy Tournament? The eagle-eyed readers among you will have spotted that every single tournament on the schedule is a rebuy tournament . If you're new to poker and have no idea what a rebuy is, it's a very simple concept. Until a certain point in the tournament (level 9 on Coin Poker), if you lose all your chips, you're free to buy straight back in and continue playing at the same table . While some tournaments will have a cap on the number of times you can rebuy, you're free to buy back in as often as you'd like on Coin Poker, giving you every chance of making a deep run and winning one of the top prizes. While you can rebuy as often as you'd like until the rebuy period closes, there is no add-on available in the Big Bang Series. You don't even have to wait until you're completely out of chips before you rebuy; players are able to rebuy any time their stack dips below the starting amount of 20,000 chips. Don't worry; if you rebuy when you're on 19,999 chips, you won't just be given one chip to get back to 20,000! Any player who rebuys at any point will be given an additional 20,000 chips. Join In The Fun This tournament series is the perfect way to start your winter season with a Bang and potentially have an extra bit of spending money for the holidays! There's going to be lots of action at all buy-in levels, so no matter how big or small your bankroll is, you can join in the fun. If you want to keep up to date with the biggest and best tournament series from around the poker world, join our PokerDeals discord , or follow us on Facebook and Insta.
The Inside Scoop on the Big Winners at the Malta Poker Fest
The autumn edition of the Malta Poker Festival ended on a high note with two fantastic players taking home some big prizes. Mirko Mostaccio was crowned the Grand Event winner , walking away with €136,670. In the CasinoCoin High Roller event , Gabriele Re bagged the win taking home €40,000. It was a fantastic tournament from start to finish, making it an event that poker players will definitely put in their calendars going forward. We caught up with the winners and got some insight into what they thought of the tournament, and what we can expect from them in the future. Mirko Mostaccio heads to Vegas The winner of the grand event at the Malta Poker Festival has big plans for his poker career. We had a chat with him to see how he felt after his big win. [PD] What did you like the most about the MPF, besides winning, of course? [MM] Besides the victory, I liked the whole organization of the tournament. Meeting old friends that I haven't seen for ages was also great. [PD] In your opinion what were the main factors that contributed to you winning the event? [MM] Just like in any live tournament, there are many factors that have to be intertwined, certainly a fundamental one was to study a lot before leaving for Malta. Then you put in 14 years of experience and a bit of luck. [PD] What does the win mean to you? How did it feel? [MM] The victory in this live tournament means a lot to me, given that I had always won large sums online but never had I managed to win such a large sum in a live event. [PD] What will you do with the money? [MM] I will certainly use a good part of it to continue playing, the rest I will dedicate to my family. [PD] Are you looking forward to your WPT experience? [MM] Yes, I can't wait! it will be my first time in Vegas, a dream come true. [PD] What's next for you? [MM] The next step is playing the WSOP this summer. Gabriele Re hunts for another trophy The winner of the CasinoCoin high roller event took home a hefty sum, and his first live event trophy. Here are some of his thoughts on his Malta Poker Fest journey. [PD] What did you like the most about the High Roller, besides winning, of course? [GR] If I'm honest, I didn't love the atmosphere of this event because I was late reg, and only started on day 2, but I liked the carelessness of the players. There was not too much stress in the High Roller, and all the players were more friendly. [PD] In your opinion what were the main factors that contributed to you winning the event? [GR] I think to win this tournament, I ran very well. I didn't play many showdowns preflop but the key hand was against YohViral where I check/jammed the river with a bluff (I turned 3rd pair in the bluff), and he called my bluff with the worst hand 🙈 [PD] What does the win mean to you? How did it feel? [GR] This win doesn't change anything in my life or my routine, but it's important because it's my first live win with a trophy 🏆🙃 so I'm really happy to have conquered it! [PD] What will you do with the money? [GR] I will not do anything in particular, just bankroll my poker journey and my life. [PD] What's next for you? [GR] I'm going to Rozvadov to play the Main Event of the WSOPE so I'm hunting for another trophy 💪🏻 Wishing these two amazing players all the best for their upcoming trips, Mirko to Vegas and Gabriel to Czech Republic. We hope to see them walk away with more titles under their belts! From the solid performances and great play, we can only expect great things from these two in the future. Good luck!
Gabriele Re is the CasinoCoin High Roller Winner
In what turned out to be an impressive field of 150 players (with re-entries), the CasinoCoin Cup High Roller finally crowned a winner in the early hours of Tuesday morning. Gabriele Re beat his heads-up opponent Renato Messina to lock up his first prize of €40,000. CasinoCoin High Roller winner, Gabriele Re Final Table at the Malta Poker Festival CasinoCoin High Roller Event The final table of the CasinoCoin High Roller event at the Malta Poker Festival It was a cracker of a final table with some well-known poker faces gracing the table. Johan Guilbert, better known as YoH ViraL is a Malta resident, and no stranger to the final table of big events. Re held it together, though, taking home the grand prize, as well as a trophy for his efforts. The prizes were as follows: Place Name Prize # 1 GABRIELE RE 40,000.00 # 2 RENATO MESSINA 26,000.00 # 3 JOHAN GUILBERT 18,000.00 # 4 KOENMEUTSTEGE 13,000.00 # 5 ANGELO VIETTI 9,100.00 # 6 EDVALDAS SKYRIUS 7,100.00 # 7 THOMAS LANGELAND 5,400.00 # 8 YOSSEF IFERGAN 4,500.00 # 9 CHRISTOPHER CALVERT 4,000.00 Renato Messina: Second Place YoH ViraL: Third Place Casino Coin Bounties Along with the amazing high roller prize money, players also had the opportunity to win 1 million CasinoCoin (CSC). CasinoCoin is a digital currency, developed specifically for the regulated gaming industry. Five players had big red casino coin stickers and carried bounties of 1 million CSC. It added an extra something tasty to the already prestigious tournament, giving players the chance to bag a little extra. All bounty players were eliminated on day one. Well done to all the players who took part in this awesome event. Let's hope the next Malta Poker Festival high roller attracts even more players for even juicier prizes! We'll see you at the tables, until next time.
Betsson Poker Deposit Bonus
€ 600
- OFFER -
Guts Poker Bonus
€ 1,000
- OFFER -
Partypoker First Deposit Bonus
$ 600
- OFFER -
Red Star Deposit Bonus!
$ 2,000
- OFFER -
Subscribe to Pokerdeals.comPoker Deals
Join the PokerDeals community and take advantage of exclusive content and giveaways!