Getting tired of the same Hold'em game day after day? Want to play something a bit different but don't want to go through the hassle of learning how to play PLO? Well, UPoker has got the game for you!
Scoop Hold'em is a new and exciting take on poker, combining aspects of Texas Hold'em and Chinese Poker, and we'll be taking a closer look at what it is and where you can play it.
What is Scoop Poker?
Scoop Poker is a new game brought to you by UPoker. It combines the flop aspects of No Limit Hold'em with the hand-setting aspects of Chinese Poker to create a fun and interesting take on the game. The game differs in that bets are made before the start of the hand, and players compete to earn points by making the best hand, which are then converted to a dollar amount.
It takes a bit of getting used to, but once you understand what's going on, you'll be hooked.
How Do You Play Scoop Poker?
So, how exactly do you play this game? Well, each player is dealt seven cards to begin the hand before the flop is dealt in the middle of the table. Your goal is to set three separate poker hands that will beat your opponents. Once you have set all three of your hands and discarded your remaining card, the turn and river are dealt, and everyone's hands are turned face up.
Players are awarded points based on the strength of their hand and whether or not they've beaten their opponents. Each row has a multiplier, with the top hand earning 5x points, the middle row earning 3x points, and the bottom row earning 1x points, so it pays to put your best hands on the top. Unlike Chinese Poker, players are not required to structure their hands from weakest to strongest.
Once the hand is over, the points are tallied up, and the players are paid out in the same way as Open-Faced Chinese Poker. Scoop Hold'em can be played with up to four players at a time, and the maximum buy-in is 100 blinds.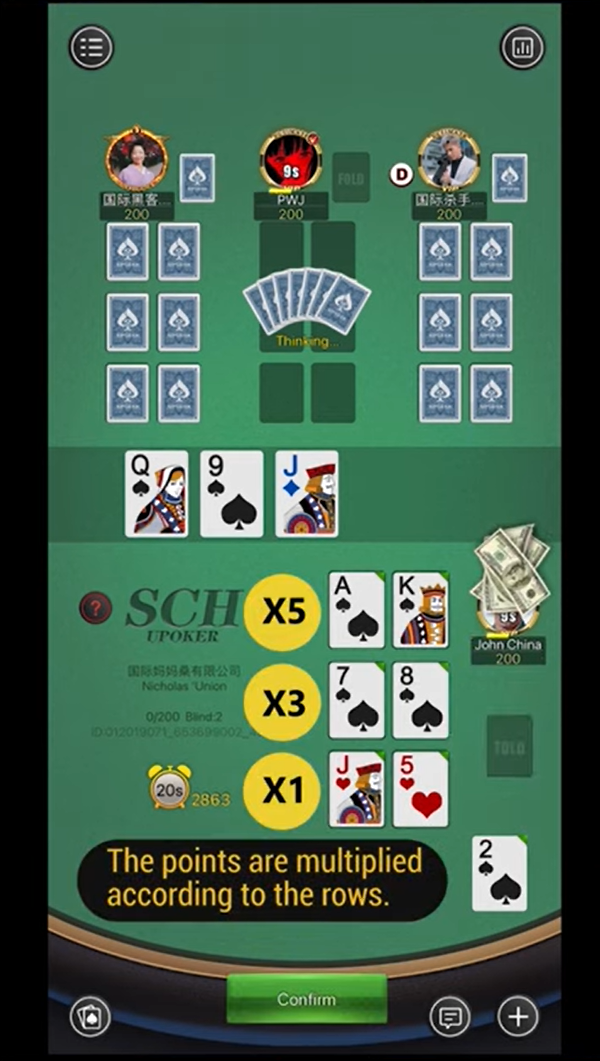 Why Should I Play Scoop Hold'em?
But why should you take time from your grind to play this new format? What makes it worth your time?
Well, aside from it being a lot of fun to play, there are a lot of aspects that make it appealing as an alternate form of poker or as a way to blow off some steam during your sessions that still keep your poker mind sharp. Let's take a look at what this game has to offer.
Excitement - Scoop Hold'em is a fast-paced game with no fold button, which means you're playing every single hand on every table. This is a big change of pace from Texas Hold'em, where you're playing 20% of hands at best. This means that Scoop Hold'em provides a much more exciting and engaging playing experience.
No Bluffing - If bluffing has never been your forte, then don't worry; Scoop Hold'em requires no bluffing whatsoever. All you have to do is set your hand in the best order possible and see if you win.
Still Requires Strategy - You may be fooled into thinking that because there's no bluffing in this game, there's no strategy. Well, if you did think that, you're wrong! A lot of strategy is required to accurately set your hands in a way that gives you the best chance of winning, so don't think Scoop Hold'em is just a gambling game.
Where Can I Play Scoop Hold'em?
If you like the sound of Scoop Hold'em and want to try it out for yourself, get in touch and we'll find you an active game in double-quick time. Chat with our Poker Support Squad to help you find the perfect game for you. 
Summary
Scoop Hold'em is a fun take on the classic game of Texas Hold'em and is a nice way to mix up your grind. The action comes thick and fast, and while there isn't any bluffing or folding, it takes skill to set your hands properly, so there's definitely potential profit to be found if you can outthink your opponents.
If you want to keep up to date with the biggest and best promotions from around the poker world, make sure to follow us on Facebook and Instagram.