You have to hand it to PokerGO, the big events and ultimate entertainment just keep on flowing! 
It was a stroke of genius to come up with the format for this latest event, offering spots to the top of the PokerGO Tour leaderboard in a $25k buy-in Heads-up event and then filling out the remaining spots with big names from the game and entertaining "poker celebs". 
Players were divided into four sections of eight identified by suits of the deck, and here's a quick breakdown of who made it through.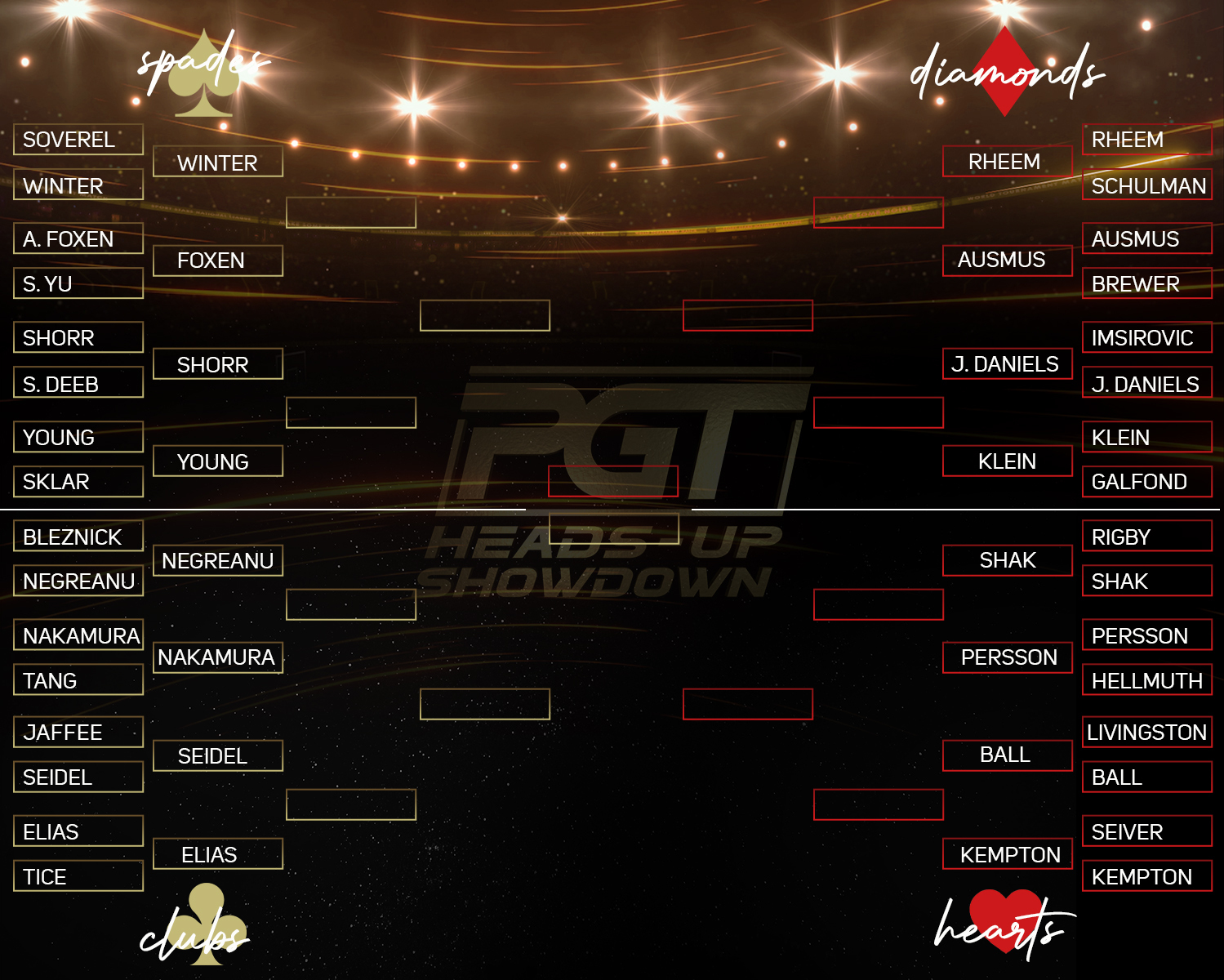 Image courtesy of PokerGo
This game was played for keeps, one match only, no re-matches, and $25k on the line. Amongst the heroic contenders eliminated in this first brutal round were the legendary Shaun Deeb, Jared Bleznick, arch-wizard Phil Galfond and staunch battleaxe Scott Seiver, amongst many other worthy contenders. 
Hellmuth and Persson Face Off 
We also lost, amidst a lot of bad language, on the feature table, the entertainer himself,

Phil Hellmuth

.

Mr Positivity

did lose his cool at the very end as his stack got fully mangled by opponent

Eric Persson

, and it was quite the psychological battle. 
Persson pulled no punches in talking foul to Phil, eventually earning himself a warning, but at one point both players were warned about their behaviour and language. Not quite what you might want to see on the feature table of a headline event, but entertaining in its own way, and not entirely unexpected in a clash between these two fiery and strong-minded characters. 
This leaves Daniel Negreanu as clearly the most legendary player remaining in the running, although some incredibly strong opponents also progressed to the next round such as Eric Seidel, Sean Winter and Alex Foxen.
Check out this and more in the coverage from the day on YouTube. The reporting does a great job of roaming across the tables, and you can see all your favourite characters sweat it out in what were truly engrossing heads-up matches.
Tune in to the PokerDeals Discord to tell us about what you thought of these epic confrontations!
Well done PokerGO, and do please keep serving up these huge events!