Have you ever sat across from your opponent at the poker table and thought to yourself, "Man, this decision would be so much easier if I knew what they were thinking!"
While it seems like an obvious comment to make, so much of the difficulty around playing poker is that you never truly know what your opponent is thinking; you can make what you think is the right move, only to find out they were doing the opposite of what you thought! However, by learning how to spot and understand poker tells, you can get a small window into the minds of your opponents, making it easier to know what to do.
If you've ever wanted to gain insight into how strong or weak your opponent is at the table, this is the series for you. Over the coming weeks, we'll look closely at all the tells your opponents could be giving off at the table, starting from their head and moving down to their feet. We'll talk about what to look for, how to understand it, and how you should adjust your game based on what you've seen.
What Are Poker Tells?
For the uninitiated, poker tells are subtle movements or actions players make that give away the strength of their hand. For example, a player's neck may start to pulse if they're bluffing, or their hands may start to shake if they have a big hand. These movements are involuntary, and many players don't even realise they're making them! Aside from the unintentional visual tells a player can make, there can also be various verbal tells that will give you the added information you might need to make the right call. 
If you've ever seen a poker movie, you'll have seen an example of a poker tell used by the hero to make an outstanding play, like Mike McDermott folding top two pair against Teddy KGB in Rounders. While tells like these are often made more obvious in TV and movies, the underlying concept is still the same.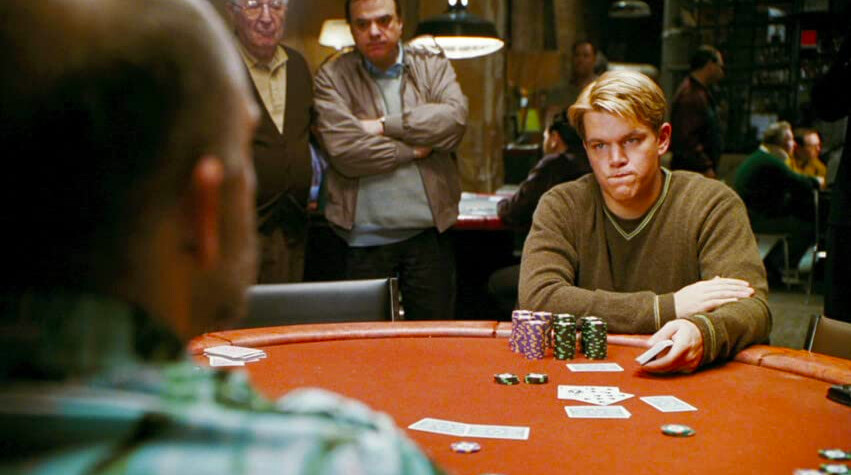 Are Poker Tells Real?
Some players refuse to take into account poker tells when making their decisions, dismissing them as psychological mumbo-jumbo, but they are, in fact, a real thing! Humans are emotional beings, and many of us find it hard to control those emotions on a day-to-day basis, let alone when we're playing a card game for significant amounts of money.
The key is learning to identify these tells in your opponent, figure out what they mean, and use them to your advantage. Players often assume that if a tell means one thing for one person, then the same thing automatically applies to everyone else - this is not the case!
A tell, at its core, is a physical reaction to stress. This could be the stress of bluffing with a weak hand or the stress of wanting to get paid with a strong hand. Different people experience these emotions at different levels, with some being more affected by bluffing than value betting and vice versa. It's your job to use your poker experience to learn which one applies to your opponent and use it against them.
What Will This Series Cover?
In this series of articles, we'll take an in-depth look at every kind of poker tell imaginable, starting from the head and working our way down the body. We'll cover how to spot these tells while sitting at the table, how to interpret these tells based on other information you can gather at the table, and what you should do when you've picked up a solid tell on your opponents.
By the end of the series, you'll have a comprehensive bible on poker tells that you can reference at your leisure. However, the best way to experience this content is to catch each one as it's released, as that means you can immediately start using the information to exploit your opponents.
Stay tuned for our first article on poker tells, where we'll be covering the head, by joining our PokerDeals Facebook group or following us on Instagram.