Poker Tells Part Two - The Eyes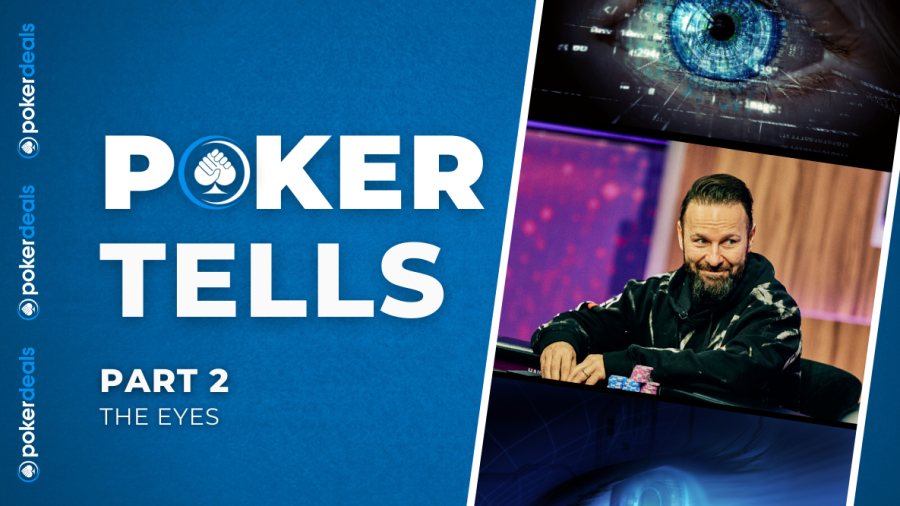 There's a lot you can tell about someone by their eyes. Often it only takes one look into someone's eyes to tell you what kind of person they are; such is their transparency - there's a reason why they're called the window to the soul. That's useful to us as poker players, because if we can see into someone's soul, then surely we can use that information to find out what they have.
While it's not as simple as that, people give away a lot with their eyes, even if they don't realise they're doing it. In this piece, we'll be looking at the most common poker tells that you can spot by looking at your opponent's eyes and how to counter them.
Intense Eye Contact
In the first part of our poker tells series, we covered that if a player is trying to look strong, it often means they're weak, and if they're trying to look weak, it often means they're strong. Making intense eye contact with your opponent after betting is one of the biggest signallers of strength you can come across. It's saying, "You can look at me all you want. I'm confident in my bet. I'm not scared of you." But is that really how they feel?
Well, that depends. To know whether this is a "show" of strength or actual strength, you need to consider your opponent's past behaviours. Do they often stare at their opponents after making a bet? When they do, have they shown down good hands or bluffs? All of this is key information, as you're trying to find a pattern in your opponent's play.
Some people are more relaxed when they have a strong hand and are more likely to make eye contact, whereas others make intense eye contact to psych out their opponent. You can often tell which is which based on the other body language they give off. The more tense and fixated their eye contact, the more likely it is that it's forced, and the more likely it is that they're weak.
How Do I Counter It?
If you think that someone is deliberately making eye contact in an attempt to look strong, then you can assume that their range is likely weaker than average. You can counter this by calling a slightly wider range and being more aggressive against their bets. The more certain you are in your read, the wider you can make your calling range and the more aggressively you can play back at them.
Quickly Looking Away After Eye Contact
You may think that if intense eye contact is a deliberate attempt to look strong, then a failure to hold eye contact must be the opposite, right? Well, you're partly right, but it's not quite so simple. It's a lot harder to fake looking away right as someone sees you than it is to fake strength by holding eye contact. If you've ever tried to surreptitiously look at someone, only for them to notice you, you'll know the rush of adrenaline that you get as you snap your head back in the opposite direction.
This means that it's more likely to be an actual display of weakness, as they want to look over and gauge what your decision will be, but they don't want to let you get a good look at them. If you spot someone doing this at the table after they've made a bet, it's a clear sign that they're uncomfortable with the hand, which likely means they have a weaker range.
How Do I Counter It?
As this isn't a feigned display of weakness, we can assume that anyone who has done this at the table likely has a weaker-than-average range. To counter it, we can widen our calling range and play more aggressively with our drawing hands, as we believe they're more likely to fold. Just be sure that they actually do look weak before widening your calling range too much.
Remember, only make small adjustments until you have confirmed the reliability of the tell.
Staring at the Board, Then Quickly Looking Away
You have to be paying close attention to your opponent to spot this tell, but it's a good one if you can notice it. Most players tend to stare at the board as the next card is about to be dealt. It's understandable, as they want to get the information as soon as possible so they can start formulating their plans for the next betting street. However, when they do that, they may unwittingly give off a reaction to the card(s) that betrays their true feelings.
One of the biggest reactions someone can give is to instantly look away from the board as soon as a card is dealt. Looking away from the hand is supposed to signal that they're not interested in what's going on, but in this case, it means the opposite. They've seen the card they need to make their hand, so they quickly look away to avoid fixating on it, but in doing so, they let us know that they've liked what they've seen.
For casual players, an even stronger tell may be when your opponent acts so disinterested in the board after seeing the community cards that they look around the room, stretch back in their seats, start chatting to other players, or display any form of total nonchalance to the cards. Be very cautious of these fake displays of indifference. 
Knowing exactly how quickly someone needs to react to a card is an inexact science, which is why it's important to constantly watch your opponents during hands instead of scrolling through Twitter or Tik Tok. There's no exact number of milliseconds that count as looking away instantly, but if you play with someone long enough, you can tell when they look away quicker than usual.
How Do I Counter It?
Most players will look down at the flop when it's dealt. However, you won't get a read on your opponent from looking down at the cards. Be sure to watch your opponents closely when cards are dealt to pick up on whether they instantly look away, or keep their eyes on the community cards. This will help inform your decision. 
How you counter this tell is dependent entirely on the card that comes and the strength of your hand. If your opponent has improved to a better hand than yours, you'll want to play as cautiously as possible, but if they've improved to a hand that's worse than yours, you can play aggressively to try and get maximum value.
Cards that complete straight draws and flush draws are obvious cards to look out for, as are high cards on low boards, as it may mean that your opponent has made top pair. The same goes for lower cards on mid-high boards, as they could have made a set with a small pair. Our advice is always to act cautiously until you're sure this is a solid read, so only make small adjustments either way, depending on the strength of your hand relative to your opponent's new perceived range.
Pupil Dilation
This one is close to impossible if your opponent is wearing sunglasses and will take a lot of practice even if they aren't, but it's one of the most reliable tells you'll come across. It's based on the fact that people's pupils dilate when they see something they like. It happens when you've been given a slice of your favourite chocolate cake, when you see a friend or a loved one, or when you make your flush on the river.
It's one of the many reasons why I advocate not staring at the board when the cards are being dealt; you won't be able to control these reactions when you do, which gives your opponents the chance to spot a tell. However, luckily for us, lots of people decide that staring at the card that's about to come is a good idea, which gives us a chance to spot it instead.
This tell is impossible to fake, so you won't have to worry about someone double bluffing you - if their pupils dilate, they're very happy with the card that's just come.
How Do I Counter It?
If you manage to spot this tell in the wild, it's almost certain that your opponent has a super strong hand. Unless you have the nuts or close to it, you should play very cautiously and pray for a cheap showdown.
Chip Staring
Another reaction amateur players often make when seeing a card they like is to stare directly at their chips to figure out how much they want to bet. It's a real sign of strength, as it shows that their first thought after seeing the next card is, "How much more money can I get into the pot?"
When players bluff, they often take time to consider things like whether or not they have the right hand to bluff with, whether it's a good spot to bluff, and whether their opponent will fold. If they have a value hand, there's less to consider; as you know you want to bet, the question is only "How much?"
This tell can be faked by experienced players, so it's best to only use it against amateurs who likely won't realise what they're doing. Again, be sure to watch your opponents when they first look at their cards. Less experienced players who know this tell are still more than likely to glance down at their chips before their brain has told them not to. This act of strength is a little harder to fake. 
How Do I Counter It?
If you've spotted an amateur player with this tell, the best course of action is to proceed cautiously. Fold more often against their bets, and play more passively against their checks to try and get a cheap showdown.
As this tell is well known and can easily be faked, you should be far less inclined to alter your strategy if you see a strong player perform this tell.
Summary
There's a reason why a lot of professionals tend to wear sunglasses at the table; it's because you pick up a lot of tells from your opponents if you know where to look. It's hard to fake eye reactions, which makes them one of the most reliable forms of tells you can find. Once you train yourself to look for these subtle tells and cross-reference them against your opponent's previous behaviour, you'll find yourself making a lot more correct decisions at the table.
Join us in Part Three of this Poker Tells series, where we'll be looking at the nose and mouth. Make sure you join our by join our PokerDeals Facebook group or follow us on Instagram to be notified of the next article in the series.
*Images courtesy of PokerGo
Poker Tells Recap - What Have We Learnt?
We've come to the end of our Poker Tells Series, and we've covered a lot in these six parts. So much so, we thought it was worth it to recap the key points we've learnt throughout this series in a way that's easy to digest. If you've skipped to the end of this series and want to find out what you've missed out on, you're in the right place! However, to get the best experience, we recommend going back and reading from the beginning - that way, you won't miss out on any valuable information. Without further ado, let's recap the important points we've learnt in our Poker Tells Series. Pay Attention! The biggest thing you should take away from our Poker Tells Series is how much you need to be paying attention at the tables. Not only do you need to be paying attention to spot any of these tells in the first place, but you also need to pay attention all the way to showdowns to see what these tells mean. So many of the tells we've covered can have different meanings for different players, so if you're not paying attention to what it means for your specific opponent, you're going to use the tell incorrectly and end up making a worse decision. Consider Everything When people think of poker tells, they maybe think of one or two classic tells that you'll see in Hollywood movies, but people give off tells with all parts of their body. Whether they're touching their nose while bluffing in a big pot or tapping their foot to the beat while they value bet with the nuts, your opponents are giving off tells from head to toe. If you only look for the well-known tells, you're going to be missing out on a lot of key information. Make sure you're constantly scanning your opponents for any of the tells listed in this series if you want to give yourself the best chance of picking something up. Treat Every Opponent Differently It's easy to assume that because a certain tell means your opponent is weak or strong, the same applies to everyone you come across who has the same tell. In reality, that's not the case. A number of tells have different meanings for different opponents. For example, if your opponent's neck is pulsing, it could mean that they're excited about holding a strong hand, or they could be nervous about pulling off a huge bluff. If you assume that each tell means the same thing for everyone, you'll end up making a lot of bad decisions at the table. Make Logical Adjustments If you spot a tell from one of your opponents, it's important that you use it to make logical adjustments to your strategy. This means that you should work out what the tell means from your opponent, then make changes to your strategy that counter that. For example, if your opponent has a tell that displays strength, you should counter that by folding more of your range and playing more passively. On the other hand, if your opponent has a tell that displays weakness, you should play more aggressively and call a wider range than you otherwise would. Make Small Adjustments At First When you first spot a tell, it's tempting to make massively exploitative plays to try and own your opponent. However, a smart poker player will start by making small adjustments to their ranges at first until they know their tell is rock solid. Making huge adjustments without being certain in your read is going to cost you significantly in the long run, so play it safe to start with and only make minor adjustments to your calling/folding/raising ranges when you spot a tell. Summary To be successful at using poker tells to enhance your game, you need to be attentive, perceptive, and strategical. You should be plugged into what everyone's doing at the table, every action they're making, and what they look like when they're doing it. Once you spot a pattern in their physicality, you can gain information on whether or not it means they're strong or weak. After working out what a tell means, you can use that information to inform your strategy and make adjustments to exploit your opponents. After reading through the Poker Tells Series, you should have the tools to do just that - so go out there are start owning your opponents!
A Beginner's Guide To Poker Prop Bets
If you've played with action players at your local casino or watched one of the old episodes of High Stakes Poker, you'll have heard people talk about prop bets. But what exactly are prop bets? Are they worth your time, or should you ignore them and focus on the poker? We'll answer all of that and more in this beginner's guide to poker prop bets. What is a Prop? A "prop" or a "proposition bet" is a side bet made between players at the table, sometimes about what will happen during the hand, but sometimes about "extracurricular activities". Most of the prop bets you'll hear at the table relate to the poker, whether it's a bounty for winning with a certain hand or players betting on what the flop, turn, or river will be. However, poker is famously a game of egos, and when those egos clash, it can lead to some extraordinary bets made away from the felt. We'll cover some of the more famous ones in another piece, including weight loss bets with Ted Forrest and Mike Matusow, golf bets with Erick Lindgren and Phil Ivey, and backflip bets with Huck Seed. For now, let's learn to walk before we run and focus on the poker-related ones. Props For the Whole Table There are two kinds of prop bets you can make whilst playing poker - ones that involve the whole table and ones between you and a friend. The ones for the whole table require everyone's participation to be worthwhile, as if some people refuse to join in, it puts them at an advantage over the other players. You also need permission from the card room, as some casinos won't allow prop bets such as these to be played at the tables due to licensing concerns. The majority of these games require the table to pay a bounty to a player who accomplishes a difficult task or require a player to pay a bounty if they fail to accomplish a task. The exact task set by the table will vary depending on the prop bet, and these bets can lead to some interesting dynamics at the table. Let's take a look at the most popular prop bets for the whole table. The 7-2 Game Arguably the most well-known prop bet in poker is the 7-2 game. 72 is known as the worst hand in poker, so to make the game more interesting, you can decide to award a bounty to anyone who manages to win a hand with 72. The size of the bounty will vary depending on the game, but it's often anywhere between 5-20bb, based on the amount of pain you want to inflict. This game is the most popular due to its simplicity - all you have to do is win a hand with 72, and you'll get paid by the other players if you do. It doesn't matter if you win at showdown or with a bluff; as long as the chips are getting pushed towards you at the end of the hand, you can claim your bounty. It also creates interesting dynamics at the table, as you don't know if someone is value betting with a very strong hand or bluffing with 72. Even if the bounty is relatively small, players will try to win a hand with 72 just for the ability to rub it in the faces of their opponents when they manage to get a bluff through. Some players have even expanded on this game to include hands like 83 and 94, but it's hard to beat the classic 72 game. The Button Game We all know the button is the most profitable position at the poker table, and you can expect to win lots of hands playing from it, but what if you were punished for not winning a hand from the button? That's the basis of the button game - a game where players must pay a bounty for not winning a hand on the button. The mechanics of the button game are simple; the table agrees upon a set amount that must be paid by the player who fails to win on the button - usually between 1-5bb. That bounty then goes onto the button when it is passed to the next player. If that player wins the hand, they win the bounty, but if they fail to win the hand, they must add their own bounty to be passed to the next player, and so on. After a couple of hands, there's can be a significant bounty up for grabs just for winning a hand on the button. The Standup Game Usually, being the last one standing is a good thing - but not in the standup game. If you're the last person standing in this game, you owe every other player at the table a bounty, which can quickly get expensive! To play this game, everyone must agree on a bounty to be paid by the last person standing, usually somewhere between 2-10bb. When the game starts, everyone must stand up. Once you win a pot, you're allowed to sit back down. It doesn't matter how you win the pot; as long as the chips are pushed your way, you can sit down. However, you must win the pot outright - chopped pots don't count. The last person standing must pay out the agreed bounty to every player at the table. This game can create a lot of tension, especially when there are only two or three players left standing. Props For You and a Friend If you can't get everyone at the table involved in your prop bets or just want to gamble with your friend, you can play some 2-3 player prop bets. These are side bets on the outcome of certain elements of the hand but do not impact the way the game is played. Let's take a look at some of the most popular prop bets. The Red/Black Game While some may call it degenerate behaviour to bet on what colour the flop will be, it's actually a lot of fun! This game is popular due to its simplicity, but you can make it as complicated as you'd like. The base game is a simple bet on whether the flop will be mostly red or mostly black. You pick a colour with your friend, who picks the opposite colour, and you agree on an amount to pay the winner. If your colour comes in, you win, but if it doesn't, you lose - it's that easy. However, you can make it more complicated by adding clauses or extending the bet to the turn and river. For example, you can win double if the flop comes down all red or all black, you can win 4x if all of a particular suit comes out, you can win 8x if the flop, turn, and river all your colour - the possibilities are endless! The Suit Game A variation on the red/black game is the suit game. This game takes it one step further, as it's now not enough for the right colour to come on the flop; the right suit needs to appear for you to win. The exact rules of the game can be deliberated between you and your opponent, but the most common way to play it is for a player to pick either one or two suits, and both players agree to pay the other a set amount depending on how many cards of that suit appear on the flop. For example, if you pick hearts and I pick diamonds, I'll agree to pay you $5 for every heart on the flop, and you'll agree to pay me $5 for every diamond on the flop. So, for a flop of AhKdQh, I owe you $10, but you owe me $5, so you end up with a $5 profit. You can make this game more interesting by adding bonuses for the flop having all three of a particular suit, or by doubling the stakes if the previous round was a push. The Pick a Card/3 Cards Game If suits and colours are too boring, you can play the Pick a Card prop game or the more commonly played 3 Cards game. In this prop bet, you and your opponent pick one or three cards to be your "props." If your card appears on the flop, you win the bet, and if your opponent's cards come out, you lose the bet. This game is commonly played with three cards, as it's a statistical likelihood that at least one of your three cards will hit the flop, which makes the game a lot more interesting and leads to more bets being won or lost. Again, just like the other prop bets, this game can be as complicated as you'd like. Those of you who watched those early seasons of High Stakes Poker/Poker After Dark will remember this game, as it's the one that Doyle, Ivey, Negraneu, and others were playing during those games. Some examples of the variations they added include things like doubling the amount if your card appears in the middle of the flop, getting a bonus if your suit is on the flop, and doubling the amount you win if you had a winner in the previous round. Why Do People Play Props? The simple answer is because people like to gamble! Many players who sit down at the poker table aren't thinking of GTO ranges and proper postflop strategy ; they're there to have a good time and gamble their money - and prop bets are a good way to do that. Plus, live poker can be very slow, and if you're card dead, it's easy to lose interest. Playing small prop bets such as these is a fun way to keep yourself engaged with what's going on during the hand, even when you're getting bored. However, make sure you don't get too involved in the props and forget to play your hand properly! Should I Play Props? The answer to whether or not you should play props depends on what your goal is when you sit down at the poker table. If the goal is to have as much fun as possible and you find prop bets fun, then by all means, gamble it up with the rest of the table. But, if your goal is to be as profitable as possible, then it's best to give the card-based props like the red/black game a miss. That being said, some of the table-wide prop bets are worth participating in to gain favour with the rest of the players at the table. After all, no one wants to be the nit who wouldn't play the 7-2 game just because they don't want to gamble. Plus, if you're one of the better players at the table, you should be able to adjust to the new dynamic better than your opponents, giving you a bigger edge. Even if you're against these games, it's worth it to join in just so you continue to get action later on in the night - just because you're playing the 7-2 game doesn't mean you actually have to play 72 when you're dealt it. You're well within your rights to just fold it and take the goodwill from the rest of the table. Summary Prop bets are fun side bets that you can make while playing poker. These bets can be about the outcome of certain cards appearing on the board, or they can be bounties awarded to or taken from players based on whether or not they complete a certain task. They can add an interesting dynamic to the game, promote more action from the players, and can even increase the edge of the players who are better able to adjust to the new dynamic.
What Does Your Favourite Poker Hand Say About You?
We all have a favourite poker hand, whether we want to admit it or not, and what that hand is can say a lot about a person. That's why we've decided to take a closer look at people's most common favourite hands and what it says about them. Pocket Aces You're a grinder whose only focus is on making the most money possible. If someone asks you what hand you'd want to play for the rest of your life, there's only one answer - aces. They make the most money and, therefore, are your favourite hand. You're probably not much fun at parties and spend your time at home running sims on your state-of-the-art PC. Sure, you're better at poker than us, but are you truly happy? Think on that the next time you're raking in a pot from us gamblers. Pocket Kings While not quite on the same level as aces, you're someone who likes a strong hand but likes to live with an element of risk . Sure, you're likely to have the best hand, but there are still those pesky aces out there that can beat you, and it's that risk that you can't get enough of. Either that, or you're from Texas and have a thing for cowboys - could be either one. Pocket Queens The hunnies. The dames. The ladies. Whatever name you have for them, you just can't get enough of them. There's something about them that keeps you coming back for more , even when you said you'd quit after running into cowboys and bullets one too many times. You're the kind of player who wears their heart on their sleeve and isn't afraid to show their loyalty to their favourite hand at the table. You don't care what people say; women aren't the rake; they're queens, and you give them the respect they deserve. Pocket Jacks A wise man once said, "There are 10 different ways to play jacks, and all of them are wrong." Despite this, pocket jacks are still your favourite hand to play. Maybe you're someone who likes a challenge, maybe you've finally figured out how to play them, or maybe you're just a masochist who loves seeing a big pair get cracked. Whichever one it is, we recommend picking a new favourite - for your sanity's sake. Ace King Suited You're a sculptor of chips, a painter of bluffs, a true artist at the table - at least that's what you have to be if a drawing hand is your favourite. You see all these people who love pairs and think, "Where's the challenge?" I want to miss the flop at least ⅔ of the time and really fight for my pots. You love hero-calling AK as it's the "nut no pair" and are willing to risk your whole stack with it at any time. Still, at least it's suited . Ace King Off-Suit Which brings us to AKo. Seriously, your favourite hand is AK, but you don't like it suited? What's wrong with you? Do you hate equity? We get it, it's hard to work out whether or not you have a flush, and you don't want to deal with the pressure while everyone's looking at you, but seriously, it's worth it. Either that, or someone pranked you by saying AKo can make two flushes and is better than AKs, and if that's the case, where are you next playing so I can come? Seven Deuce You've read the poker books telling you to play the good hands and thrown them out for being too bossy. No one tells you what to do , you'll play your own goddamn money the way you goddamn please, and that includes punting off with 72o just to rub it in the faces of the grinders. Nothing beats the sense of satisfaction of throwing this hand in the face of some kid in a hoodie, telling them, "That's how you play poker, kid." Not even the several trips to the ATM over the course of a night can dampen that feeling, no matter how many sniggers you hear from the table. Ten Deuce Ahhh, finally, someone of culture. "If it's good enough for ol' Texas Dolly, it's good enough for me," you say. This is a hand that won back-to-back WSOP Main Events, there has to be something to it, right? Right? You're a player who takes superstition very seriously . You never win the first pot of the night, you touch wood for good luck, and you always play your favourite hand. One of these days, it will pay off for you; I can feel it! Nine Six of Hearts You're the comedian of the table, but there's also a romantic side to you . Sure, everyone laughs when you turn over "the sex hand," but they don't understand that to you, it's more than sex; it's about love. You love the 96 of hearts, almost as much as you love shoving the nuts in the face of that attractive player that just sat down in seat six. Almost, but not quite. Pocket Deuces Deuces never lose…es; that's the saying, right? Well, that's what you've heard, and that's what you're sticking to. Hey, if it rhymes, it has to be true - even if it doesn't completely rhyme. You're someone who likes an underdog , who likes to cheer for the person who's got the lowest chance of winning. It's a good job too, considering your choice of favourite hand - you can always cheer yourself on to pull off a shock win, no matter how unlikely! Can't see your favourite hand? Let us know what it is on Facebook and Instagram and we'll follow up with a part 2!
Betsson Poker Deposit Bonus
€ 600
- OFFER -
Guts Poker Bonus
€ 1,000
- OFFER -
Partypoker First Deposit Bonus
$ 600
- OFFER -
Red Star Deposit Bonus!
$ 2,000
- OFFER -
Subscribe to Pokerdeals.comPoker Deals
Join the PokerDeals community and take advantage of exclusive content and giveaways!