What is a Poker Solver, and Will it Improve My Game?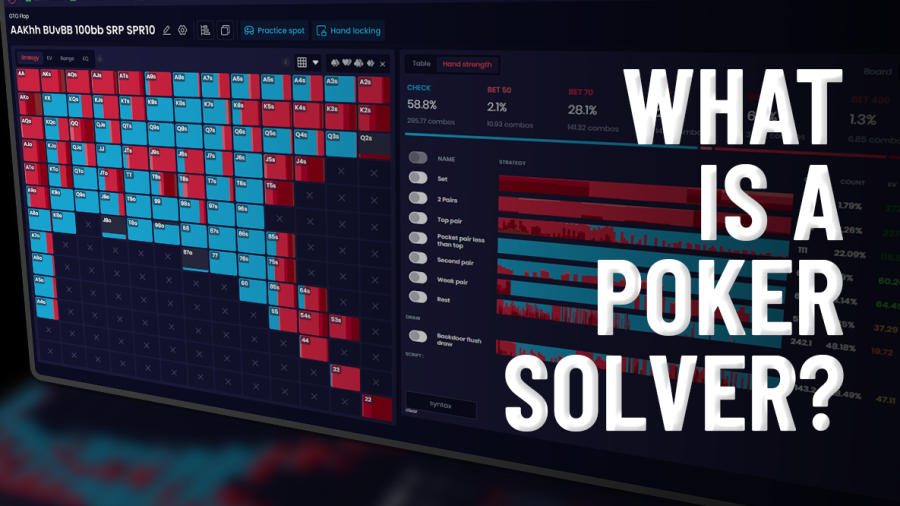 If you've been around the poker community over the past few years, you'll have noticed a substantive change in the way people talk about the game. It's all "GTO" this and "solver-approved" that, but what exactly is a poker solver, and how can it help you become a better player? That's exactly what we'll be looking at in this article, so keep reading if you want to know everything there is to know about poker solvers.
Poker solvers are powerful tools that can help players improve their game by providing detailed analyses of specific hands and situations. A poker solver is a piece of software that uses advanced algorithms to analyse a given poker situation and determine the optimal strategy. The solver considers factors such as the player's hole cards, the board cards, the opponent's range, and the betting action to calculate the expected value (EV) of each possible action.
How do poker solvers work?
As we mentioned above, the solver uses an advanced algorithm to reach an "optimal" solution by considering various factors that impact the hand, such as each player's range, the board, and the bet sizes. It does this by pitting each strategy against the other until neither side can gain more EV by altering their strategy. In essence, it works like this:
Player A has a strategy; Player B adjusts to that strategy to maximally exploit it; Player A then readjusts to maximally exploit Player B's strategy; Player B then adjusts again to maximally exploit that strategy; and so on and so on until neither side can change their strategy to gain more EV.


The solver can be described as omniscient, as it knows exactly what hands are in each player's range and what strategy each player will use. Doing so allows it to create an optimal strategy for both players.
However, the solver won't work on its own; you need to provide the inputs for it to work. This means that you need to input your range, your opponent's range, the bet sizings you'd like it to use, whether or not your opponent will lead on any street, the stack sizes, and the flop, turn, or river, depending on what street you're trying to solve. If your inputs aren't accurate for your situation, your outputs won't be either, so make sure you accurately reflect the situation you're trying to calculate.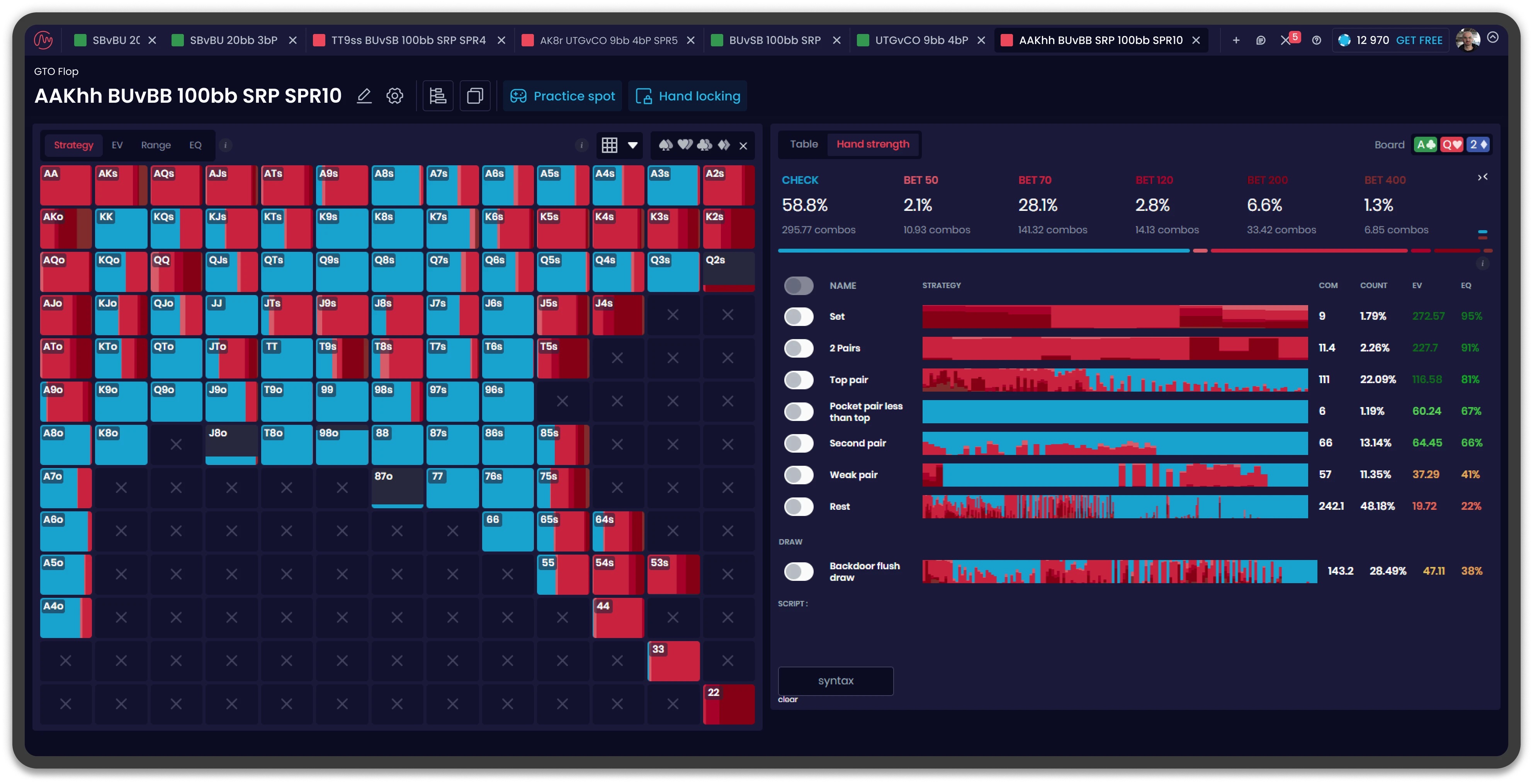 Check your hand strength using a poker solver like DeepSolver
What can you study?
You can study almost every poker situation using a solver, whether it's preflop, flop, turn, or river. You can work on the building blocks of poker by solving for optimal preflop ranges, even going so far as to adjust for different rake structures, work on your river play by analysing various hands on the most important street, and everything in between.
However, your access to these solutions will depend on the type of poker solver you have, as some solvers will restrict access to things like preflop solutions unless you buy the "Pro" or "Advanced" versions. However, some of these versions cost upwards of $1000, which is a bit beyond the bankroll of the average player.
This is why people are moving towards a cloud computing solver model, where you can access state-of-the-art cloud computing technology to run any simulation you can think of. Many popular poker solvers use this method, such as DeepSolver, giving players a wider range of options at a much more affordable rate.
How should you use them?
But how exactly should you use poker solvers? You may think from the description so far that you can input any poker scenario and press a button to give you the right answer, but it's not quite as simple as that.
When you run a calculation through a solver, you aren't given a "correct" answer for how to play a hand; you're given a poker hand matrix with the optimal strategy in each section. This is because solvers don't calculate for one hand versus your opponent's range; they look at your whole range versus your opponent's range.
While it's tempting to create a simulation for the one hand that you had in a situation you found difficult in-game, it's not the most efficient way to use a solver. Rather than using it to find the "solution" to one particular hand, you should look at how the solver plays the whole range and make inferences from there.
For example, suppose you simulate a situation from the flop. In that situation, you might think that you should be betting only a small percentage of the time with the strongest portion of your range, but the solver is actually betting with most of its range due to the EV differences between the two ranges. Insights like this are incredibly valuable for getting a deeper understanding of poker, as it allows you to view your hands on a more macro scale, which in turn makes you play better with a larger number of hands.
This kind of insight can be multiplied by taking advantage of the flop aggregator tool. This tool allows you to view how the solver plays your range across a multitude of different flop types, which you can then use whilst playing in-game. It's a tool that's not used as often as it should be, as it allows you to master the strategy for a number of different flop types in a very short space of time.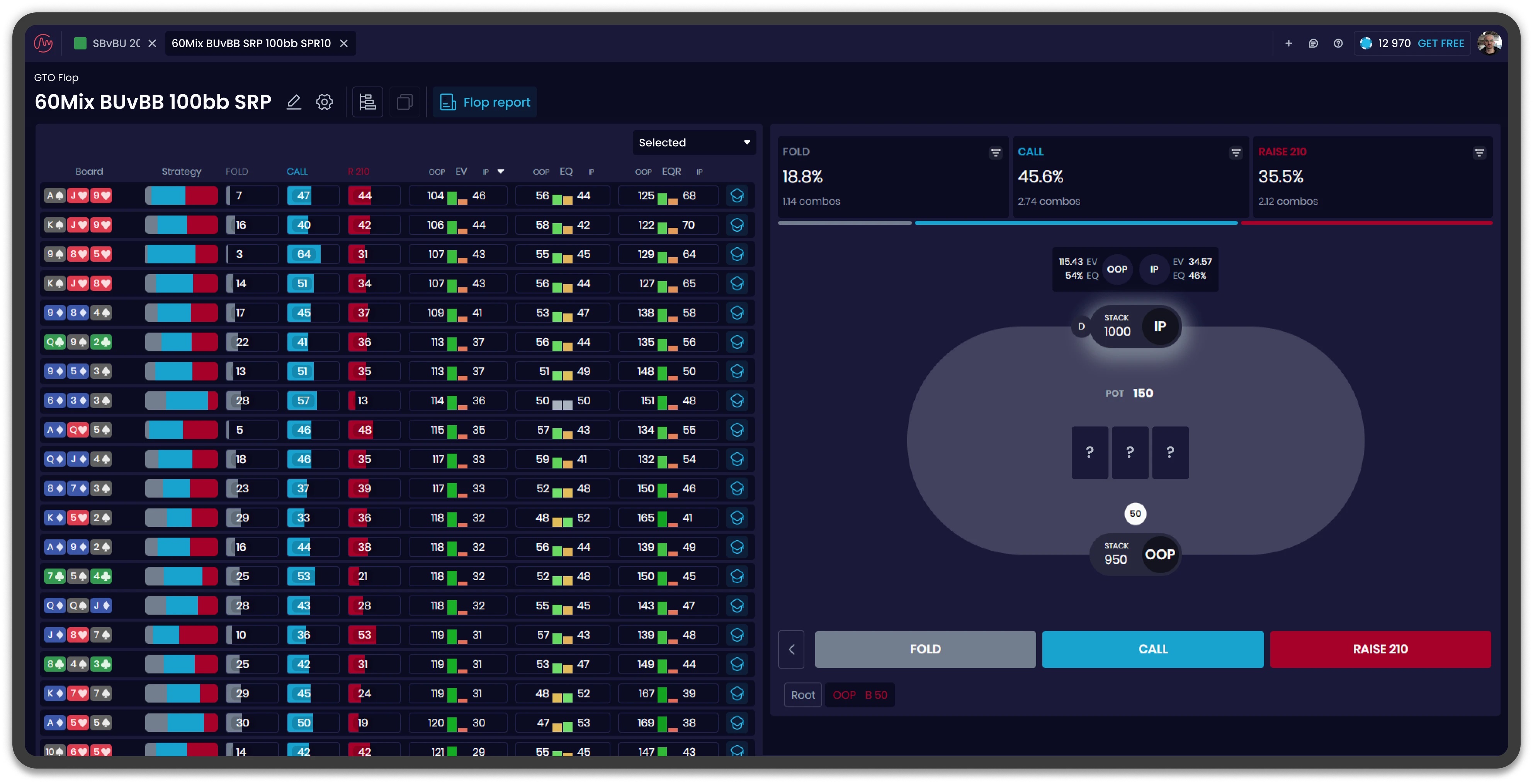 DeepSolver's Flop Report


You should also be using your solver as a way to understand the baseline level of "GTO," which you can then use to compare against your opponents. By understanding how to play "properly," you're able to identify when your opponents are playing too loose or too tight. If you don't have this understanding of GTO play, you'd only be guessing as to how your opponents are playing compared to the optimal strategy.
Once you know how your opponents are playing compared to what they should be playing, you can then adjust your strategy. For example, if your opponents are playing too loose and bluffing too often, you can counter that by calling more hands and being more aggressive against bets. Similarly, if your opponents are playing too tight, you can fold more hands versus their bets and play more aggressively when they check.
Common mistakes people make while using poker solvers
While solvers are an incredibly powerful piece of tech that can be used to make you a much better player, they're only as good as the people using them. You can't press a magic button and have it tell you how to be a better player; you need to understand how your inputs affect the outputs and know how the results apply to the games you play in regularly. Lots of people who use solvers use them incorrectly, and these are some of the most common mistakes they'll make:
Running them on an old PC
Solvers take an extraordinary amount of processing power to calculate their results. They take into account so many different variables and permutations when calculating a hand, particularly if you are running preflop or flop calculations; it can take hours or even days to complete if you're making those calculations on a substandard PC. However, rather than shelling out for top-of-the-line hardware, many people are moving to a subscription service, such as DeepSolver, which offers cloud-based solver calculations. Rather than having to run it from your out-of-date machine, you can use the latest in cloud computing technology to get the answer to your most burning poker questions.
Inputting Incorrect Ranges
One of the most important things to do when using a poker solver is to be mindful of the preflop ranges you input at the start of the hand. The solver will use both your and your opponent's ranges to calculate the EV of each strategy for each hand, so if any of those ranges are inaccurate, you'll get inaccurate results. Remember to tailor your ranges based on the type of player you're playing against. Create ranges that are looser than the optimal opening range for loose players, and create ranges that are tighter than the optimal opening range for tight players.
Taking The Solver's Word As Gospel
Arguably the biggest mistake a player can make is to take the solver's output as the only correct way, and rigidly apply their solver's solutions to every situation. Remember, the solver will give you outputs based on your inputs, and while those outputs are going to be optimal for that exact situation, it's unlikely that this situation will always apply in real life. People don't often play optimal ranges, so the highest EV strategy may differ against players who are playing sub-optimally. The key to using a poker solver efficiently at the lower stakes level is to use it to get a baseline understanding of what you should play and then compare that to how your opponents are playing. Are they playing tighter or looser than they should, and what should you do to counter it?


What are the pros and cons of poker solvers?
There's no doubt that poker solvers are a net positive in the world of poker learning. Our understanding of the game has been greatly increased because of their presence, but as with everything in life, nothing is perfect. There are some downsides to using a poker solver, so let's look at the pros and cons of using one.
Pros
Get Optimal Postflop Solutions - This is the biggest advantage of using a poker solver; as long as you've entered the correct inputs, you can discover the optimal way to play your hand. Not only is this great for understanding how to play a particular hand, but you can extrapolate the information to understand how to play your whole range in common poker scenarios, making you much tougher to play against.
Calculate Optimal Preflop Ranges - Another major advantage of using a poker solver is that you can calculate optimal preflop ranges for the games you play. You can input the stakes, your stack size, and the rake structure and get optimal preflop ranges based on that information. You'll never have to worry if you're playing too tight or too loose ever again!
Understand How To Exploit Your Opponents - By using a poker solver, you get to learn what it means to play Game Theory Optimal poker. Once you have a solid understanding of this type of poker, you can use it to identify when your opponents are deviating from it. For example, suppose you see your opponents bluffing with a hand that should never be bluffed. In that case, you can extrapolate that information and assume that your opponent is often overbluffing, so you can call them down wider and expect to win more often.
Cons
It's Only As Good As Its Inputs - A poker solver is not a magical "solve poker" button; it requires a great deal of input from the user before it's able to calculate and display accurate information. If your inputs are incorrect for the situation you want to analyse, your results will be faulty, and the information and insights you may glean from the outputs may not be accurate.
One Calculation At A Time - Another downside is that you can only run one calculation at a time. This means that if you want to calculate a variety of different spots, it will take a lot of time for the solver to run and to fully analyse the position for each one. While cloud computing solves this problem to an extent, it still doesn't solve the issue that you can only study one scenario at a time.
Results Aren't Always Applicable - One of the biggest misnomers about poker solvers is that they're the gospel truth of how to play a poker hand. However, the solutions you see are based on two players playing optimally against one another. Fortunately for us, every player we play against will be making some kind of mistake, with many players at the lower stakes making dozens of mistakes an hour. This means that the solver outputs won't show the most optimal way to play, as if your opponent is making a mistake, you can adjust your strategy to exploit that. This is why it's important to use poker solvers as a way of understanding what GTO play is, which you can then use to exploit your opponents.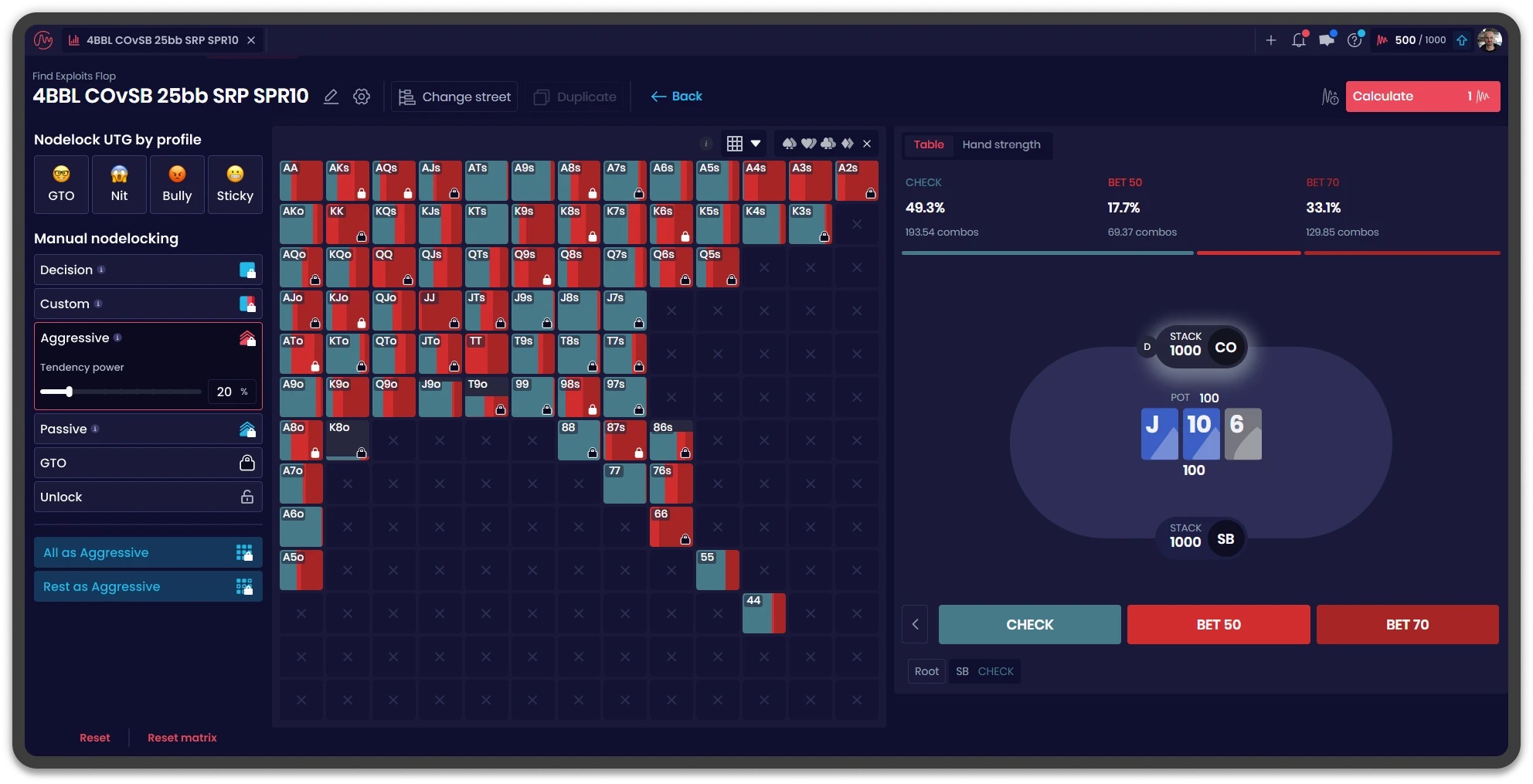 Discover how to exploit your opponents by using a poker solver. This is the 'Find Exploits' report from DeepSolver

Summary
It's true that poker solvers have taken studying the game of poker to a new level, but only for those who truly understand how to use them. They take a lot of understanding to use correctly, and players must temper their expectations for what they can expect, as understanding solver outputs and what they mean will take a lot of patience and time. However, by learning how to interpret solver inputs and understanding GTO play to the point where you can identify errors in your opponents, you can further yourself as a poker player and increase your edge in the games you play.
What is a Straddle Bet in Poker?
Get your mind out of the gutter; we're not talking about that kind of straddling! A straddle is a type of bet, most commonly found in live cash games, that increases the stakes of the game. If you're new to the world of live cash games and have no idea what a straddle bet is, then don't worry; we're here to break down what it is, the types of straddle bets, and whether or not you should do it. What is a Straddle Bet? A straddle bet is a like a third blind that a player voluntarily puts in before the start of the hand . Most commonly, this happens to the left of the big blind; the under-the-gun player doubles the size of the big blind, and as a reward, they get to act last preflop. When a player straddles, the player to their direct left becomes the first to act preflop. You'll tend to only find straddle bets in live cash games, as they're not allowed in tournaments, and the majority of online poker sites don't support straddles. However, there are some sites, such as PokerStars , which are starting to implement the function into their software to allow players the option to straddle. When playing a live cash game, most casinos will allow more than one straddle at the table. That means if the under-the-gun player has straddled, the player next to them can also straddle, and so on and so on until you reach the button. Unless you're playing in a private game, the straddle must stop when it reaches the button. Many casinos will put a cap on the number of straddles allowed in the game due to how much they increase the size of the game. Each straddle must be at least double the previous blind, so the game grows exponentially with each straddle . For example, in a $5/$10 cash game, the first straddle would be $20, the next $40, the next $80. In just three straddles, the size of the game has increased by 8x. The Types of Straddle Bet The most common type of straddle you'll encounter while playing is the one we've already discussed, where the player to the direct left of the big blind is the person to straddle. However, there are several types of straddle that can be seen in cash games, as long as the casino allows it. Let's take a look at what those are. Mississippi Straddle - This straddle can be made from any position at the table, apart from the small or big blind. The player to the direct left of the player who straddled becomes the first to act preflop, and the player who straddled becomes the last to act. Sleeper Straddle - This is a unique type of straddle that only becomes active if the action folds to the player who made the straddle. For example, in an 8-handed cash game, the MP player wants to straddle, but they can't make a Mississippi straddle, so they put out a sleeper straddle. If the UTG and UTG+1 players fold, their straddle becomes active, and the action skips over them to the next player. However, if either player calls or raises, the MP player can take back their straddle and play the hand as normal. Button Straddle - The player on the button puts out a straddle of at least 2x the big blind. The action then starts on either the small blind or the under-the-gun player, depending on the casino. Even if the action starts with the under-the-gun player, the button is still last to act preflop. This is because the action skips the button and moves to the small and big blind before returning to the button. Is Straddling a Good Strategy? In short, no. Straddling isn't considered profitable for the same reason that playing from the blinds isn't profitable - you're putting money in preflop without looking at your cards. Not only that, you're increasing the amount you'd usually have to pay, paying at least 2x the big blind for the opportunity to straddle. This means that your win rate from the straddle starts at -200bb/100, which is a lot to make up. Many players can't make up the -50bb/100 playing from the small blind, so what hope do you have from the straddle? The only time straddling becomes a neutral EV play is when every other player at the table is doing it. In this situation, everyone is taking the same hit, so you're not losing compared to other players at the table. Plus, no one wants to be the only person not straddling in a game. By joining in with the group, you show that you're not a complete nit and are happy to gamble it up every now and again, which may help you get paid off in future hands. What's the Point of Straddling? So if it's such a negative EV play, why do people straddle? Well, the simple reason is that people like to gamble ! When there's a straddle on, the stakes get bigger, and so do the pots. Plus, as they've already put in a couple of big blinds with their straddle, players feel like it's OK to play speculative hands that they may have had to fold if they were first to act. As straddling reduces the stack size of the players relative to the blinds, some players who prefer playing with shallower stacks may encourage straddling to try and gain a competitive advantage . If everyone is sitting 200bb deep, just one straddle reduces their stack to 100bb, making the game much shallower. This will benefit the players who have studied 100bb poker, as they won't be put in tricky deep-stacked spots that they're not familiar with. Adjusting to Straddles So, what should you do if people are straddling in your game? What's the best way to adjust your strategy? Well, the first thing you need to do in your mind is adjust the size of your stack. Your stack has become a lot shallower since the straddle has come into play, and you need to be aware of that when considering your preflop ranges. This means that speculative hands, such as suited connectors, low pocket pairs, etc., go down in value, as the stacks aren't deep enough to profit if you make your hand. Many players think that because everyone has the same amount of money in front of them that they can play the same ranges, but this isn't the case. You should always be thinking of stack sizes in terms of big blinds, not dollar amounts. Another important aspect when constructing your ranges is t he type of player who is in the straddle . Are they the kind of player who'll play any two just because they've straddled, or are they a nit who's been bullied into straddling by the rest of the table? If a loose player is in the straddle, you'll find that your best strategy is to raise with a strong opening range that allows you to punish their wide calling range. Conversely, if a tight player is in the straddle, you can attack it with a wider range of hands to try and take down the dead money. Summary Straddling is a fun way to create more action and increase the size of the pot. However, because you're required to post at least two big blinds without seeing your cards, they're not a profitable play to make. If you're trying to become a profitable poker player, it's best to stay away from straddles.
Poker Tells Part Two - The Eyes
There's a lot you can tell about someone by their eyes. Often it only takes one look into someone's eyes to tell you what kind of person they are; such is their transparency - there's a reason why they're called the window to the soul . That's useful to us as poker players, because if we can see into someone's soul, then surely we can use that information to find out what they have. While it's not as simple as that, people give away a lot with their eyes, even if they don't realise they're doing it. In this piece, we'll be looking at the most common poker tells that you can spot by looking at your opponent's eyes and how to counter them. Intense Eye Contact In the first part of our poker tells series , we covered that if a player is trying to look strong, it often means they're weak, and if they're trying to look weak, it often means they're strong. Making intense eye contact with your opponent after betting is one of the biggest signallers of strength you can come across . It's saying, "You can look at me all you want. I'm confident in my bet. I'm not scared of you." But is that really how they feel? Well, that depends. To know whether this is a "show" of strength or actual strength, you need to consider your opponent's past behaviours . Do they often stare at their opponents after making a bet? When they do, have they shown down good hands or bluffs? All of this is key information, as you're trying to find a pattern in your opponent's play. Some people are more relaxed when they have a strong hand and are more likely to make eye contact, whereas others make intense eye contact to psych out their opponent. You can often tell which is which based on the other body language they give off. The more tense and fixated their eye contact, the more likely it is that it's forced, and the more likely it is that they're weak. How Do I Counter It? If you think that someone is deliberately making eye contact in an attempt to look strong, then you can assume that their range is likely weaker than average. You can counter this by calling a slightly wider range and being more aggressive against their bets. The more certain you are in your read, the wider you can make your calling range and the more aggressively you can play back at them. Quickly Looking Away After Eye Contact You may think that if intense eye contact is a deliberate attempt to look strong, then a failure to hold eye contact must be the opposite, right? Well, you're partly right, but it's not quite so simple. It's a lot harder to fake looking away right as someone sees you than it is to fake strength by holding eye contact. If you've ever tried to surreptitiously look at someone, only for them to notice you, you'll know the rush of adrenaline that you get as you snap your head back in the opposite direction. This means that it's more likely to be an actual display of weakness , as they want to look over and gauge what your decision will be, but they don't want to let you get a good look at them. If you spot someone doing this at the table after they've made a bet, it's a clear sign that they're uncomfortable with the hand , which likely means they have a weaker range. How Do I Counter It? As this isn't a feigned display of weakness, we can assume that anyone who has done this at the table likely has a weaker-than-average range. To counter it, we can widen our calling range and play more aggressively with our drawing hands, as we believe they're more likely to fold. Just be sure that they actually do look weak before widening your calling range too much. Remember, only make small adjustments until you have confirmed the reliability of the tell. Staring at the Board, Then Quickly Looking Away You have to be paying close attention to your opponent to spot this tell, but it's a good one if you can notice it. Most players tend to stare at the board as the next card is about to be dealt. It's understandable, as they want to get the information as soon as possible so they can start formulating their plans for the next betting street. However, when they do that, they may unwittingly give off a reaction to the card(s) that betrays their true feelings. One of the biggest reactions someone can give is to instantly look away from the board as soon as a card is dealt . Looking away from the hand is supposed to signal that they're not interested in what's going on, but in this case, it means the opposite. They've seen the card they need to make their hand, so they quickly look away to avoid fixating on it, but in doing so, they let us know that they've liked what they've seen. For casual players, an even stronger tell may be when your opponent acts so disinterested in the board after seeing the community cards that they look around the room, stretch back in their seats, start chatting to other players, or display any form of total nonchalance to the cards. Be very cautious of these fake displays of indifference . Knowing exactly how quickly someone needs to react to a card is an inexact science, which is why it's important to constantly watch your opponents during hands instead of scrolling through Twitter or Tik Tok. There's no exact number of milliseconds that count as looking away instantly, but if you play with someone long enough, you can tell when they look away quicker than usual. How Do I Counter It? Most players will look down at the flop when it's dealt. However, you won't get a read on your opponent from looking down at the cards . Be sure to watch your opponents closely when cards are dealt to pick up on whether they instantly look away, or keep their eyes on the community cards. This will help inform your decision. How you counter this tell is dependent entirely on the card that comes and the strength of your hand. If your opponent has improved to a better hand than yours, you'll want to play as cautiously as possible, but if they've improved to a hand that's worse than yours, you can play aggressively to try and get maximum value. Cards that complete straight draws and flush draws are obvious cards to look out for, as are high cards on low boards, as it may mean that your opponent has made top pair. The same goes for lower cards on mid-high boards, as they could have made a set with a small pair. Our advice is always to act cautiously until you're sure this is a solid read , so only make small adjustments either way, depending on the strength of your hand relative to your opponent's new perceived range. Pupil Dilation This one is close to impossible if your opponent is wearing sunglasses and will take a lot of practice even if they aren't, but it's one of the most reliable tells you'll come across. It's based on the fact that people's pupils dilate when they see something they like . It happens when you've been given a slice of your favourite chocolate cake, when you see a friend or a loved one, or when you make your flush on the river. It's one of the many reasons why I advocate not staring at the board when the cards are being dealt; you won't be able to control these reactions when you do, which gives your opponents the chance to spot a tell. However, luckily for us, lots of people decide that staring at the card that's about to come is a good idea, which gives us a chance to spot it instead. This tell is impossible to fake , so you won't have to worry about someone double bluffing you - if their pupils dilate, they're very happy with the card that's just come. How Do I Counter It? If you manage to spot this tell in the wild, it's almost certain that your opponent has a super strong hand. Unless you have the nuts or close to it, you should play very cautiously and pray for a cheap showdown. Chip Staring Another reaction amateur players often make when seeing a card they like is to stare directly at their chips to figure out how much they want to bet. It's a real sign of strength, as it shows that their first thought after seeing the next card is, "How much more money can I get into the pot?" When players bluff, they often take time to consider things like whether or not they have the right hand to bluff with, whether it's a good spot to bluff, and whether their opponent will fold. If they have a value hand, there's less to consider; as you know you want to bet, the question is only "How much?" This tell can be faked by experienced players, so it's best to only use it against amateurs who likely won't realise what they're doing. Again, be sure to watch your opponents when they first look at their cards. Less experienced players who know this tell are still more than likely to glance down at their chips before their brain has told them not to. This act of strength is a little harder to fake. How Do I Counter It? If you've spotted an amateur player with this tell, the best course of action is to proceed cautiously. Fold more often against their bets, and play more passively against their checks to try and get a cheap showdown. As this tell is well known and can easily be faked, you should be far less inclined to alter your strategy if you see a strong player perform this tell. Summary There's a reason why a lot of professionals tend to wear sunglasses at the table; it's because you pick up a lot of tells from your opponents if you know where to look. It's hard to fake eye reactions , which makes them one of the most reliable forms of tells you can find. Once you train yourself to look for these subtle tells and cross-reference them against your opponent's previous behaviour, you'll find yourself making a lot more correct decisions at the table. Join us in Part Three of this Poker Tells series, where we'll be looking at the nose and mouth. Make sure you join our by join our PokerDeals Facebook group or follow us on Instagram to be notified of the next article in the series. *Images courtesy of PokerGo
Poker Tells Part One - The Brain
I know what you're thinking: "You can't see someone's brain; how can you pick up poker tells from that?" And you're right; you can't see someone's brain, but what you can do is understand the psychology of your opponents . Once you know why your opponent is acting in a certain way, it becomes much easier to exploit them. In part one of our series on poker tells , we're starting right at the top, the control centre of everything you do - the brain. We'll be looking at the most common psychological poker tells players give away at the table and how you can exploit them. Strong When Weak, Weak When Strong One of the most common psychological tells you'll come across in poker is a pretty straightforward one: When a player is acting strong, they're weak, and when they act weak, they're strong. It's basic reverse psychology, designed to trick you into making the wrong move. While it may be simple, it's surprisingly effective. Humans are social creatures, and one of our great strengths is the ability to pick up on nonverbal cues to interpret how someone is feeling . If you look at someone who doesn't look confident, your instinct is to take that at face value, so you assume they have a weak hand. If you don't question your instincts, you'll end up making the wrong decision. But how do you know when someone is being genuine or not? After all, I've just explained that your instinct will be to trust everyone at face value, so how do you identify the people who are being deceptive? While there may be some people at the table who look dodgy enough that your instinct isn't to trust them, that's not going to be the case for everyone. The best way to identify the people who are being deceitful is to watch them while they're playing and look at the results at showdown. How does their body language match the hands they're showing down? Do they align or not? Only through carefully studying your opponent can you truly identify the players with this psychological tell . Be Wary Of False Tells If you're up against other thinking players at the table, there's a chance that they'll give off false tells to try and "level" you into making the wrong decision. The "strong is weak, weak is strong" tell is one of the most common ones for people to fake - mainly because it's the easiest to do! This is why you need to pay close attention to the hands your opponents are showing down . It's easy to look at a player making a big show of aggression and think, "Wow, look at that; he's trying so hard to look strong; he must be weak!" whereas in reality, they're trying to trick you into calling. While there's no foolproof way of determining when someone is faking a tell or not, the best chance you have is to think about the kind of player they are . The better a player is, the more likely they will fake a tell. This is because good players will do their best to eliminate actual tells from their game but recognise that other players will look for them, so they deliberately mislead you with false tells. How Do I Counter It? Once you've found one of these players at the table, you need to act on it! There's no point in identifying tells if you're not going to adjust your game once you've found one . Luckily, this one is very easy to counter, but just in case you're new to this, I'll spell it out for you. If they're acting weak, it means they're strong, so when they act weak, only continue with your strongest hands. If they're acting strong, it means they're weak, so when they act strong, call down lighter or play back at them more aggressively. It's as simple as that! As long as you have a solid read that your opponent is giving off this tell, you'll be able to exploit it by doing the opposite of what they want you to do. Acting Fast Another common tell at the poker table is acting fast. Just to be clear, by acting fast, I don't mean that they take 10 seconds to make a decision; I'm talking snap decisions - often less than a second or two. Many players struggle to understand what it means when a player acts fast, so let's break it down. So what does it mean when a player is acting fast? Well, if they're able to make their decision almost instantly, it tells us that they don't have to think about it. If they can act in a split second, their decision must be so obvious that they don't have to consider it at all . Sometimes in poker, you have really obvious decisions. For example, if you have the nuts on the river with a pot-sized bet left behind, you know you're going to go all in - you don't have to think about it. Almost all of the time, these obvious decisions are when we have our strongest hands . Some players will make these decisions instantly; why bother waiting around, right? But most players will at least pause for a few seconds to make it look like they have a decision before making the obvious play. So, if someone is acting instantly, they either have an obvious decision, or they're trying to make it look like they have an obvious decision and, by extension, a very strong hand. Just like before, the best way to figure out which is more likely is by studying how your opponents play and viewing their hands at showdown. If your opponent always takes a few seconds before betting with strong hands, and suddenly they're snap-jamming over your bet, it's likely that they're trying to make themselves look strong. Another way you can figure out how strong they are is by looking at the board texture . Often, the dryer the board texture, the easier your decisions are, as there are fewer straight and flush draws to worry about. Conversely, if a board is sopping wet with straight and flush draws all over the place, you often have to take more time to figure out how you want to play it, even with your strong hands. Therefore, someone acting instantly on a wet board is more than likely making a show of strength , as if they had a value hand, they'd want to consider their options on such a draw-heavy board. How Do I Counter It? If you think you've identified an opponent with this tell, how do you adjust to it? Well, we've discussed that someone acting instantly in an unlikely situation means they're more likely to be bluffing. That means the best way to adjust to this tell is to call them down wider. Exactly how wide you call them down will depend on your level of confidence in the tell. If you only have a suspicion that your opponent has this tell, only widen your calling range by a couple of percentage points until you get a solid idea of how they're playing. One of the ways tells become unprofitable is by over-adjusting to them once you think you've found one - keep it conservative until you have a rock-solid read . Acting Slow On the other side of the coin, we have players who act excessively slowly when making a decision. We know there are some players who seem to take an age over every decision, but those aren't the ones we're focusing on here. We're talking about the players who play normally but suddenly decide to spend a long time on one decision. While you may think that it's just the opposite of acting fast, and therefore we just make the opposite adjustment, it's a little more nuanced than that. Again, let's start by looking at what it means if someone is taking a long time to make a decision. If they take a long time to act, the implication is that they have a very tough decision that needs to be thought through . More often than not, this means that a player either has a thin value hand or a bluff. However, as we mentioned earlier, a player may be deliberately taking a long time to give the illusion of a difficult decision where none exists. How do you determine the difference between a legitimate tank and a fake one? The key difference is the amount of time someone takes. If they're actually thinking through a decision, they'll take a lot longer to do so, as they're not even noticing how long they're taking. If you've ever tried to "fake tank" when you know exactly what you're going to do, thirty seconds feels like an hour. You can't wait to make the action you want, so it's hard to wait the same amount of time you do when making a legitimate decision. While there's no specific amount of time that has to occur for someone to be legitimately thinking, a good rule of thumb is the longer someone takes to decide, the more likely it is that their hand is weak. How Do I Counter It? As this tell is a little harder to identify, it's best not to go overboard when making your adjustments. If you think someone is likely to be weak based on the time it takes them to make their decision, you can adjust by calling wider or playing back at them more aggressively. However, I'd only recommend making slight adjustments until you're confident in your read. Attentiveness At The Table Being consistently attentive at the table is very hard to do when playing live poker. The pace of the game is slow, you have to fold most of your hands, and it's far too easy to get distracted by the goings on in the casino around you. This is something that affects every player at the table, and it's something you can exploit if you look closely enough. Preflop You'll notice a marked difference in the posture and attentiveness of players at the table when they pick up a good hand they want to play. They'll transform from slouching blobs at the table to perfectly postured players, and you'll see their eyes light up as they realise they finally have a good hand to play. You can often see them shuffling around in their seat, itching for it to be their turn to act. All of this adds up to a strong hand they can't wait to play. If you see someone acting like this at the table, know that it's very likely they have a great starting hand. Postflop Once the hand is in full flow, there are still ways you can use the attentiveness of a player to your advantage. One of the major things to look for is your opponent's reaction to the flop, turn, or river . Most players can't help but watch the flop as it comes out, eager to see whether or not they've made their hand. Instead of following along, you should watch your opponents as the flop is being dealt and look for the small reactions they make . Most recreational players can't help but crack a little smile when they've made their hand or shake their head slightly if they've missed the board completely. These tells are a lot harder to fake, as many players don't even know they're being watched when it happens. Better players are more experienced at hiding these tells, but many players will give something away if you watch closely enough. Another action to look out for during a hand is if a player looks completely disinterested in what's going on at the table. They're watching people play roulette or watching the TV - basically doing anything but looking at what's happening on the felt. While this may seem like someone a tell of weakness, it all depends on their posture. Someone who is slouching in their seat and isn't interested in what's going on likely has a weak hand. They're not in a position where they're ready to make an action other than fold when it comes around to them. However, if someone is sitting upright in their seat, they're showing that they are interested. Remember our preflop tell? Players will give away their general interest through their body language. If someone is trying to look disinterested in the hand but has positive body language, they likely have a strong hand. How Do I Counter It? As there are a couple of parts to this section, we'll break them down individually. Preflop - If your opponent suddenly takes a keen interest in the game after being distracted, they likely have a strong hand. Counter this by playing tighter and only playing with the strongest hands in your range. Postflop Positive - If your opponent reacts positively to the flop, turn, or river being dealt, the card has likely improved their hand. Counter this by playing tighter against their bets and by not falling into their trap if they check. Postflop Negative - If your opponent reacts negatively to the flop, turn, or river being dealt, the card has likely not helped their hand. Exploit this by being more aggressive with your bluffs and by trapping with your strong hands. Postflop Disinterest - If your opponent looks disinterested in the hand, they're likely trying to feign a weak hand. Counter this by playing tighter against their bets and by playing passively when they check. Summary Understanding the meaning behind certain actions at the table is vitally important to interpreting poker tells. While we've covered the tells most affected by psychology in this article, each tell in the series is going to be somewhat affected by the concepts we've covered today. Emotions play a key role in how we act at the table, and they're not always able to be controlled. Knowing that the actions of your opponents are affected by these emotions makes them easier to understand and, therefore, easier to exploit at the tables. Join us in Part Two of this Poker Tells series, where we'll be looking at the window of the soul - the eyes . Make sure you join our by join our PokerDeals Facebook group or follow us on Instagram to be notified of the next article in the series.
Betsson Poker Deposit Bonus
€ 600
- OFFER -
Guts Poker Bonus
€ 1,000
- OFFER -
Partypoker First Deposit Bonus
$ 600
- OFFER -
Red Star Deposit Bonus!
$ 2,000
- OFFER -
Subscribe to Pokerdeals.comPoker Deals
Join the PokerDeals community and take advantage of exclusive content and giveaways!