Pokertracker 4 is an incredibly reliable and well-established brand in the poker heads-up display and database software range, available for PC and Apple Mac. Pokertracker offers a month-long free trial of their full software, available on their website.
This software and one other, namely Holdem Manager 3, have the market pretty cornered, as they allow hand import from such a wide range of poker sites and have been trusted providers of great software for poker hand analysis for so long. 
Indeed the companies behind this piece of kit and its only real major competitor, Holdem Manager 3, have now merged into one. 
For now, however, the plans are still to keep these two fine pieces of poker software separate, and provide updates and new releases for each.
Whilst there has been something of a movement away from poker HUDs and databases such as Pokertracker 4, with major sites such as GGPoker and Party Poker banning their use in-game, they remain a very important part of the serious poker player's arsenal.
Even for those sites which might not permit use of the in-game features of this software, such as the heads-up display which appears overlaid on top of one's tables whilst playing, you can usually still make use of their hand import and review functions whilst away from the tables and studying. 
In this software we'll undertake a quick review of all the most important features of Pokertracker 4. In case of any questions not covered here, Pokertracker 4 has very good user support, including a very active forum, on its website. 
Installation & Import
Pokertracker 4 is very user-friendly and easy to set up, but it does require a large install of a database management software as part of its underlying architecture, called postgres. This is easy to set up as part of the standard installation, but it means that you will have a full database on your hands, capable of managing millions of poker hands.
Pokertracker 4 is compatible with dozens of poker sites, from behemoths like Pokerstars and Poker King to the smaller sites and apps. Certain specialist or lesser known and used apps may require add-ons which are available on the Pokertracker website, such as certain asian apps. 
Importing hands is easily done in Pokertracker and can be set to occur in real-time as well as to import historic hands from existing folders.
Heads Up Display
Your heads-up display in Pokertracker is a semi-transparent overlay which appears above your tables whilst playing, for any correctly configured site, and gives you real-time statistical guidance as to your opponents' tendencies in a range of spots based on any hands which you have played against or observed them play previously. 
HUDs can be tailored with hundreds of statistics, and these begin with the basics such as VPIP (voluntarily put money in pot), PFR (preflop raise), 3bet, Cbet Flop, etc. 
There are also custom HUDs available from third parties, listed in the client and the website, which provide the user with complex graphical interfaces which are capable of displaying enhanced levels of information in easy-to-digest format. 
Statistical Review
The statistical review section of the Pokertracker software is divided into five sections which provide a great selection of tools for analysing your and your opponents' poker play based on the hands in your database. 
In the first section, Results, you can review hands by date, by stake, and various other criteria, and generate a variety of reports by position and numerous other factors. You can also filter for hands from any event or day of the year and then pull up the hand replayer to dive into them for review. 
In the second section, Statistics, you can generate displays which show your (or your opponents') statistics across a huge range of criteria (as you can using the in-game HUD), and explore these stats in more detail. There's an awesome Heap Map feature, which you can use to explore your tendencies in different spots across your whole range, visually.
Pokertracker's Leakbuster section for cash games is a very much-appreciated function which allows predefined values in the software's design to flag outstanding "leaks" in your statistical tendencies which might indicate issues with your game. You can run your whole database through this built-in checker to look for leaks!
In the Reports section of the Pokertracker software you can review your game in much more fine-grained detail, with innumerable filters which allow you to check for almost any circumstance you can think of. For example, you can review the hands where you had between 12bbs and 14bbs preflop in MTTs and decided to open-shove in late position. Or you can review your play when cbet on the flop heads up in single raised pots. Any number of scenarios are available for review at the click of a few buttons, and filters can be stacked up using AND, OR and NOT qualifiers to define any situation you could really think of.
Finally, there's the self-explanatory Graphs section where you can view graphs of your performance with a range of filters. This is mostly used for looking at your financial results over larger samples, as well as the All-in EV of your play (this aggregates the EV of all your all-in decisions across time, and is a somewhat reasonable gauge of your standard of play across smaller samples than financial results).
Gallery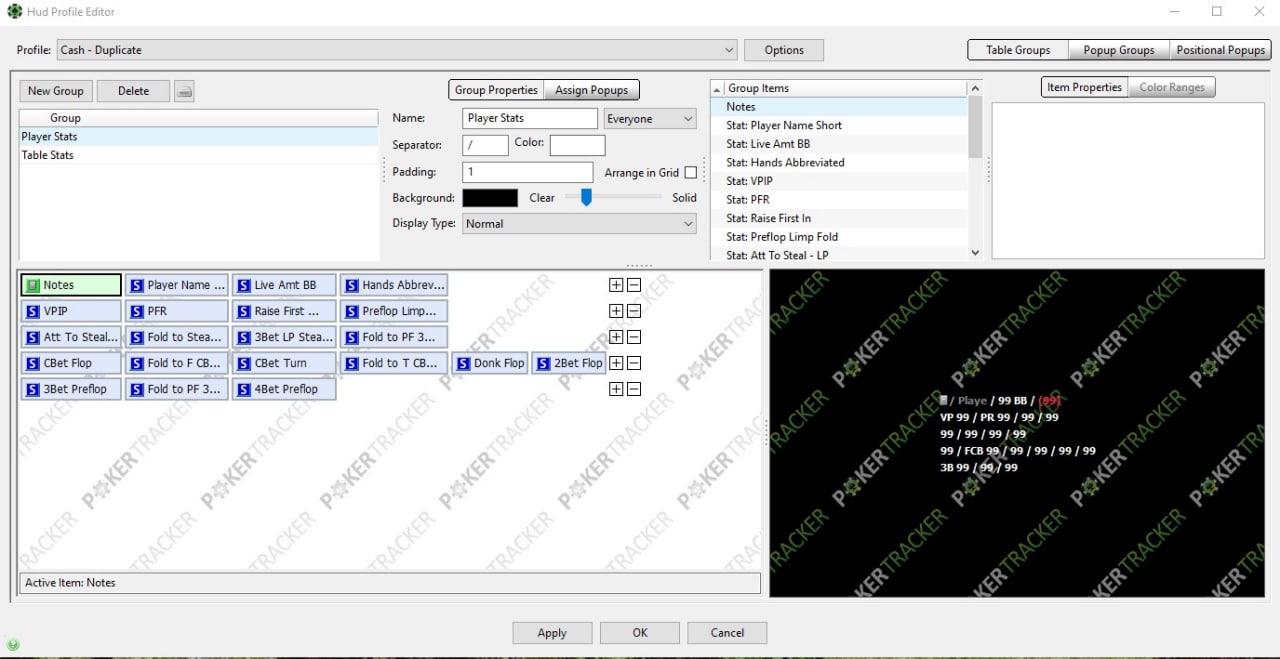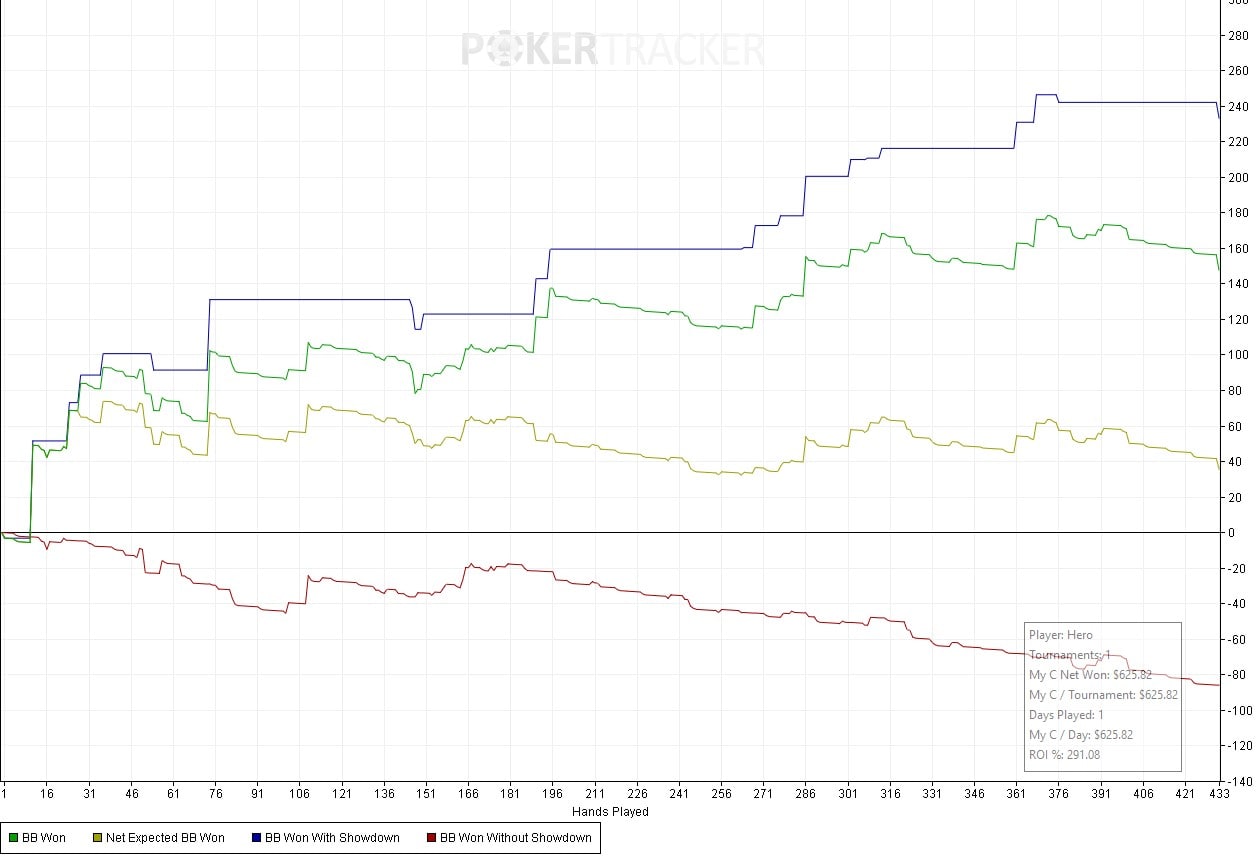 There is literally always more to learn in any really good piece of analytic software, and Pokertracker 4 is no exception. The best thing about this piece of kit is that it's instantly usable, and user-friendly, despite having a huge potential depth of use. 
If you're serious about the game, Pokertracker 4 is a very good place to start. If you're multi-tabling on a site where its use is permitted, it's pretty much indispensable. 
If you've enjoyed this poker software review be sure to check out all of our top software write-ups in the PokerDeals Strategy Section, and come ask us anything else you'd like in the PokerDeals Discord!
Images courtesy of Pokertracker